Two teams heading in opposite directions this 2015 college football season should still make for another interesting battle at the annual Red River Showdown.
The Oklahoma Sooners maintained their undefeated streak for the season with a win on Saturday over ranked West Virginia, while the Texas Longhorns suffered an embarrassing blowout to TCU. Can Texas finally get that one elusive victory over a ranked opponent this year, or will the Sooners' onslaught continue?
Let's break down what we should expect in this age-old rivalry that makes the Big 12 and Week 6's slate all the more riveting. And don't fall behind on the rest of this coming weekend's action by checking out our previews for Arkansas vs. Alabama and Georgia Tech vs. Clemson.
[sc:NCAAFArticles ]
Oklahoma Sooners vs. Texas Longhorns  
Where: Darrell K Royal-Texas Memorial Stadium, Austin
When: Saturday, October 10, 12:00 PM ET
Line: Oklahoma Sooners vs. Texas Longhorns – view all NCAA Football lines
TV Broadcast: ABC
Betting on the Oklahoma Sooners
There seems to be no stopping the No. 15 Oklahoma Sooners, who took care of No. 23 West Virginia (44-24) with relative ease this past Saturday in Norman.
[sc:NCAA240banner ]Quarterback Baker Mayfield continued his phenomenal 2015 with his fourth game of having thrown three or more touchdowns in as many starts, giving him a whopping 17 total TDs (13 of them through the air) for the season. Baker finished Saturday's match over the Mountaineers with 320 yards on 14-of-25 passing.
Prolific running back Samaje Perine ended with just 65 yards on 16 carries, but his number was rarely called for in yesterday's win as this was a game that was owned by the Sooners' D. Star linebacker Eric Striker was a total brute; he had 13 tackles (three for losses), two sacks and a forced fumble that led to a defensive touchdown for Oklahoma.
Furthermore, a pair of Jordans also came up huge for the team's defense. Linebacker Jordan Thomas picked-off WVU's Skyler Howard twice, while cornerback Jordan Evans was the one who recovered the fumble caused by Striker for the 41-yard gimme to the end zone. All in all, Oklahoma had seven sacks and forced five turnovers against the Mountaineers, whereas the team had just two takeaways for the season prior to yesterday's match.
The Sooners have to keep their temper and emotions from flaring against their rivals in Austin this coming weekend, as they committed 12 penalties for a total loss of 134 yards against West Virginia. Also, coming up in the clutch should the game become more closely-contested than expected will go a long way as well. The team was just 2-for-11 on third-down situations on Saturday.
Oklahoma is 8-2 in its last ten road games, going 7-3 against the spread in that span.
Create a betting account now to start betting on all your favorite teams from the Big 12 and all the other top-heavy conferences in the NCAA.
Betting on the Texas Longhorns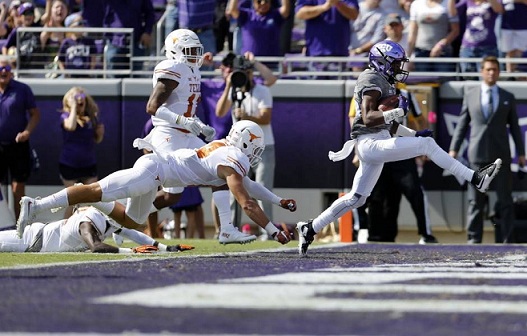 Where do we even begin with the Texas Longhorns' 50-7 annihilation at the hands of No. 4 TCU?
The Horned Frogs' main man Trevone Boykin looked like an NFL pro against the Longhorns on Saturday, torching the team for 332 yards and five touchdowns. Heck, even TCU's running game was on fire, racking up 228 yards with eight different rushers all gaining positive yardage.
Meanwhile, Texas' own play-caller Jerrod Heard was nothing but atrocious. Heard went 8-for-20 for a paltry 20-passing-yard game, paving the way for backup and former team starter Tyrone Swoopes, who was no better than the former himself. Swoopes finished with 74 yards and a garbage time TD to prevent a TCU shutout in relief of Heard.
What made matters worse for the Longhorns in the loss to the Horned Frogs was their inept defense. Their D failed to generate a single takeaway, coming as close as just forcing two fumbles that we not recovered. Giving up 5.4 yards per carry on the ground and just a decimal point shy of a full first down in the air didn't help, either.
But if there's one silver lining from the Week 5 rout that Texas can build upon, it would be that of running back D'Onta Foreman's breakout game of the season. The freshman had 112 rushing yards on 18 carries on Saturday after failing to hit the 50-yard plateau through his first four games of the year. At least he showed some life in powering his team toward a 191-rushing-yard day in an otherwise humiliating contest that the boys from Austin would rather forget.
Foreman and the rest of the Longhorns' backfield better put on a near-flawless game at home this coming Saturday, though, as the Sooners are 49th in the nation in rushing yards allowed, giving up just 147.7 yards per game.
Texas is 4-2 in its last six games at home against the Sooners, with the total going under in four of those contests.
Writer's Prediction
Oklahoma makes quick work of the Longhorns "sooner" than you expected, 47-19.
[sc:NCAA490banner ]
2,144 total views, 2 views today
Comments
comments