College Football fans could not ask for a bigger Pac-12 game this season than this blockbuster match-up between North Division kingpins the Oregon Ducks and the Stanford Cardinal.
Get ready for the big game with $100 free to bet with. Join Top Bet using promo code 100PAC12 and you'll get $100 free when you deposit $100.
Betting on College Football: Oregon Ducks vs. Stanford Cardinal
Game Details:
When: 9:00 PM ET, November 7, 2013
Where: Stanford Stadium, California
Odds:
*As of November 4th.
Money: Oregon (TBA) vs. Stanford (TBA)
Spread: Oregon (-10.5) vs. Stanford (+10.5)
Totals: TBA
Betting on the Oregon Ducks: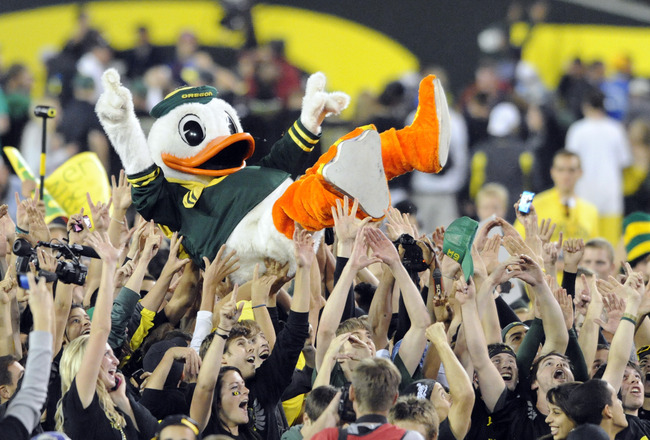 It took a total demolition of the UCLA Bruins by the Ducks for the BCS to promote Oregon one step higher in its recent rankings. The Ducks are now in the No. 2 spot, relegating former second place Florida State to No. 3.
Oregon's 42-14 conquest of the Bruins was their eighth straight victory, guaranteeing another week as the only unbeaten school remaining in the very competitive Pac-12 conference.
The manner in which they dismantled UCLA suggests that, aside from being a great offensive team, head coach Mark Helfrich's squad also has the capacity to employ stifling defense.
Heading into the second half of that game, the score was tied at 14. The Ducks came out  in the second half like a team possessed. They went and toyed with UCLA's defense by scoring 28 unanswered points.
Oregon concluded the game with a mammoth 555 total yards, a good portion of which came from the cannon arm of QB Marcus Mariota, who threw for 230 yards.
Overall, the game fully displayed the Ducks' offensive brilliance; they rank 2nd in FBS in points per game with 55.6 and also 2nd in rushing yards with 331.5 a game, thanks in large part to running back Byron Marshall, who paces the team with 879 total rushing yards, as well as dual-threat QB Mariota.
As difficult as it's been for the opposition to beat Oregon, the school is likewise very hard to beat against the spread. The Ducks are 9-1 ATS in their last 10 games. On the road, it's just like home sweet home for them Ducks. They are 10-0 SU and ATS in their last 10 road games.                 
Bet now on the Oregon Ducks. Use promo code 100PAC12 to get $100 free on top of your $100 deposit when you join Top Bet.
Betting on the Stanford Cardinal: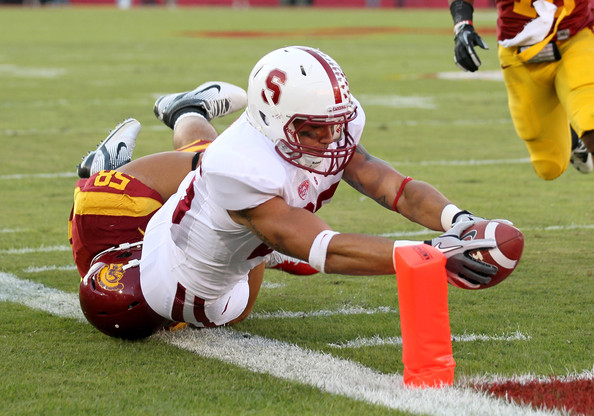 It wasn't that long ago Stanford dealt the Ducks a loss that sent Oregon off their course to a BCS title appearance. Oregon was No.2 in the BCS rankings when that happened just last year.
The Ducks are sitting in the No. 2 spot again with another clear path to the top, but Stanford is more than willing to play the spoiler anew to the Ducks' BCS dreams.
Stanford endured a 27-21 upset loss at the hands of the Utah Utes in Week 6, but have collected two wins in a row in their succeeding assignments. First, against UCLA (24-10), followed by a victory over Oregon State (20-12).
The Cardinal survived a scare against Oregon State, which took the fight to Stanford before tapering down in the end, mostly because of the Cardinal's terrific defense.
Perhaps to send a clear message to Oregon's QB Marcus Mariota as to what kind of treatment he will get on November 7, Stanford neutralized OSU's prolific QB Sean Mannion, sacking him eight times and limiting him to a season low 271 passing yards. Prior to that game, Mannion was a man on fire, throwing no less than 367 yards in each game he played this season. No wonder he's No. 1 in the nation in passing yards.
Can the Cardinal ambush the visiting Oregon team? The Cardinal have lost just once in their last 20 games at home.
Bet now on the Stanford Cardinal. Use promo code 100PAC12 to get $100 free on top of your $100 deposit when you join Top Bet.
3,479 total views, 1 views today
Comments
comments