The Washington Capitals are ready to exorcise their postseason demons. After playing lackadaisically during the last days of the regular season, the Capitals will have to get back to beast mode as they face a dangerous Philadelphia Flyers side that is looking to score a massive upset right in the first round.
Read on for more about Game 1 of this series. You can also check out our preview of Sharks vs. Kings.
NHL News and Predictions
Philadelphia Flyers vs. Washington Capitals Game 1 Preview
Where: Verizon Center, Washington, D.C.
When: Thursday, April 14, 2016, 7:00 PM ET
Line: Philadelphia Flyers at Washington Capitals – view all NHL lines
TV Broadcast: NBCSN
Betting on the Philadelphia Flyers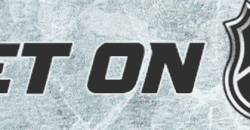 Welcome to the playoffs, Flyers. Philadelphia claimed the eighth and last playoff spot in the Eastern Conference with a masterful 3-1 win over Pittsburgh on Saturday, and will now be getting a tough first-round matchup with Washington.
Beating the Caps is a daunting task, but Philadelphia at least has two wins over Washington in the regular season to keep the team's confidence up. In the two team's most recent meeting, the Flyers eked out a 2-1 victory via shootout at home on March 30. The Flyers also beat Washington at Verizon Center on January 27, 4-3.
Philadelphia is a risky matchup for the Capitals, as the Flyers seem to know how to outhustle Washington. Washington's not a strong possession team—just 14th in Corsi For Percentage—and the Flyers were able to take advantage of that in the past. In fact, the Flyers got off more shots on goal than Washington in three of their last meetings. Philadelphia is fifth in the NHL with 30.7 shots on goal per game.
The top line of Brayden Schenn, Claude Giroux, and Wayne Simmonds carry the heaviest burdens on offense. The trio has combined for three goals and six assists in the regular season versus the Caps.
Steve Mason is going to be the starting goalie for the Flyers. Mason went 1-2 in three starts versus Washington, allowing nine goals on 92 shots faced. He stopped 27 of the Caps' 30 shots in Philly's win back in March.
Philadelphia is 6-4 in its last 10 games played in D.C. dating back to 2010.
Betting on the Washington Capitals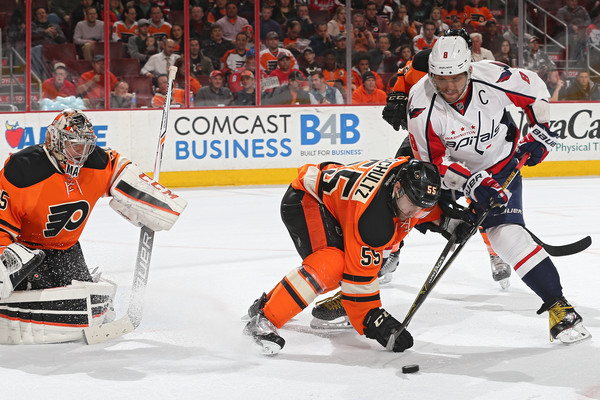 Washington's mission to get over the playoff hump this year begins at home.
With a balanced lineup it didn't have in the past years, Washington is looking to devour their opponents on both ends of the ice in this postseason. Washington is second in the league in scoring (3.1 goals for per game) and second in scoring defense (2.3 goals against per game). As mentioned earlier, the Flyers have the ability to disrupt Washington's offense. But doing that for a whole game is going to be easier said than done.
Washington is fronted by an all-time great in Alex Ovechkin, who finished the regular season on top of the league with 50 goals. Ovi's barely the only Capital that the Flyers will have to watch out for in the series. T.J. Oshie has given Washington's first line another top-level threat to run right of Nicklas Backstrom. Evgeny Kuznetsov and Justin Williams, meanwhile, give Washington dependable performers on the second line. Kuznetsov tops the Caps with 77 points (20 goals and 57 assists), while Williams has 22 goals and 30 assists on the season.
The Caps have brought tremendous scoring lineups into the playoffs before, but this season marks the first time in a while that they would have a fantastic goalie in front of the net. That's Braden Holtby, who finished the regular season with a 48-9-7 record, a 2.20 GAA and a .922 SV%. Holtby went 2-0-2 with a 2.21 GAA and .926 SV% in four starts this season against Philly. He turned away 33 of 35 shots on goal by the Flyers in a 3-2 win at home on February 7.
Writer's Prediction
Washington wins, 3-2.
Create a betting account now and build a winning NHL parlay.

Comments
comments