Since losing to Purdue on December 1, the No. 20 Pittsburgh Panthers haven't looked back, winning all of their next 10 assignments. They haven't beaten a ranked opponent thus far this season, though. An opportunity to do just that comes later tonight at the KFC Yum! Center, as they pay the No. 21 Louisville Cardinals a visit.
Read on for more about this game. You can also check out our preview of Washington vs. Arizona.
[sc:MarchMadness ]
Pittsburgh Panthers vs. Louisville Cardinals Preview
Where: KFC Yum! Center, Louisville
When: Thursday, January 14, 9:00 PM ET
Line: Pittsburgh Panthers vs. Louisville Cardinals – view all NCAA Basketball lines
TV Broadcast: ESPN
Betting on the Pittsburgh Panthers (14-1, 3-0 ACC)
[sc:NCAAB240banner ]Pittsburgh just continues reinforcing its RPI. The Panthers are currently on a 10-game win streak, beating three RPI top 50 teams along the way, including back-to-back victories over Georgia Tech and Notre Dame. They have an opportunity to net their first RPI top 25 win later tonight, when they pay Louisville a visit at KFC Yum! Center.
By beating the Yellow Jackets and the Fighting Irish, Pittsburgh helped prove that its soft schedule—ranked way down in 107th—doesn't determine how strong Jamie Dixon's team actually is.
Pittsburgh's offense has been the biggest factor of its success this season with the team ranking 10th in the nation with 85.3 points per game. Even up against tougher competition over the last two games, the Panthers still managed to put up an average of 87.5 points. The Panthers are second in Division I ball with 1.2 points per possession.
Pittsburgh's offense is also feeding off its great defense that allows just 65.4 points per game. The Panthers always finish their job on the defensive end. They're corralling 41.5 rebounds per contest (third in the ACC). Louisville is second in rebounding in the conference, so the likes of Michael Young and Sheldon Jeter will be pressed to work extra hard on the glass later tonight.
Aside from leading the team in points with 17.5 PPG, Young also tops the Panthers in rebounds with 6.8 per contest. Young had a solid effort against Notre Dame, scoring 25 points while grabbing five rebounds. Jeter, on the other hand, is giving Pitt's bench a huge boost, as he's averaging 12.8 points in the last five games. He scored 18 on 6-for-10 shooting against the Fighting Irish.
The Panthers are 2-0 ATS in their last two road games.
Create a betting account now and cash in on all the NCAAB action.
Betting on the Louisville Cardinals (13-3, 2-1 ACC)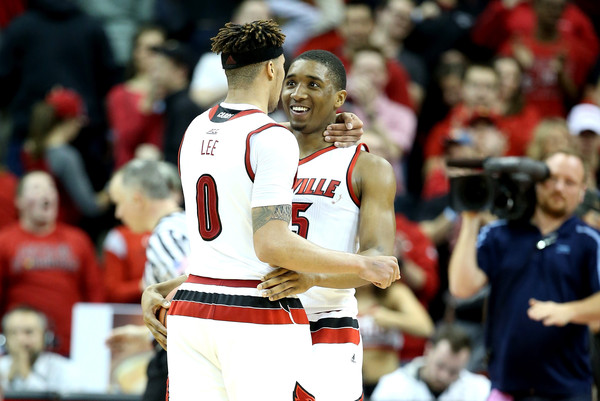 Has anyone seen Louisville's offense lately? Rick Pitino must still be looking for it following a 66-62 upset loss to Clemson on Sunday.
Louisville is shooting 49.7 percent from the field on the season, but shot an ugly 24-for-68 (35.3%) against Clemson. Leading scorer Damion Lee turned into a ghost in that game, as he went 2-for-12 from the field and finished with six points. Worse, Trey Lewis also had a bad night, making just three of 19 shots to end up with 10 points.
Lee is averaging 16.6 PPG this season while Lewis is second on the team with 13.4. Lee, though, has been having trouble with his shot in his last two games, as he's mustered just 23 total points on 6-for-30 (20 FG%) shooting from the floor. It'll be hard for the Cardinals, who are averaging 81.9 PPG, to keep in step with Pittsburgh if they can't coax the usual numbers out of their two scorers.
Either way, the Cardinals are counting on their defense to bottle up the high-scoring Panthers. Louisville is third in the nation in points allowed (58.8 PPG) and second in opponents' field goals made (19.2).
However, they need to play a more honest defense against Pittsburgh, which leads the nation in free throw shooting. The Cards allowed just 14 field goals in the Clemson game, but committed 29 fouls, which the Tigers translated into a 32-for-44 line at the charity stripe.
Expect the Cardinals to put a target on the back of Pitt's James Robinson, who's the catalyst of the Panthers' offense.
The under is 3-1 in the Cardinals' last four home games.
Writer's Prediction
Louisville wins, 78-71.
Create a betting account now and build a winning college basketball parlay.
[sc:NCAAB490Banner ]
1,745 total views, 1 views today
Comments
comments