Cam Newton is back and the 2-0 Panthers have made it clear they are a force to be reckoned with in the NFC. The Pittsburgh Steelers, in the meantime, have shown flashes of brilliance while playing their way to a 1-1 record. On Sunday, these two will face off in a prime time match up on Sunday Night Football that will have a tremendous impact on both of their divisions.
Read on for everything you need to bet on this game, and don't miss our look at every other game in the NFL here.
[sc:Football ]
Pittsburgh Steelers vs. Carolina Panthers Sunday Night Football Preview
When: Sunday, September 21, 8:30PM ET
Where: Bank of America Stadium, Charlotte
Line: Pittsburgh Steelers (+3) at Carolina Panthers (-3); total 41.5 – view all NFL lines
Betting on the Pittsburgh Steelers
[sc:NFL240banner ]The Pittsburgh Steelers are coming off one of their worst performances in their storied rivalry with the Baltimore Ravens, a 26-6 demolition on Thursday Night Football. Since 2008, 10 of the 12 games the Ravens and Steelers had played had finished within three points, but the Steelers fumbled their way through their Week 2 showing and let a Ray Rice-less Baltimore team run all over them.
The Steelers need to get their turnovers under control. Through two games, they have four turnovers, with three of them coming against the Ravens – Baltimore now has a +13 turnover differential against Pittsburgh in the two teams' last 12 meetings. Errors like that are a good way to lose football games, a point that was exemplified by the fact the Steelers notched only 22 fewer total yards against Baltimore, but were outscored by 20.
Mistake-prone though they are, this is still a Steelers offense that can get things done. Ben Roethlisberger has thrown for 578 yards in his last two games, and has shown he is far from over the hill this season, escaping pressure and making tough throws on the run.
If anything, the Steelers' offensive concerns should be diversity. Running back Le'Veon Bell (304 total yards through two games) and wideout Antonio Brown (206 yards) have been unstoppable in Pittsburgh's first two games, sure, but beyond that the offense has lacked range. And should either Bell or Brown be hurt–as Brown was for much of the first half against Baltimore–the offense could flatline immediately.
Still, injuries are a flukey thing. If Pittsburgh's big three can stay on the field offensively, and limit their turnovers, they will challenge an excellent Carolina defense.
Get into the action this weekend and create a betting account so you can challenge your own picks all season long.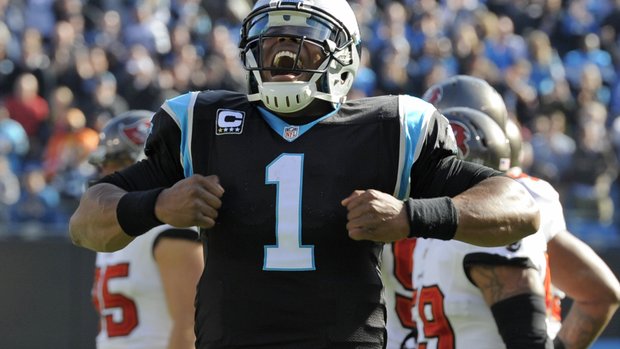 Betting on the Carolina Panthers
Cam Newton is back in a big way. After missing Week 1 with a rib injury, Newton went 22 for 34 for 251 yards and a score. Perhaps even more encouraging for Panthers fans, the big man protected his ribs, rushing just four times and picking up a smooth 19 yards.
The Panthers picked up their second win of the season and did so in impressive fashion, outplaying the Detroit Lions on both sides of the ball in week 2, despite going just 3 for 12 on third downs and gaining fewer total yards overall (313 to 323).
As big as the Newton story was, the absence of another prominent Panther was significant as well. Pro Bowl defensive end Greg Hardy was held out of the line up in game 2 as the media attention on NFL players' atrocious string of domestic violence charges continues to increase.
On the field, Carolina's formidable defense played well without Hardy, holding Matthew Stafford and a dangerous Detroit passing offense to just 253 yards, while picking off Stafford once and sacking him five times.
With or without Hardy, Carolina will look to get after Roethlisberger the same way they harried Stafford, though the result could be a little different. Big Ben is the NFL's best signal caller when it comes to working under pressure, having a QB rating almost triple that of the next-best quarterback in the league when he is being chased. Flush Roethlisberger and you're almost making him a better player.
The Steelers will be looking for a better effort from running back Jonathan Stewart in this one. Stewart averaged 2.5 yards per carry against Detroit, but will now find himself running into a rush D that allowed a lowly Baltimore backfield to put up 157 yards against them in Week 2.
Writer's Prediction
Roethlisberger stays on his feet and finds his playmakers while Newton has a huge game against an ailing Steelers secondary, as the score soars over the total.
[sc:NFL490Banner ]
2,281 total views, 1 views today
Comments
comments