The NFL regular season is coming in just a few short weeks.  However, hardcore football fans don't need to wait long to get into the action as the Pittsburgh Steelers and New York Giants will take the field for a preseason game this Saturday in New Jersey.
For more preseason action, check out our complete preview of the Cleveland Browns and Detroit Lions clash, in which Johnny Manziel makes his debut. In the meantime, zoom in to this preseason matchup between former Super Bowl contenders the Pittsburgh Steelers and New York Giants.
[sc:Football ]
Pittsburgh Steelers vs. New York Giants Betting Preview and Prediction
Where: MetLife Stadium, East Rutherford, New Jersey
When: Saturday, August 9, 7:30 PM ET
Line: Pittsburgh Steelers (+105) at New York Giants (-125); total 36.5  – see all NFL lines
Why This Game Matters
This game will provide a test for the Pittsburgh Steelers' patched-up defense, and see how much safety Mike Mitchell can contribute to the team. It will also give Pittsburgh's new wide receiver Lance Moore a chance to shake off his 2013 injuries.
[sc:NFL240banner ]On the other side of the field, the New York Giants' offense will get the reps they need under new offensive coordinator, Ben McAdoo. Quarterback Eli Manning will be tested in a live game situation to see whether he can return to his Super Bowl-winning ways after the worst season of his career in 2013. Rookie wide receiver Odell Beckham Jr. will also get his first taste of the NFL playing in this game.
Betting on the Pittsburgh Steelers
After going 4-12 SU in the 2013 Regular Season, the Pittsburgh Steelers are aiming for a return to their winning ways with some changes across the field.
They signed safety Mike Mitchell, who impressed with 66 tackles, 3.5 sacks, two forced fumbles and four interceptions last year with the Carolina Panthers. Mitchell will help the Steelers' defense that struggled in the secondary last season.
Offensively, Pittsburgh will be without wide receivers Emmanuel Sanders and Jerrico Cotchery, after the two left for greener pastures. The two were important contributors to the Steelers' receiving game in the past season as they combined for 113 receptions and 1,342 yards with 16 touchdowns.
In their stead, Pittsburgh signed a nine-year veteran in Lance Moore. Moore had a forgettable 2013 with the New Orleans Saints, recording only 33 receptions for 384 receiving yards while struggling with injuries. That said, amidst seemingly hundreds of receiving options for Drew Brees, Moore may have suffered simply from a lack of opportunities. At his best, he can be a devastating wide receiver catching 65 passes for 1,041 receiving yards.
This game will be the first action for new Steelers offensive line coach Mike Munchak, who comes to the team after being fired as the Titans' head coach. He will be there to improve on an offensive line that allowed 42 sacks last season.
The Pittsburgh Steelers lost all four of their 2013 preseason games.
Create a betting account now as the NFL Regular Season inches closer.
Betting on the New York Giants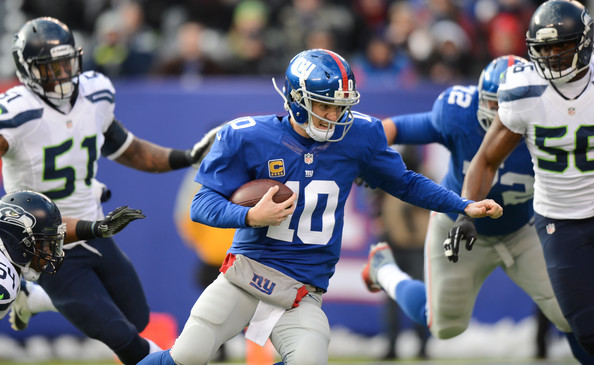 After a disappointing 2013 season that saw them post a record of 7-9, the New York Giants were busy trying to build their offense back to Super Bowl standards.
The New York Giants' offense struggled last season with quarterback Eli Manning's Super Bowl-winning quality nowhere to be found. The two-time Super Bowl MVP had a league-worst 27 interceptions last year. Aside from Manning's struggles, the team's rushing offense also ranked as the fourth-worst in the league.
To remedy their offensive struggles, the Giants hired a new offensive coordinator in Ben McAdoo. The new offensive coordinator will be working closely with Manning to bring the quarterback to his former self. McAdoo will also have the luxury of working with newly acquired running back Rashad Jennings. The running back rushed for a career-high 733 yards with six TDs last year with the Oakland Raiders last season.
The team will also have a fresh wide receiver in the draft's twelfth overall pick Odell Beckham Jr. Beckham Jr. caught 59 passes for 1,152 receiving yards in his last year playing for LSU. The dynamic NFL rookie will be a great tool alongside the number one receiver Victor Cruz (73 receptions for 998 receiving yards last season).
The New York Giants lost their last three 2013 preseason games.
Writer's Prediction
The New York Giants' offense exploits Pittsburgh's mending defense.
[sc:NFL490Banner ]
1,699 total views, 2 views today
Comments
comments