After a full week's worth of activities, the sporting action at the 2016 Olympic Games will shift its focus unto the realm of track cycling, beginning with the Men's Team Sprint competition at the Rio Olympic Velodrome on August 11.
Which countries' teams are worth keeping tabs on for this relatively fresh indoor relay race? Let's find out below. And for our in-depth coverage on another thrilling bipedal event, check out our preview for the Men's BMX Cycling category right after this.
---
Cash In on the Best Online Sportsbook Offers Now at TopBet!
---
2016 Olympic Games Cycling (Track) – Men's Team Sprint Odds and Predictions
Favorites
New Zealand (-300)
Sorry, Great Britain, but there's a new powerhouse in men's team sprint competition: New Zealand.

Just this past March, the Kiwis won gold at the 2016 UCI Track Cycling World Championships with the three-man team of Ethan Mitchell, Sam Webster and Eddie Dawkins. This formidable trio has been tearing up major cycling tournaments of late, having also collectively won gold at the 2014 World Championships in Cali, Colombia and at the 2014 Commonwealth Games in Glasgow, Scotland.
There's only one mountain left to conquer for these three New Zealanders, and that's to ultimately prevail in the Olympic Games. Mitchell and Dawkins were both part of New Zealand's 2012 Olympic cycling squad which only finished fifth overall in the team sprint competition. Webster has proven to be a capable third man in this revamped lineup, so perhaps New Zealand will indeed mark the changing of the guards for this particular event on August 11.
France (+375)
As the annual host of the Tour de France, it is with good reason then that the French themselves are perennial favorites in nearly all cycling categories at the Olympic Games. In fact, France has the most gold medals at the Olympics in men's cycling as a whole with 34 first-place finishes, and was also the first country to win gold at the men's team sprint event in Sydney (2000).
Furthermore, France has had podium finishes in all four installments of the team sprint at the Olympics, which includes back-to-back runner-up finishes in 2008 and 2012.
Gregory Bauge was a member of those 2008 and 2012 silver-medal squads, while Michael D'Almeida was also part of the most recent Olympic edition in London. They'll be joined by Francois Pervis (winner of six gold medals in individual major cycling competitions since 2013), rounding out another stellar triad of sprinters ready to reclaim the top spot for a nation in great need of jubilation.
Sleeper
Great Britain (+1,500)
Just how huge of a deal is the absence of six-time Olympic gold medal-winner Chris Hoy on the British national cycling team? Massive, apparently.
The legendary Hoy was part of Great Britain's gold-winning team sprint lineup from 2008 and 2012, but will not partake in this year's installment of the event since he has officially retired from competitive cycling. His partner in crime during those two wins, Jason Kenny, will now be accompanied by Philip Hindes (the third member of the 2012 Olympic squad) and Callum Skinner.
The Brits' new three-man team, though, has shown disappointing results. He most recently finished a mere sixth at the 2016 Track Cycling World Championships. But with 20 men's cycling gold medals worth of winning experience at the Olympics under its belt, Great Britain could certainly turn out to be, well… great once more and ultimately pull off a stunning three-peat at this category.
Long Shot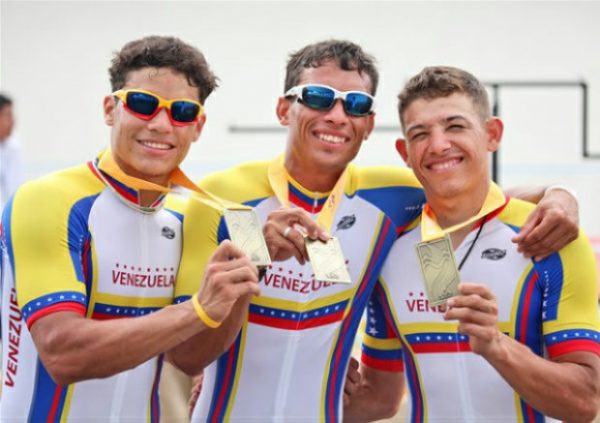 For the second-consecutive edition of the Olympic Games, Venezuela will trot out three of the country's finest speedsters in Hersony Canelon, Cesar Marcano and Angel Pulgar for the team sprint event.
Unfortunately, this trio failed to qualify for the first round of actual competition in 2012 in London, having finished a dismal ninth place – only ahead of South Korea. Even individually, the Venezuelans have not been as successful of late, as Canelon and Marcano have not tasted gold in any major cycling tournament since the 2013 Pan American Road and Track Championships in Mexico.
To put things in greater perspective, Venezuela has won just a total of 12 medals at the Olympics since partaking in the festivities in 1948, and not a single one of them came from a cycling event. With that in mind, don't count on these South American cyclists to really challenge the rest of the field in Rio.
Writer's Prediction
Sacre Bleu! France (+375) wins its second gold medal at the team sprint event.
Create a betting account now to win big from the huge number of Olympic betting lines that we have to offer!

2,863 total views, 1 views today
Comments
comments