After a two-year wait, the much-anticipated battle between Europe and the United States is set to resume on the golf courses at Perthshire, Scotland for the 40th Ryder Cup, September 26-28, 2014.
As the tournament draws ever closer, the potential field of 24 golfers slowly begins to take shape. Today we take an early look at how both teams will eventually turn out and which team will have the edge when the event tees off in September.
[sc:MultiSportArticles ]
2014 Ryder Cup of Golf Mid-Season Preview
Where: Gleneagles Hotel, Perthshire, Scotland
When: September 26-28, 2014
Line: Europe -110 vs. U.S.A. +110, tie +1,100 – view Ryder Cup lines
What is the Ryder Cup?
For those unfamiliar with the Ryder Cup, here's a brief primer on the event. The Ryder Cup is a event that occurs every two years and pits a team of 12 golfers from Europe and 12 from the U.S.A. against one another in a match play format.
[sc:Golf240banner ]Match play encourages the unique team element of this event. Foursome matches are played with two members from each team playing alternate shots. Meanwhile, a fourball match consists of two players from either team, who each play their own shot throughout the round.
The team/player that completes the hole in the lowest number of shots wins the hole, and is awarded one point. In the event of a tie, each team gets a ½ point.
Singles matches are also played, with players from each team going on a one-on-one match. The winner of each match scores a point for their team.
The first two days of the Ryder Cup will consist of eight matches each – four foursomes and four fourball matches. The final day sees all 12 members of each team competing in singles matches. 28 points in total are up for grabs, and the team that reaches 14 ½ points or more first wins.
Betting on Team Europe
The 12 members of Team Europe will be composed of the following criteria:
The leading four players on the Ryder Cup European Points List*
The five highest-ranking players on the Official World Golf Ranking excluding the top four on the Ryder Cup World Points List*
Three captain's picks – to be announced on September 2, 2014
*the current lists for the first two criteria can be found here.
As of this writing, the leaders of the European Points List are France's Victor Dubuisson, Sweden's Henrik Stenson, Wales' Jamie Donaldson and Denmark's Thomas Bjorn.
Meanwhile, the five highest-ranking golfers outside the four above are Spain's Sergio Garcia, Northern Ireland's Rory McIlroy, Germany's Martin Kaymer, and England pair Justin Rose and Luke Donald.
World No. 2 Stenson is a virtual lock to be part of the team. He'll likely headline the team alongside reigning U.S. Open winner, Kaymer. The 29-year old German blew away the competition at the U.S. Open to win by a whopping eight strokes.
Veterans Garcia and Donald have been Yankee-killers in recent tournaments. Donald's 70% win percentage (10-4-1) ranks third all-time in Ryder Cup history (with a minimum 15 matches), while Garcia has an impressive 16-8-4 record in six previous appearances. The two are undefeated in the foursomes competition, with a combined 14-0-1 record.
Three players just outside those automatic places are England's Ian Poulter, Spain's Miguel Angel Jimenez and Scotland's Stephen Gallacher.
Poulter should be a lock to be one of captain Paul McGinley's three picks for the team should he fall short of automatic qualification. The Englishman's 80% win percentage (12-3 -0), which includes a perfect 4-0-0 in singles matches, is the best in Ryder Cup history (minimum of 15 matches).
Meanwhile, the incredibly-experienced Jimenez is almost certain to feature in his fifth Ryder Cup, either as a player or as McGinley's vice-captain.
Betting on Team USA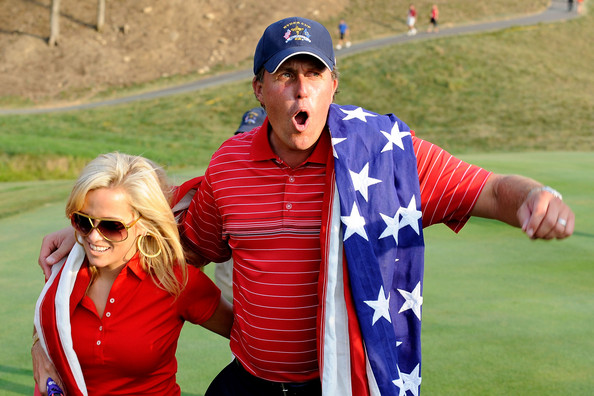 The criteria for inclusion in Team U.S.A. are a lot less complicated than their counterparts over in Europe. The 12-man team will be composed of the nine leading players on the Ryder Cup Points List (found here) and three captain's picks to be announced in September.
As of this writing, Bubba Watson, Jimmy Walker, Dustin Johnson, Matt Kuchar, Jordan Spieth, Jim Furyk, Rickie Fowler, Jason Dufner and Patrick Reed will gain automatic entry to the team.
Reigning Masters champion Bubba Watson has already locked in his place in the tournament. He, Dustin Johnson and Matt Kuchar have all been part of the last two unsuccessful Ryder Cup teams.
Veteran Jim Furyk is set for a ninth run at the Ryder Cup, but despite his bags of experience, he hasn't had much success at this particular tournament. In fact, he owns the second worst record (9-17-4, 37%) of any U.S. player with a minimum of 15 matches.
Rickie Fowler makes his return after becoming the youngest ever U.S. Ryder Cup player in 2010.  But his record is in serious jeopardy if 20-year old Jordan Spieth makes the cut. Spieth finished second in both the Masters and the U.S. Open this season.
Phil Mickelson is almost certainly a lock to make his tenth Ryder Cup appearance, if not through direct qualification then by one of team captain Tom Watson's picks. His fellow superstar, Tiger Woods, however, is less of a lock to be part of the U.S. Team this year. Woods is still getting back to full fitness after undergoing back surgery earlier this year.
Despite their sub-.500 records, Mickelson (14-18-6) and Woods (13-17-3) are two of the most successful active U.S. Ryder Cup golfers, which says a lot about their recent struggles in the tournament.
Writer's Prediction
The final teams will be as follows:
Europe – Stenson, Kaymer, McIlroy, Garcia, Dubuisson, Bjorn, Donaldson, Donald, Rose, Poulter, Jimenez, Gallacher
U.S.A. – Watson, Walker, Dustin Johnson, Kuchar, Spieth, Furyk, Fowler, Dufner, Reed, Mickelson, Kevin Na, Zach Johnson
With a much stronger collection of golfers, Team Europe (-110) keeps its winning streak alive against the U.S.A. Create a betting account and take a side in this storied rivalry.
[sc:Golf490baner ]
2,183 total views, 1 views today
Comments
comments