The San Francisco 49ers have recovered from their early-season jitters, recording their second consecutive win with a tight Week 5 victory over the Kansas City Chiefs. They can make it three in a row this coming Monday when they face the struggling St. Louis Rams who stumbled to their second straight defeat with a six-point loss to the NFC East leaders Philadelphia Eagles.
Read on for a complete preview of this crucial NFC West matchup and while you're at it, you can check out our preview of the Sunday Night Football game between the Giants and the Eagles.
[sc:Football ]
San Francisco 49ers vs. St. Louis Rams Monday Night Football Preview
When: Monday, October 13, 8:30 PM ET
Where: Edward Jones Dome, St. Louis
Line: San Francisco 49ers (-3.5) at St. Louis Rams (+3.5); total: 44.0 – view all NFL lines
Betting on the San Francisco 49ers
The San Francisco 49ers are just half a game back of the Arizona Cardinals for the NFC West lead after scraping past the Kansas City Chiefs 22-17 to improve their record to 3-2.
[sc:NFL240banner ]Once again it was the 49ers' running attack that did the most damage, racking up 171 rushing yards during the contest. Running back Frank Gore was responsible for 107 of those yards as he made sure the 49ers will enter their NFC West clash with the Rams in good shape.
Gore is averaging 64.5 yards a game, currently 15th among running backs. He is expected to dominate once again this coming Monday when the 49ers face St. Louis. The Rams are third-worst in the league in rushing defense with opponents averaging 152.5 yards against them.
After suffering back-to-back defeats in Weeks 2 and 3, head coach Jim Harbaugh decided to involve his star running back more in the 49ers offense. He has certainly delivered since then, racking up 119 yards on 24 carries in Week 4 to add to his 107-yard effort against Kansas City on Sunday.
Quarterback Colin Kaepernick had an average outing in the game against the Chiefs, completing just 14 of 26 passes for 201 yards and a touchdown. He is just 23rd among starting quarterbacks this season in the passing yards department with an average of just 228.0 yards a game.
With the Rams possessing the second-best passing defense in the NFL this season with an impressive 192.2 yard average, expect the 49ers to rely on their running game once again to get that all-important win in Week 6.
The 49ers are 7-3 in their last 10 away games dating back to October last season. The 49ers, however, are just 2-3 ATS this season.
Create a betting account now and cash in on all the NFL action.
Betting on the St. Louis Rams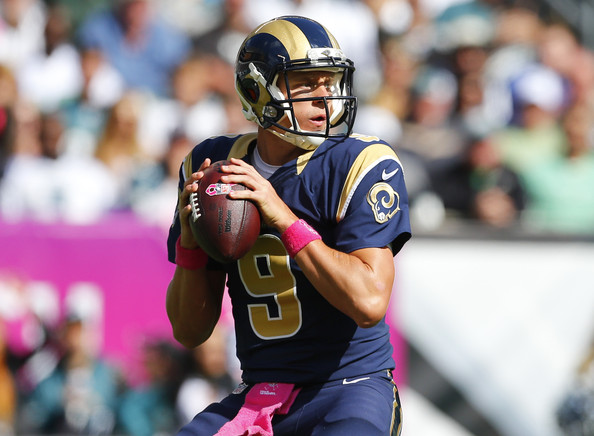 St. Louis' comeback bid against Philadelphia just fell short on Sunday as they lost a tough 34-28 loss to the Eagles in NFL Week 5 action.
The Rams came storming back from 34-7 down in the second half, racking up three straight scores to whittle down the Eagles' lead to six with 4:41 remaining in the game. They even had a chance to win after they got the ball at their 7 with 1:47 to go but were thwarted by the Eagles defense just at the nick of time to send them spiraling down to 1-3.
Even with their 1-3 slate, there are still plenty of positives for a Rams team that was scrambling at the beginning of the season because of the loss of starting quarterback Sam Bradford to injury. Fortunately for them, their third-string QB Austin Davis is stepping up, which is vital if they are to remain in contention in the highly-competitive NFC West.
In the game against the Eagles, Davis completed 29 of 49 passes for 375 yards and three touchdowns, all of which came in a furious second-half charge. This was the 25-year-old's first start since being elevated by the Rams as their starting quarterback for the rest of the season and he has clearly rewarded the faith shown in him by head coach Jeff Fisher.
Through four games this season, he has completed 97 of 143 passes for 1,129 yards and a passer rating of 96.8. He has steered the Rams to the fifth-best passing attack in the NFL this season with St. Louis averaging 283.5 yards per game.
He will face his toughest test, though, this coming Monday as they host the streaking San Francisco 49ers. The 49ers are seventh-best in the NFL in passing defense with opponents averaging just 217.5 yards against them this season.
The Rams are 3-2 ATS in their last five meetings with the 49ers at home. The Rams, however, are just 1-3 ATS this season.
Writer's Prediction
The 49ers (-3.5) edge past the Rams to improve their record to 4-2.
[sc:NFL490Banner ]
2,122 total views, 1 views today
Comments
comments