The San Jose Sharks are back in another rather familiar situation after beating the Los Angeles Kings, 3-2, in Game 5 of their first-round Stanley Cup Playoff series. With a 3-1 series lead in hand, the Sharks have yet another opportunity to eliminate the Kings from playoff contention in three-straight postseason meetings.
Then again, Los Angeles hosts Game 5 from the friendly confines of Staples Center, and we all know how the Kings love to burst San Jose's bubble. Will we still see a Game 6 after this Friday night's showdown? Let's get up-close with this stunning matchup below.
And for more NHL postseason coverage from the Western Conference's side of things, check out our previews for St. Louis vs. Chicago and Nashville vs. Anaheim right after this.
NHL News and Predictions
San Jose Sharks vs. Los Angeles Kings Game 5 Preview
Where: Staples Center, Los Angeles
When: Friday, April 22, 10:30 PM ET
Line: San Jose Sharks (+115) at Los Angeles Kings (-135) – view all NHL lines
TV Broadcast: CNBC, CSCA
Betting on the San Jose Sharks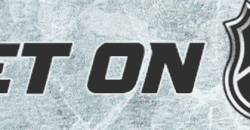 If this 2016 NHL postseason has taught us anything, it's that the power play really is, well… powerful.
The San Jose Sharks escaped with a 3-2 Game 4 victory at home over the Los Angeles Kings on Wednesday, scoring all three of their goals with the man-advantage. Brent Burns and Joe Pavelski got on the scoreboard first with two goals apiece in the second period, and Patrick Marleau found the back of the net in the final frame as well for good measure.
Those power play goals from the Sharks' top performers were far from their lackluster 0-for-5 outing on power play in Game 3's loss. Pavelski and Burns, in particular, have had it easy dissecting Kings' defenses. Pavs has eight goals and seven assists in nine games versus L.A. this season, while the bearded defenseman has eight goals and six helpers himself over his last 11 against their rivals.
A road game to close out a playoff series is quite daunting for most teams, but San Jose isn't likely to be fazed by Friday's test in Staples. In fact, the Sharks had the best road record in the league during the regular season, and only two of their six wins over the Kings this entire season – counting Game 4 – were won at the Shark Tank.
Plus, goalie Martin Jones is playing some of the best hockey of his life right now against his former team. Jones made 26 saves on Wednesday night (with three crucial blocked shots in the final minute to stave off L.A.'s late rally), and won all four of his starts this season versus the Kings with a superb 2.00 goals-against average.
Betting on the Los Angeles Kings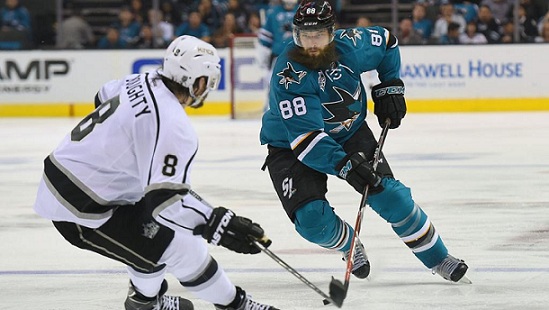 Although we can all recall that the Los Angeles Kings did just reel off four-straight wins against San Jose a couple of seasons ago to bury themselves out of a 3-0 playoff-series hole, it appears that they'll have an even steeper mountain to climb in spite of just needing just three-straight wins this time around.
The Sharks have had it their way against Los Angeles' goalie in Jonathan Quick, who made 26 saves on Wednesday – same as his former teammate Jones that night. While Quick has been his awesome self for much of his 2015-16 campaign, he does have a disappointing record of 1-6-0 starting against San Jose this season with a subpar 3.31 goals-against average.
And it's not just Quick who's to blame for L.A.'s woes against their Bay Area rivals. The team is not capitalizing on power play chances as much as the Sharks have, going just a combined 3-for-23 with the man-advantage over its last nine contests.
The offensive struggles mainly stem from their prized centers in Tyler Toffoli and Anze Kopitar's inability to take over games. Toffoli, the Kings' leading scorer during the regular season, has been held point-less this entire series. Kopitar, meanwhile, has just one goal and a couple of assists after racking up 74 points prior to the postseason.
Trevor Lewis and Luke Schenn were the ones who scored the goals for the Kings in Game 4, but still no solid firepower was found from either Toffoli or Kopitar. If not for nothing, Lewis and Schenn's goals were scored less than five minutes apart in the third period, meaning that the team can still come from behind in a hurry. (Shades of that four-straight playoff wins over the Sharks again, anyone?)
However, L.A.'s ineptitude to contain San Jose has reached its blueline defenses already, as All-Star defenseman Drew Doughty was constantly bitten by the Sharks' imposing attack. Doughty has been on-ice for seven of the San Jose's 10 goals this series, including four of five goals on even-strength. With that in mind, taking Los Angeles at (-135) to win Game 5 at home on Friday won't likely yield any positive results for the team's backers.
Writer's Prediction
The Sharks finally exorcise their Kings-summoned playoff demons by clinching the series with a sound 4-2 win.
Create a betting account now to get in on all the fast-paced action from the Stanley Cup Playoffs in an instant.

Comments
comments