Serena Williams managed to just slip herself into the fourth round of Wimbledon with a nail-biting 6-2, 4-6, 7-5 victory over Heather Watson on Friday. The former champion was fully tested right down to the wire, but remained composed enough to avoid the improbable upset. Now, she'll be looking forward to a blockbuster clash with her sister Venus Williams at the All England Lawn Tennis and Croquet Club for their round of 16 showdown. Which of these two former champions will advance to the next round?
Read on further to see an in-depth breakdown of this must-see fourth-round Wimbledon women's matchup. Meanwhile, prepare yourself for a top fourth-round matchup in the men's draw with our preview of Andy Murray vs. Ivo Karlovic.
[sc:TennisArticles ]
Serena Williams vs. Venus Williams Betting Preview
Where: All England Lawn Tennis and Croquet Club, Wimbledon
When: Monday, July 6, 8:00 AM ET
Line: Serena Williams (-500) vs. Venus Williams (+350) – view all Wimbledon Women's Singles lines
Betting on Serena Williams
Serena Williams' chance of earning her sixth Wimbledon championship – and the Grand Slam – almost came to an end last Saturday in the hands of Heather Watson. Watson put on arguably her best performance as a pro by putting the five-time Wimbledon champion on the brink of defeat.
However, Williams reminded the world why she is who she is – the World No. 1 – by battling back and delivered the goods in the clutch to squeak out a thrilling victory.
[sc:Other240banner ]Williams' was able to pull out the win with her consistent all-around game, as she converted 75% (39-for-52) of her first serve points and a decent 48% (55-for-115) of her receiving points. She also hammered in a staggering 53 winners—her highest total in the tournament thus far—and 13 aces as well. All in all, the 33-year-old has won 76% of her first serve points in her last three matches.
Serena won't be catching a break, though, as her next opponent is going to be her sister Venus Williams, the No. 16 seed. Their last meeting was last year at the Rogers Cup semi-finals in Canada, where Venus came away with the upset win, 6-7, 6-2, 6-3. Then in 2009, they met in the finals of Wimbledon 2009, but Serena prevailed in that match, 7-6(3), 6-2. Overall, she is 14-11 versus Venus.
Serena has won eleven of her last 12 matches.
Create a betting account now and see if you can unbeaten with your 2015 Wimbledon picks.
Betting on Venus Williams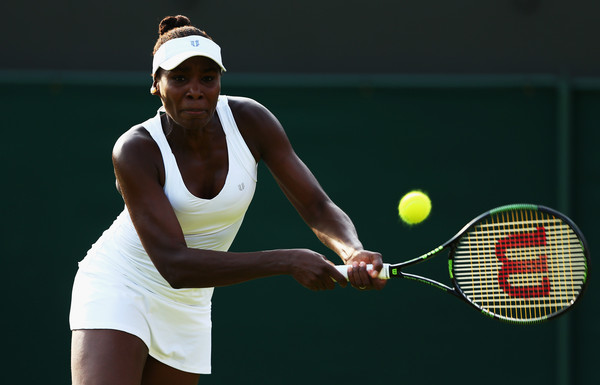 Like her younger sister Serena, Venus Williams is also eyeing her sixth Wimbledon championship this season. Her chances at the title are very much alive after a resounding straight-sets win over Aleksandra Krunic of Serbia 6-3, 6-2.
Williams was simply marvelous against the Serbian. She won 85% (22-for-26) of her first serve points and 73% (16-for-22) of her second serve points. The 35-year-old was just as efficient in her attacks towards the net, converting 72% of her net points. Moreover, Williams outdid the Serbian in the winners department, 21-11 and also had a 4-0 edge in aces.
Williams is at the declining stage of her career, but still remains as one of the best competitors in the tournament.  She'll take on her sister Serena for the ninth time in a Grand Slam tournament. Venus has only won twice in their previous eight meetings.
For Venus to a come out with a win and advance to next round, she'll have to continue her brilliant return play. Venus ranks 10th in the WTA Tour in return points won with a pretty solid 47.5% mark this season and to be more recent, she's garnered 51% of her return points in her previous three matches. Momentum will mostly be on her side against Serena, who clearly struggled to get past world no.59 Heather Watson in the third round.
Venus is 5-2 in her last seven games.
Writer's prediction:
Venus (+350) gets the better of her sister in a thrilling three-set victory.
[sc:Other490banner ]
2,504 total views, 1 views today
Comments
comments