The Ultimate Fighting Championship ends the year with an explosive rematch pitting former undisputed middleweight champion Anderson Silva against the fighter who took his title, Chris Weidman.
Can Silva recover the belt that he wore for more than six years? Or will Weidman prove that his first win versus Silva wasn't just a fluke? UFC 168 will take place at the MGM Grand in Las Vegas, Nevada on December 28, 2013.
UFC 168 Betting Preview: Chris Weidman vs. Anderson Silva
Chris Weidman (UFC 168 Odds TBA)
Anderson Silva (UFC 168 Odds TBA)
Betting on Anderson Silva in UFC 168
They call him "The Spider," but Anderson Silva got stepped on when he fought Chris Weidman in their first meeting back in UFC 162. [sc:UFC240banner ]
Now, Silva is in an unfamiliar position. He will be the challenger in their showdown after possessing the UFC middleweight championship belt for an impressive period. Before his shocking loss to Weidman, Silva defended his belt 10 times.
Many have said that age will soon catch up to the now 38-year old Brazilian, but they were repeatedly proven wrong each time he stepped into the octagon. Even in his last loss, Silva didn't display any signs of slowing down. It wasn't Silva's age that betrayed him in the Weidman fight – it was his overconfidence.
Since taking the title away from Rich Franklin in 2006, the Brazilian compiled 14 straight wins before succumbing to Weidman. Silva's record remains impressive despite his last loss. He is 33-5-0 overall in his MMA career, and has 22 knockout wins and four submissions.
Bet on Anderson Silva at Top Bet sportsbook once odds are released.
Betting on Chris Weidman in UFC 168
UFC followers who hadn't heard of Chris Weidman before he stepped into the octagon with Anderson Silva back in UFC 162 know who he is now – and what his fist can do when you leave your chin unguarded.
Weidman became the UFC middleweight champion by doing what many before thought was impossible – beat the former UFC pound-for-pound king Silva. And he did it in a fashion probably least expected by his peers, the media, and even the fans.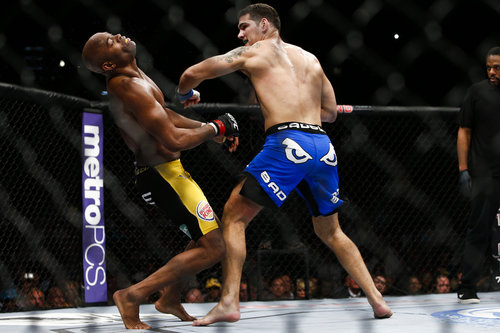 Dubbed as the "All American," Weidman's strength is wrestling. Back in his college wrestling days, Weidman beat current UFC fighters Ryan Bader and Phil Davis. Before knocking out Silva in UFC 167, Weidman had also knocked out Mark Munoz, shutting down the "Filipino Wrecking Machine's" dream of a middleweight title fight.
In their first meeting, Weidman made Silva pay a hefty price for monkeying around and leaving his guard down as he dodged every punch thrown at him. Silva's antics could only last for so long as Weidman finally connected a left hook to his chin for a big knockout win.
Weidman is undefeated in his professional MMA career. He is 10-0 overall with four wins coming by way of knockout and another three wins by submission.
Bet on Chris Weidman at Top Bet sportsbook once odds are released.
On the UFC 168 Fight Card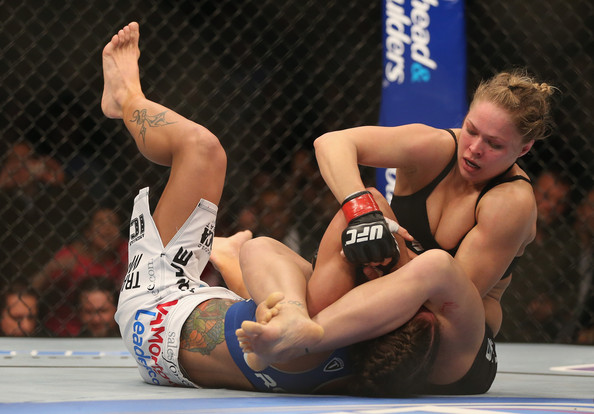 | Class | Fighters |
| --- | --- |
| Middleweight | Chris Weidman (10-0-0) vs. Anderson Silva (33-5-0) |
| Women's Bantamweight | Ronda Rousey (7-0-0) vs. Miesha Tate (13-4-0) |
| Heavyweight | Josh Barnett (33-6-0) vs. Travis Browne (15-1-1) |
| Lightweight | Gleison Tibau (28-9-0) vs. Michael Johnson (13-8-0) |
| Middleweight | Uriah Hall (7-4-0) vs. Chris Leben (22-10-0) |
| Featherweight | Dustin Poirier (14-3-0) vs. Diego Brandao (18-8-0) |
| Featherweight | Dennis Siver (21-9-0) vs. Manny Gamburyan (13-7-0) |
| Welterweight | Siyar Bahadurzada (21-5-0) vs. John Howard (21-8-0) |
| Lightweight | Jim Miller (22-4-0) vs. Fabricio Camoes (14-7-1) |
| Welterweight | William Macario (6-1-0) vs. Bobby Voelker (24-10-0) |
| Featherweight | Estevan Payan (14-4-0) vs. Robbie Peralta (16-4-0) |
[sc:UFC490banner ]
3,041 total views, 1 views today
Comments
comments