Despite missing out on the College Football Playoff last season, TCU had a season to be proud of. The Horned Frogs went 11-1 and were heralded as co-champions in the Big 12, together with Baylor.  However, they still came up short as Ohio State edged them out for the fourth and last playoff berth.
With a new season approaching, TCU will definitely be hungrier than ever in making a run at the national title. Let's analyze how the Horned Frogs are going to fare this year by looking at their keys to victory, their best/worst case scenarios and an overall preview of their upcoming season.
And in case you missed them, check out our verdicts for the Winners and Losers of the college football offseason, as well as the early Heisman Trophy candidates.
[sc:NCAAFArticles ]
2015-2016 TCU College Football Preview
Overview
[sc:NCAA240banner ]The TCU Horned Frogs sure put up those points last season. They averaged 46.5 points per game, second only to Big 12 rivals Baylor. The scary part is they could be even better this season, as they return star quarterback – and +500 Heisman favorite – Trevone Boykin, top receiver Josh Doctson, and four starters across the offensive line.
But head coach Gary Patterson will have some holes to fill on defense after losing All-American linebacker Paul Dawson – last season's leading tackler – and star safety Chris Hackett, who declared for the NFL Draft early. Patterson will have options at his disposal to rebuild his defense, though, one which ranked eighth in scoring defense last season.
Key Player – Trevone Boykin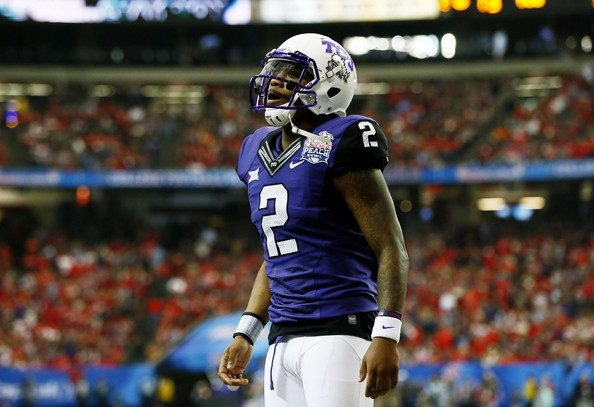 The main star on TCU is clearly Trevone Boykin. The dual-threat quarterback was one of the most improved players in the nation last year. He set eight new school records – including passing yards (3,901), total offense (4,608), passing touchdowns (33) and total touchdowns (42) – in his first full year as a quarterback.
This coming season will be Boykin's last chance to shine brightest and TCU's pass-oriented offense will allow him to do so. Now, with a year of experience in the "Air Raid" offense that was installed just last season, expect him and the rest of his teammates to thrive in this system more smoothly than ever before.
Offense will heavily determine the Horned Frogs' success this season and Boykin will be behind the center all season long to assure that everything falls into place. He'll look to deliver the goods one more time for TCU in the hopes of winning their first ever national title.
Key Game – vs. Baylor (Nov. 27)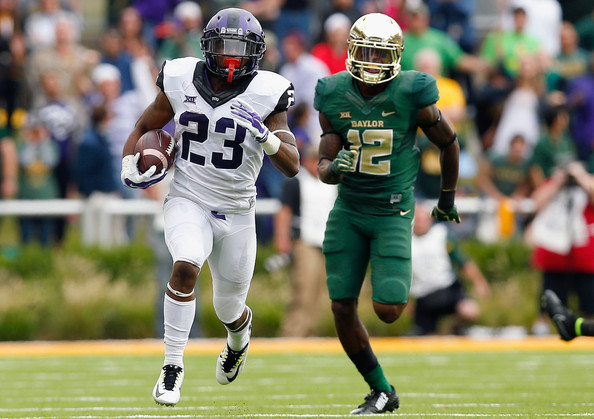 Everyone is expecting better results from the Horned Frogs this upcoming season. With most of their starters from last year still with the team, it should be easier for Trevone Boykin to go and lead this experienced group to another deep run.
It's safe to say that TCU is the team to beat in the Big 12, but their co-champion Baylor could play the spoiler in their national title quest. The Bears' dramatic come-from-behind win over TCU likely cost the Frogs a place in the playoff, something TCU fans will no doubt remember.
This season, though, TCU will get to host the Bears in the regular season finale, with the Big 12 championship most likely on the line. There can only be one.
Best/Worst Case Scenario for the Season
Best Case Scenario
Boykin easily tops last year's record-breaking performance as he puts up even more Heisman-worthy numbers. Meanwhile, there will be no disastrous collapse this time around against Baylor at home, which seals the Horned Frogs' undefeated season and books their place to the College Football Playoff.
Worst Case Scenario
Boykin – and TCU as a whole – fails to reproduce the magic of last season. The Horned Frogs buy into their own hype and subsequently lose two games – all but knocking them out of CFP contention.
Create a betting account now and don't miss out on any of the exciting college football games this upcoming season.
Complete Schedule
| DATE | OPPONENT | TIME |
| --- | --- | --- |
| Thursday, Sept 3 | @ Minnesota | 9:00 PM ET |
| Saturday, Sept 12 | vs SF Austin | 3:30 PM ET |
| Saturday, Sept 19 | vs SMU | 8:00 PM ET |
| Saturday, Sept 26 | @ Texas Tech | TBD |
| Saturday, Oct 3 | vs Texas | TBD |
| Saturday, Oct 10 | @ Kansas State | TBD |
| Saturday, Oct 17 | @Iowa State | TBD |
| Thursday, Oct 29 | vs West Virginia | 7:30 PM ET |
| Saturday, Nov 7 | @ Oklahoma State | TBD |
| Saturday, Nov 14 | vs Kansas | TBD |
| Saturday, Nov 21 | @ Oklahoma | TBD |
| Friday, Nov 27 | vs Baylor | 7:30 PM ET |
Writer's Prediction
Boykin wins the Heisman Trophy by leading an undefeated TCU team to another Big 12 title and to a College Football Playoff berth.
[sc:NCAA490banner ]
1,937 total views, 1 views today
Comments
comments