College football is coming, and Top Bet is here to give you a head start on your preparation for the new season. For the entire week, you'll find early outlooks on some select teams after their notable offseasons, as well as the key teams, players and dates to watch out for this year.
Marcus Mariota, Jameis Winston, Johnny Manziel, and Robert Griffin III are just four of the most recent and biggest stars to rise up from the ranks of college football. Each of them led their teams to glory in their respective years and earned the prestigious Heisman Trophy.
There's a stacked field of talented players in the upcoming NCAA football season. Who deserves to have his name uttered alongside such great collegiate players? Read on for four names to look out for to win the 2015 Heisman Trophy.
Get everything you need to know ahead of the 2015-2016 college football season. Check out the key dates as well as the favorites and sleepers in the football action to come.
[sc:NCAAFArticles ]
Early Heisman Trophy Favorites
Trevone Boykin (TCU Horned Frogs)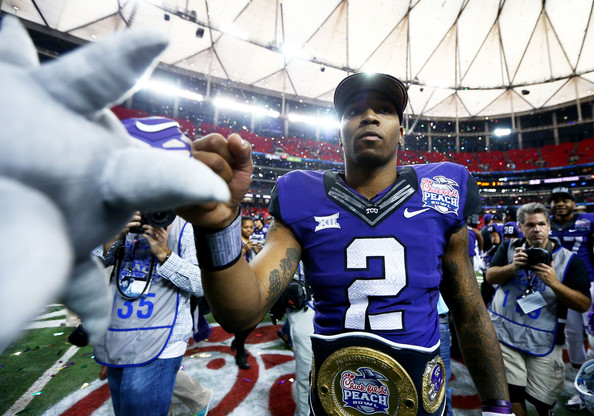 The TCU Horned Frog's new-look spread offense paid off with huge numbers last season, and almost led the team to a playoff berth. The Horned Frogs ranked sixth with 6,929 yards of total offense last season largely thanks to the stellar play of quarterback Trevone Boykin.
[sc:NCAA240banner ]Now entering his senior year, Boykin threw for 3,901 yards and 33 touchdowns last season. He also rushed for 707 yards and eight scores, showing that he doesn't have just a strong arm.
Boykin won't be short of weapons for the upcoming college football season. Wide receivers Josh Doctson, Deante' Gray and Kolby Listenbee are all returning after combining for 33 touchdowns last year.
Boykin and the Horned Frogs will be very motivated to show that they're one of the best if not the best team in all of college football. Boykin is the +500 favorite to win the 2015 Heisman Trophy.
Ezekiel Elliott (Ohio State Buckeyes)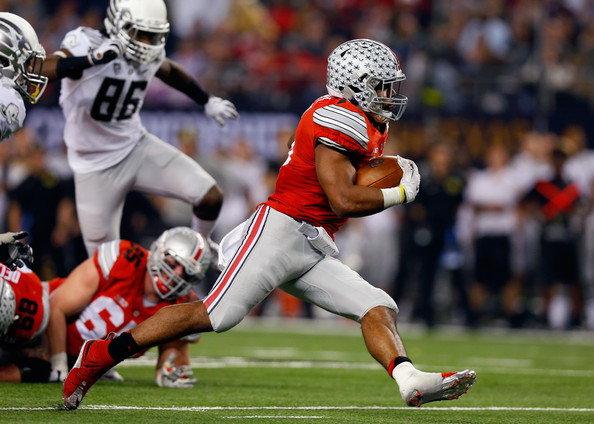 The Big Ten is loaded with running backs, but Ohio State's Ezekiel Elliott definitely takes the cake considering how well he played in the conference championship game and the College Football Playoff. Elliott ran for 220 yards in the Big Ten championship game against Wisconsin, and totalled 476 yards and eight touchdowns in the national semifinal game against Alabama and the national championship game against Oregon.
The Buckeyes are considered the heavy favorites to win back-to-back national championships at +275. Ohio State doesn't have plenty of competition impeding it from another Big Ten championship and College Football Playoff berth; the Buckeyes went 8-0 in conference games last season.
With the way the Buckeyes are poised for another run at the title, expect Elliott to be at the forefront of their offense along with his quarterbacks. Elliott is +600 to win the 2015 Heisman Trophy.
Create a getting account now and grab some juicy lines in NCAA Football futures.
Dak Prescott (Mississippi State Bulldogs)
Much like how his team was pegged as a national title challenger last season, Mississippi State quarterback Dak Prescott was a frontrunner for the 2014 Heisman Trophy. But throwing three interceptions in a loss to Alabama late into the season had the team, and Prescott, eventually falling off the radar. Still, Prescott finished eighth in Heisman voting (the highest ever for a Mississippi State player) and even garnered two first-place votes.
Prescott broke 10 single-season records at Mississippi State in 2014. He set the records for the most rushing yards by a quarterback (939), total yards of offense (3,935), total offensive yards per game (327.9), touchdowns responsible for (37), completion percentage (61.2 percent), passing yards (2,996), 200-yard passing games (11), passing touchdowns (24) and passing efficiency (151.3). The quarterback also led his team to a program-best 10 regular season wins.
Mississippi State losing 15 starters from last year's team hurts its chances of contending for a title. But a Heisman contender like Prescott (+1,200) should help fill out those holes.
Joshua Dobbs (Tennessee Volunteers)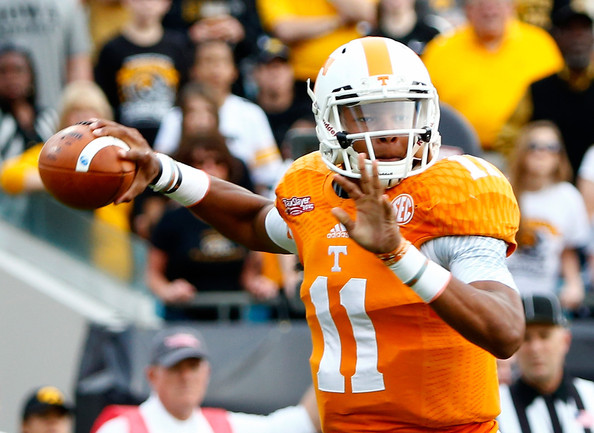 Tennessee welcomed a three-star pro-style recruit, Joshua Dobbs, in 2013. He played five games as a freshman, and then started the Volunteers' final six contests in 2014. Dobbs passed for 1,206 yards with nine touchdowns and six interceptions as a sophomore. While his numbers certainly weren't Heisman-like in any way, his 63.3 percent completion rate made him among the top 10 signal callers in the nation.
Dobbs will have the opportunity to start for the Vols in his junior year. He's poised to shine with Tennessee bringing back the most starters in the SEC with 18. 10 of those returning starters are on offense with four on the offensive line, making sure that Dobbs will be well protected.
Tennessee also ranks fifth in recruiting this offseason with four five-star and 13 four-star commits according to Rivals.com. Expect the Vols to pull off a couple of surprises in the SEC with Dobbs (+5,000) at the helm.
Writer's Prediction
The last five Heisman Trophy winners were all quarterbacks. Go with the trend and see Boykin (+500) tear down defenses in the Big 12.
[sc:NCAA490banner ]
3,897 total views, 1 views today
Comments
comments