College football is coming, and Top Bet is here to give you a head start on your preparation for the new season. For the entire week, you'll find early outlooks on some select teams after their notable offseasons, as well as the key teams, players and dates to watch out for this year.
Good for the Michigan Wolverines, Clemson Tigers, and USC Trojans for being three of college football's big offseason winners. But not everyone was quite as lucky as those three over the last few months. Other teams lost some significant players to the NFL, struck out in recruiting and/or had off-some the-field issues.
Let's take an early look at three of those teams that came away on the losing end during the offseason, examine exactly what went wrong for them and evaluate their prospects for the upcoming season. Speaking of which, check out the key dates for the 2015-2016 college football season so you don't miss out on any big college football event.
[sc:NCAAFArticles ]
Three Teams that Lost the 2015 College Football Offseason
Oregon Ducks
After losing last year's national championship game to Ohio State in resounding fashion, the Oregon Ducks also lost Heisman Trophy-winning quarterback Marcus Mariota to the NFL in the offseason.
[sc:NCAA240banner ]The Ducks did land a top transfer in former Eastern Washington quarterback Vernon Adams Jr. in their attempt bridge the gap at the position post-Mariota. Adams was highly productive in three years at EWU, as he threw for 10,438 years and 110 touchdowns, while completing 64.8 percent of his passes.
Oregon also scored an impressive recruiting class which ranked No. 17 in the nation according to Rivals.com, their highest ranking since 2012.
But there are still significant question marks regarding Adams, the runner-up for the FCS offensive player of the year award for the past two seasons, and his ability to step up to the FBS level. He also has the disadvantage of missing spring practice and has only the fall camp to learn the fast-paced Oregon offense and win the starting job.
Oregon is priced at a somewhat optimistic +2,000 to finally claim its first national title this year. But the loss of Mariota and the likely drop-off from him to Adams, Jeff Lockie or whoever wins the starting QB job, makes a Ducks championship run highly unlikely.
Miami (FL) Hurricanes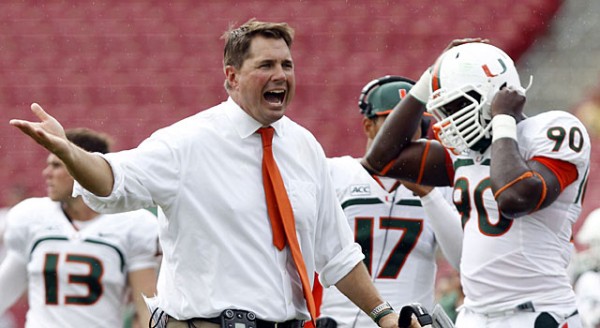 Objectively speaking, Miami didn't have a "bad" recruiting class. The 'Canes came away with the 26th-ranked class according to Rivals.com, one which figures to strengthen both their offensive and defensive lines.
But what makes The U's offseason recruitment a bit underwhelming is how it could've been so much better. Miami missed out on star recruits like wide receiver Terrell Chatman, defensive end Shelton Johnson, and four-star defensive back Marcus Lewis to in-state rivals Florida and Florida State, among others.
As a result, the 'Canes finished behind both the Noles (No. 3 recruiting class) and Gators (No. 23), two schools that landed as many five-star recruits combined as the 'Canes had four-star recruits (seven) in the talent-rich state.
Head coach Al Golden's 2015 class is one that could still help the 'Canes return to championship contention in the ACC. But after losing a lot of talent to the NFL draft (Ereck Flowers, Phillip Dorsett, Duke Johnson, et al) and failing to secure some truly top-flight recruits in the offseason, the' Canes won't be anywhere near the College Football Playoff race this year. They're +15,000 long shots to win the national title.
Ole Miss Rebels
Speaking of missed opportunities, Ole Miss was also left pondering about what could've been after National Signing Day. The Rebels still came away with a respectable haul – they ranked No. 21 according to Rivals.com – but swung and missed on some of their top recruits.
It was bad enough that Tennessee took away Drew Richmond, one of the top offensive tackle prospects in the country. But it got even worse after bitter state rival Mississippi State stole Leo Lewis, who is generally regarded as the top inside linebacker prospect in the nation.
And to put the cherry on top of what has so far been a lousy offseason, Ole Miss now has to deal with the situation concerning star left tackle Laremy Tunsil and his stepfather, which involves possible NCAA violations. Losing Tunsil – possibly for the entire season – would be a huge blow for the Rebels, who will have a brand new starter at quarterback following the graduation of senior Bo Wallace.
After a promising 9-4 season in 2014, Ole Miss are +4,000 sleepers to win the national title this year. But those odds might've been a little lower had the Rebels' offseason run a bit more smoothly.
Ready for some college football? Create a betting account now and get in on all the great college football action from Week 1 all the way to the College Football Playoff.
[sc:NCAA490banner ]
1,680 total views, 1 views today
Comments
comments