Notre Dame – First Football Season:
The successful Notre Dame Fighting Irish football program we know nowadays had its own share of  a humble beginning. In their very first foray into football, would-be bitter rivals Michigan taught them a lesson with an 8-0 blanking back in 1887. That was their only game that year.
Notre Dame – The Name:
There are several stories surrounding the origin of how Notre Dame came to be known as the "Fighting Irish." One tale occurred way back in 1899 when an opposing team's fan shouted, "Kill the Fighting Irish, kill the Fighting Irish." Another one tells the story of a halftime break diatribe by a frustrated Notre Dame player shouting to his teammates of mostly Irish descent "What's the matter with you guys? You're all Irish and you're not fighting worth a lick." But the most accepted origin was the press' use of the term in the 1920's to describe the tenacity of Notre Dame's athletes and its resemblance to the Irish stereotype.
Conferences:
 Independent
The Home Field:
Notre Dame Stadium (1930-present), capacity: 80,795
The Championships:
National Championships: 1943, 1946, 1947, 1949,1966, 1973, 1977, 1988
Conference Championships: Independent
Bowl Appearances: 32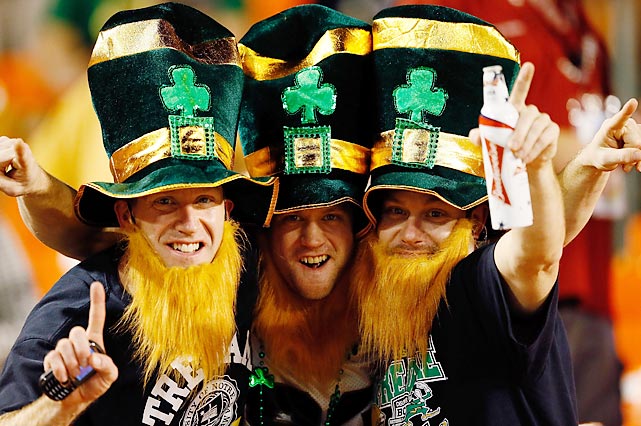 2013 Notre Dame Fighting Irish Schedule:
See the latest betting odds and lines of the Fighting Irish against their upcoming opponents by visiting Top Bet Sportsbook.
October 19 vs. USC
October 26 @ Air Force
November 2 vs. Navy
November 9 @ Pittsburgh
November 23 vs. BYU
November 30 @ Stanford (#5)
Tune in to Top Bet Sports News for more on the Texas A&M  Aggies this 2013 College Football season.
[sc:NotreDameArticles ]
5,210 total views, 3 views today
Comments
comments