With all the marquee free agents in the MLB offseason having flown off the board just recently (and with one particular starting pitcher receiving a hefty amount for his services), it's now an opportune time to look back at the most lucrative contracts ever signed by baseball players.
Not all of these deals turned out to be knocks out of the park in terms of total value for a team's buck, but all of these will surely make your jaw drop at all the millions of dollars being committed. As such, let's now run down the top 10 players who got mad money for their prowess on the diamond.
And if you're still greedy for more news about the wealthiest athletes and franchises, head on over to our special feature on the Top 10 Biggest Contracts in Sports History right after this.
MLB World Series News and Previews
The Top 10 Biggest Contracts in MLB History
10. Prince Fielder (Detroit Tigers)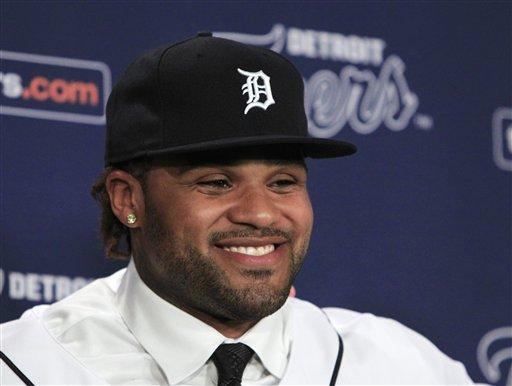 In 2011 and while he was still with the Milwaukee Brewers, first baseman Prince Fielder had an MVP All-Star award and an MVP-like season under his belt as one of the most powerful sluggers in baseball at the time.
The Detroit Tigers, meanwhile, had a solid core set up for a 2012 title run and in turn, wanted to enlist Fielder for his services. The burly lefty got a nine-year, $214-million contract from the Tigers, which turned out to be quite a mutually beneficial deal. Detroit made it to the World Series in Fielder's first year with the team and as far as the ALCS in his second season.
9. Clayton Kershaw (Los Angeles Dodgers)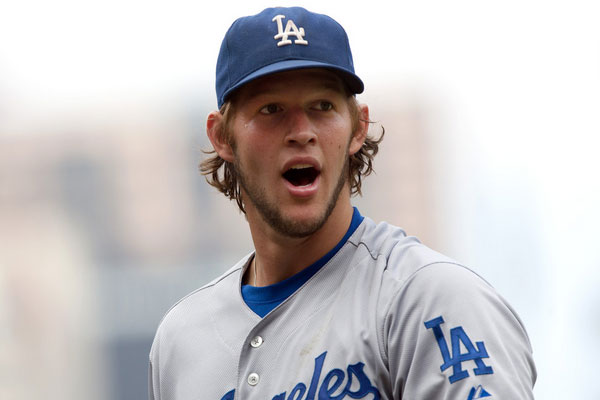 Over the past few years, no other starting pitcher has been as dominant as Los Angeles Dodger Clayton Kershaw.

50%% deposit bonus up to $250! Claim Now.
With two NL Cy Young awards already under his belt, Los Angeles couldn't have afforded to let its ace walk back in 2014. So, the high-rolling Dodgers ponied-up and handed Kershaw $215 million for seven years to remain at the top of the team's starting rotation.
The move has paid off extremely well so far for the Dodgers, as the sizzling lefty bagged his third-career Cy Young award that same year that he re-signed with the historic franchise, and still continues to pitch at a very high level.
8. David Price (Boston Red Sox)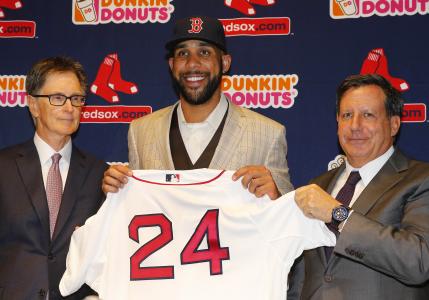 Tennessee native David Price has been wooed by several playoff contenders of years' past, and has already signed a couple of sizeable contracts with the Detroit Tigers and the Toronto Blue Jays at that. But just earlier this past December, the Boston Red Sox flashed some serious cash at the five-time All-Star's face like never before.
Just as expected and fitting of his name, Price liked and took the price tag of his seven-year, $217-million deal, and will now start most of his games in fabled Fenway Park. Can the former AL Cy Young awardee bring the Red Sox back to the World Series this coming season? We'll just have to tune in to find out.
7. Joey Votto (Cincinnati Reds)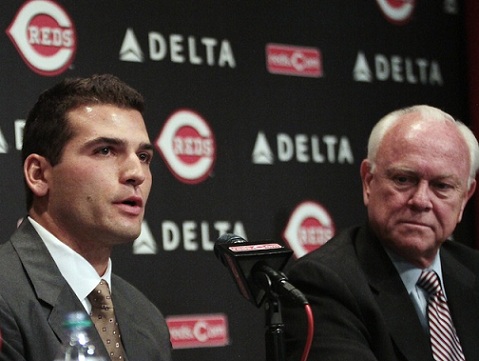 It feels like ages since the Cincinnati Reds have been considered as true postseason contenders, and the team has been able to at least stay competitive over the past few years mainly because of one guy: Joey Votto.
Looking towards the future, the Reds went all-in with their prolific first baseman back in 2014 by extending him a $225-million contract for 10 years. Votto's health has been quite an issue since, but there's no doubt that the 2010 NL MVP still has a lot of mileage in his years to try and give the folks of Cincy their money's worth before his decade-long commitment with the team is up.
T-5. Albert Pujols (Los Angeles Angels) and Robinson Cano (Seattle Mariners)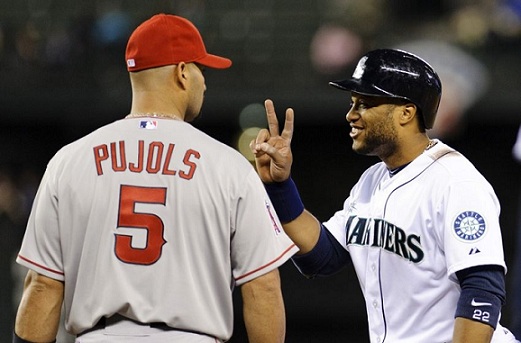 Albert Pujols and Robinson Cano were already superstars before they signed with their current and respective teams, and their bodies of work pretty much justified their contracts that were equally set at $240 Million for 10 years.
In Pujols' case, he already won two World Series titles with the St. Louis Cardinals before signing the aforementioned deal with the Los Angeles Angels back in 2012. Meanwhile, Cano won one title as a member of the New York Yankees back in 2009, and then signed with the Seattle Mariners in 2014.
4. Miguel Cabrera (Detroit Tigers)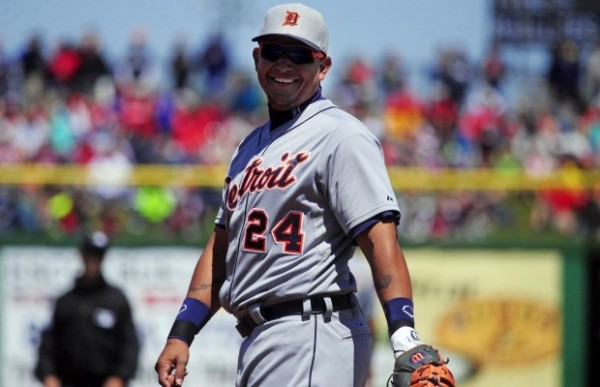 When Miguel Cabrera signed his first contract as a free agent with the Detroit Tigers back in 2008, he got a deal for eight years at $152 million. Since then, he had become this generation's best slugger by winning baseball's first Triple Crown title in ages and even taking the Tigers to a trip to the World Series.
Even until now, the 10-time All-Star is still playing like a beast. That fact actually prompted his team to preemptively lock him down for another decade. In March of 2014, the Tigers announced that they had extended Cabrera's contract – which still had two years left at the time – to another eight years for a whopping sum of $248 million.
3. Alex Rodriguez (New York Yankees)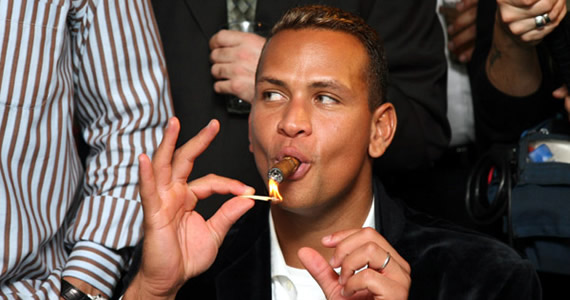 Ahh, where would the modern day MLB contract be without the breakthrough signing of Alex Rodriguez in 2001? 15 years have already passed, and A-Rod's jaw-dropping deal worth $252 million for 10 years still stands as one of the most lucrative deals in baseball history.
But the literal and figurative buck didn't stop there for the three-time AL MVP, as Rodriguez's relationship with the free-wheeling New York Yankees reached an all-time high in 2008. This now leads us to the next item on our list…
2. Alex Rodriguez (New York Yankees)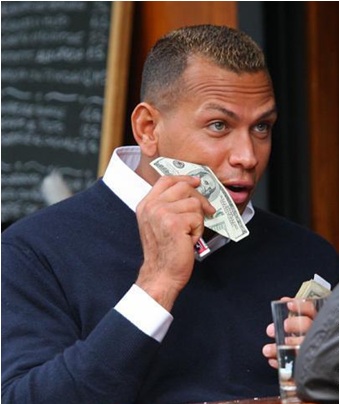 Yes, A-Rod owns not one, but two of the most expensive contracts ever signed in Major League Baseball history. Similar to Cabrera's case, Rodriguez was offered a 10-year, $275-million extension from the Yanks in 2008 when he still had two years left on his current contract.
Although the 14-time All-Star and five-time AL home run leader has had his share of on-field and off-field issues of late, the Bronx Bombers have pretty much milked the future Hall-of-Famer for all his worth already with merchandise sales his bevy of endorsements.
1. Giancarlo Stanton (Miami Marlins)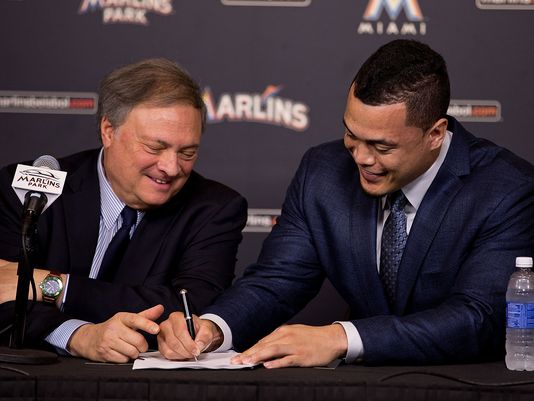 Rodriguez is no longer baseball's top moneymaker of all-time, as that title now belongs to Giancarlo Stanton of the Miami Marlins.
After a banner 2014 season wherein Stanton won the Silver Slugger and Hank Aaron awards, the Marlins sold their (fish) farm the next year to sign the phenomenal outfielder to an unprecedented contract worth $325 million for 13 years.
At just 26 years of age, Stanton has barely tapped into his prime while already producing at a staggering rate. With that in mind, the three-time All-Star is just beginning to flourish, and he could just as well top his own contract somewhere down the line if he keeps up his stellar play… just like A-Rod did.
Did all this talk about millions of dollars suddenly whet your money-making appetite? Go on and create a betting account now to cash in big from all the upcoming MLB betting action and all the best sporting events across the nation.
3,902 total views, 1 views today
Comments
comments