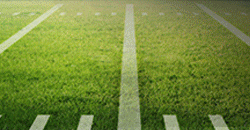 You've all heard the story. A former No. 1 overall draft pick gets laid off due to injuries by the only team he's played for in 13 years, only to be welcomed by another team which still saw his potential. That man is Peyton Manning, ladies and gentlemen. The Sheriff is back for his third career Super Bowl appearance, and possibly his last one ever. Will Manning lead the Broncos to victory and ride off in the sunset?
Before we get crazy about Manning's third Super Bowl appearance, let's take a look at the best moments in his career. Can Manning's solid play usher in from the next generation of elite quarterbacks? One of those young guns happens to be Carolina's Cam Newton, who the Broncos will face in Super Bowl 50. Check out feature of Newton's top moments and plays in the NFL.
NFL News and Previews
Top 10 Peyton Manning Moments and Plays of All-Time
10. First NFL Career Win
9. First Playoff Victory
Speaking of firsts, Manning had to wait until his seventh year in the NFL before he'd win his first playoff game. But boy did he make have one memorable day in the 2004 Wild Card Game. He completed 22 of 26 passes for 377 yards and five touchdowns for a perfect passer rating of 158.3 in a 41-10 victory over the Denver Broncos. It was the first of many spectacular playoff games by Manning.
8. 2007 AFC Championship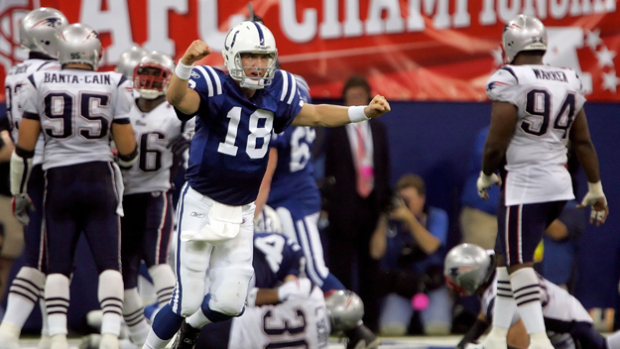 Manning won his first playoff game in 2004, but it wasn't until much later that he'd win his first AFC Championship game. He lost to Tom Brady and the New England Patriots in 2004 conference title game and again in the 2005 Divisional Round. Manning finally gained the upper hand against his rival in 2007. Despite being 18 points down in the second half, he led the Colts' game-clinching 80-yard drive late in the fourth quarter to win the game.
7. Manning-to-Harrison – Week 6 of the 2005 NFL Season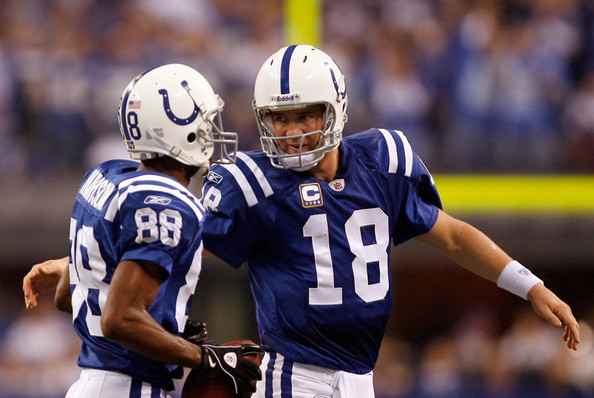 Manning and Marvin Harrison became the most prolific quarterback-receiver scoring tandem in Week 6 of the 2005 season, a 45-28 blowout of St. Louis. The two connected for their 86th career touchdown together. They have combined for the most touchdowns (112), completions (953) and passing yards (12,756) than any other quarterback-receiver duo in the history of the NFL.
6. Super Bowl XLI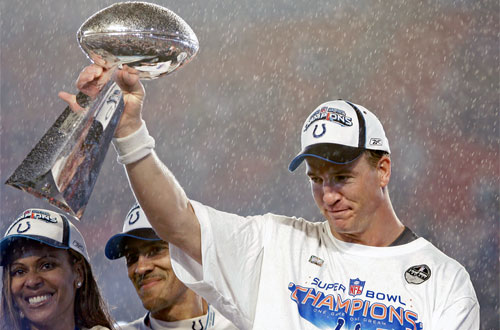 Manning got the monkey off his back by beating Brady and the Patriots in the AFC Championship game in 2007. He took one step further by winning his first Super Bowl right after. Manning beat the Chicago Bears on the strength of 247 yards with a touchdown and an interception. It wasn't the best of lines, but it was enough to give Manning his first ever Super Bowl victory.
5. Historic Comeback on Monday Night Football Week 6 2012
Manning and the Denver Broncos made history in Monday Night Football in Week 6 of the 2012 regular season. In his first year as a Bronco, the Sheriff made history in tying the biggest comeback in NFL history. The Broncos fell behind 24-0 in the first half against the San Diego Chargers. But Denver rallied for 35 unanswered points in the second half, while not allowing San Diego to score again.
Manning threw a 21-yard touchdown to Brandon Stokley midway through the fourth quarter to essentially seal the game. He made 13 of 14 passes and three touchdowns in the second half, which allowed him to attain a Total QBR of 98.0 after halftime.
4. Thanksgiving Day Game (2004)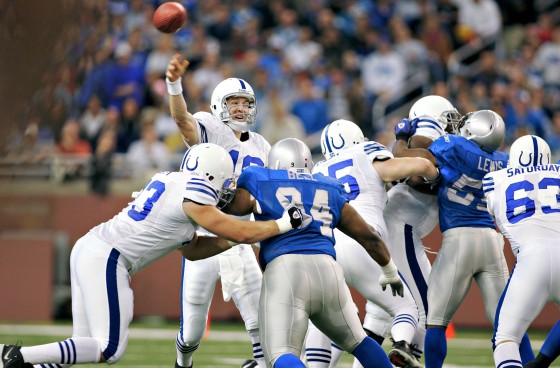 Manning had his first and only Thanksgiving Day game in 2004. He had plenty of oh so memorable moments to be thankful for that day. He tossed for six touchdowns passes. He also set an NFL record with his fifth consecutive game throwing for at least four touchdowns. The six touchdowns helped Manning and the Colts feast merrily away on the hapless Detroit Lions, who were blown out 41-9.
3. Revenge Game against the Baltimore Ravens (2013)
In Week 1 of the 2013 NFL Regular Season, Manning (now with the Broncos) kicked off the season against the defending Super Bowl champions, the Baltimore Ravens. The Broncos were booted from the postseason in the Divisional Round by the Wild Card Ravens, 38-35 in double overtime. Manning threw an interception, which set up Justin Tucker's 47-yard game-winning field goal 1:42 into the second extra period.
Manning rebounded in a big way in 2013's kickoff game. He hurled a whopping seven touchdowns to tie an NFL record for most touchdowns in a single game. Five other quarterbacks also hold the record, but Manning is the only one of two to do so without an interception. Oh sweet revenge. Take that Ravens!
2. Setting the NFL Record for Most Career Passing Touchdowns
Manning entered the Broncos' 2014 Week 7 showdown against San Francisco two short of Brett Favre's record of 508 career touchdown passes. He completed 22 of 26 passes for 316 yards and four touchdowns in a 42-17 rout. A 39-yard pass to Wes Welker tied the record in the first quarter, and an eight-yarder to Demaryius Thomas set a new one.
Manning finished with an almost-perfect passer rating of 157.2. But he did have his fair share of trouble. His receivers played keep away with his milestone memento. The Sherriff got the last laugh when he finally got the ball before continuing to beat down on the helpless 49ers.
1. 2013 AFC Championship Game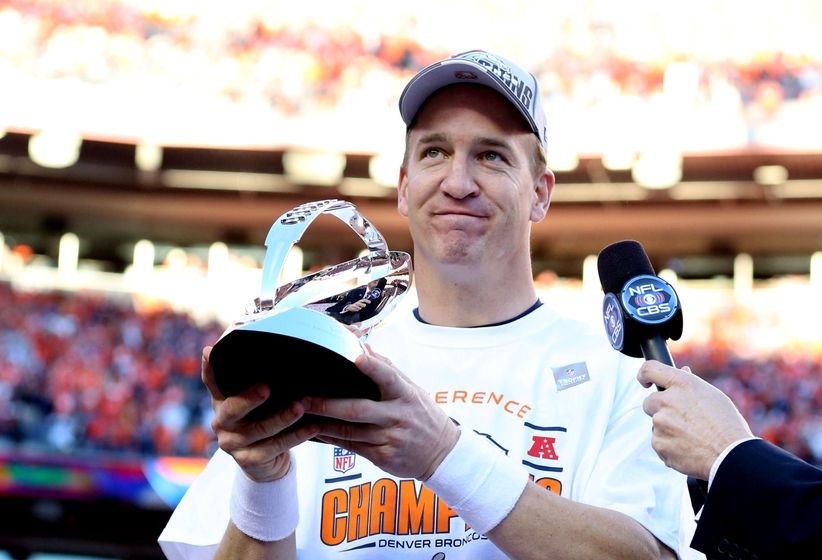 After tossing for 400 yards and a pair of touchdowns, Manning became just the third quarterback to lead two different teams to the Super Bowl after beating Brady and the Patriots 26-16.
The AFC Championship victory highlighted a record-breaking season for Manning, who broke NFL single-season records for passing yards (5,477) and touchdowns (55). Not bad for a quarterback thought to be done and washed up after being released by the Colts in 2011 due to neck and spinal fusion surgeries. What a way to prove naysayers wrong Peyton!
Can Manning continue to prove doubters wrong? Create a betting account now and put your answer to the test when Super Bowl 50 kicks off.

2,634 total views, 1 views today
Comments
comments