With just a win apiece, the Toronto Maple Leafs and the Buffalo Sabres have been the early tenants of the Atlantic division's cellar.
The Maple Leafs, owner of a 1-3 record, look to give coach Mike Babcock his second win as the team's bench boss when they pay Buffalo (1-4) a visit to play the young Sabres squad under Dan Bylsma. Will Toronto nail its second win of the season? Or will Buffalo show some fire and beat the Buds?
For more NHL, you can also read our preview of Flyers vs. Bruins.
[sc:NHLArticles ]
Toronto Maple Leafs vs. Buffalo Sabres Betting Preview
Where: First Niagara Center, Buffalo
When: Thursday, October 21, 2015 7:00 PM ET
Line: Toronto Maple Leafs vs. Buffalo Sabres – view all NHL lines
Betting on the Toronto Maple Leafs
[sc:NHL240 ]A day after notching their first win under new coach Mike Babcock, the Buds were sent back down to earth as they lost to Pittsburgh on Saturday, 2-1.
The Penguins caught Toronto sleeping in the first period, where Pittsburgh buried all of its two goals in the game. Giving up goals early in the game has been a worrisome trend for Toronto. In fact, the Leafs own a league-high six goals allowed in the opening period. But based on Buffalo's abysmal offense, one that produces 1.8 goals per game, defending against the Sabres' attack may be less of a problem for netminder Jonathan Bernier. Bernier allowed both of Pittsburgh's goals on Saturday, but quickly recovered to finish with 31 stops on 33 shots faced. So far this season, Bernier is 0-3 with a 3.09 GAA and a .900 SV%  in three starts.
As for their offense, the Leafs have mainly relied on Dion Phaneuf, who leads the team with four points (four assists). Leo Komarov, meanwhile has three goals, including the Leafs' lone score in the loss to Pittsburgh. The first line of Shawn Matthias, Nazem Kadri, and Brad Boyes has produced just one goal this season, but look for them to make things happen against Buffalo's defense that allows 2.8 goals per game.
The under is 7-3 in Toronto's last 10 games overall.
Create a betting account now and see if you're prediction will be right on target.
Betting on the Buffalo Sabres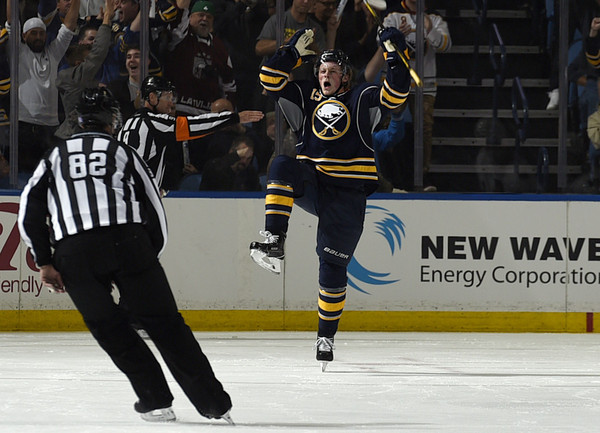 The Sabres have a long way to go before they become a force in the NHL. For now, coach Dan Bylsma have to spend lots of time incubating the young but talented cast of players on the team. Of course, it won't hurt the maturation process of Jack Eichel and company if they could beat a high-profile team along the way like Toronto, which Buffalo will host later tonight.
In Buffalo's recent outing, the Sabres lost to Tampa Bay, 2-1.  Sam Reinhart scored the only goal for the Sabres in that game. Another Sabres youngster that has been turning heads this season is Eichel, who leads the team with two goals.
Eichel, however, can't do it all, so the likes of Evander Kane and Tyler Ennis are pressured to lend the 2015 Draft second overall pick some much-needed scoring support. Kane was a key offseason acquisition for Buffalo, brought over to bring added firepower to the team. Kane has 109 goals and 115 assists thus far in his six-year NHL career. Ennis, who finished last season with 20 goals in 78 games for the Sabres, only has a goal to show this season.
Where the Sabres could deal heavy damage later tonight is on the man advantage, as they are ninth in the NHL with a 23.8 PP%. They went 4-for-16 on the power play over their last three games, which should be enough momentum for Buffalo against Toronto's penalty kill that ranks just 24th in the league.
The Sabres are 8-2 in their last 10 home games against Toronto.
Writer's Prediction
Buffalo wins, 3-2.
Create a betting account now and build a winning NHL parlay.
[sc:NHL490 ]
1,736 total views, 1 views today
Comments
comments