Let's get "Rowdy" in Rio with UFC Women's Bantamweight Champion Ronda Rousey set to defend her title at UFC 190. Rousey has been dominant in her UFC career and has escaped unscathed in all her fights. She'll get even more motivation to put a beat down on challenger Bethe Correia, who trashed two of Rousey's closest friends and teammates en route to a title shot.
Will Rousey explode for yet another first round finish? If so, there's still a loaded main card to keep things interesting. Read on for a complete look at UFC 190.
Ohio State Buckeyes quarterback Cardale Jones took to Twitter to announce his crush on Rousey. But Jones' obsession with the UFC Women's Bantamweight champ may take a backseat as the Buckeyes prepare to defend their national championship. Check out the comprehensive preview for the Ohio State Buckeyes 2015-16 season.
[sc:MultiSportArticles ]
UFC 190: Rousey vs. Correia Preview
UFC Women's Bantamweight Championship: Ronda Rousey vs. Bethe Correia
Line: Ronda Rousey (-1,500) vs. Bethe Correia (+800) – view all UFC 190 lines
UFC Women's Bantamweight Champion "Rowdy" Ronda Rousey (11-0) is the "world's most dominant athlete" according to Sports Illustrated. She gets to showcase her dominance once again at UFC 190, defending her belt against Brazilian challenger Bethe Correia (9-0).
[sc:UFC240banner ]While Rousey could use her vaunted Judo skills to finish this fight with her 10th career first-round armbar, she promised to put a prolonged beating on Correia for the comments made linked to her deceased father. Rousey has been working her boxing non-stop at the Glendale Fight Club with head coach Edmund Tarverdyan. The results have been amazing; Rousey now has crisp and powerful boxing to complement her Judo base.
Rousey has shown competent striking in her victories over Sara McMann and Alexis Davis. She obliterated McMann's liver with a well-placed knee from the clinch, while she hurt Davis with a right straight before polishing her off with a Judo toss and ground-and-pound for the first round knockout.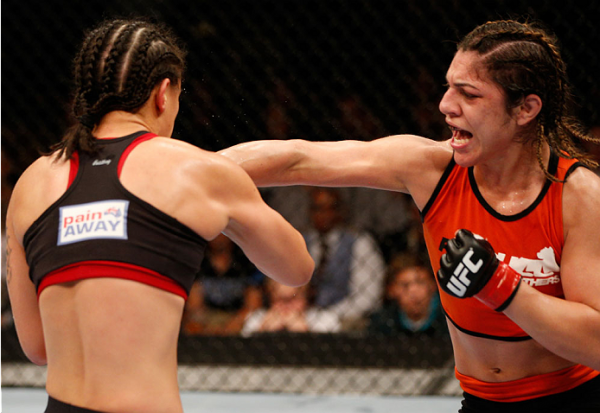 Correia is still too green for Rousey at this stage of her career. The Brazilian has little to no grappling chops to trouble the champion's relentless throws and submission attempts. Her boxing also isn't fundamentally sound. But Correia could unload with plenty of punches in bunches to stop the fight if she manages to land a Hail Mary haymaker on Rousey's jaw. Rousey has been too willing to eat a punch to land one of her own.
Writer's prediction: No beatdown will happen. Rousey wins within the first twenty seconds of the fight.
Light Heavyweight: Mauricio Rua vs. Antonio Rogerio Nogueira
Line: Mauricio Rua (-210) vs. Antonio Rogerio Nogueira (+165) – view all UFC 190 lines
Brazilian legends Mauricio "Shogun" Rua (22-10) and Antonio Rogerio Nogueira (21-6) meet for the second time in their careers in what should be a barnburner of a co-main event. Shogun seems to have lost his standing as a top contender in the division he once ruled after losing three of his last four fights (two by knockout).
Rua's stoppage losses may pose questions about his durability, but Nogueira may be even more shopworn. Nogueira has battled a string of injuries in recent years, accentuated by a brutal first round knockout loss against Anthony Johnson in July 2014. Shogun still hits like a truck, holding the most knockdowns (nine) among current light heavyweights. He should be able to land the fight-ending blow on Nogueira's chin.
Writer's prediction: Shogun knocks down Nogueira with a right hook and puts the finishing touches with his trademark hammerfists. Rua wins by first round technical knockout.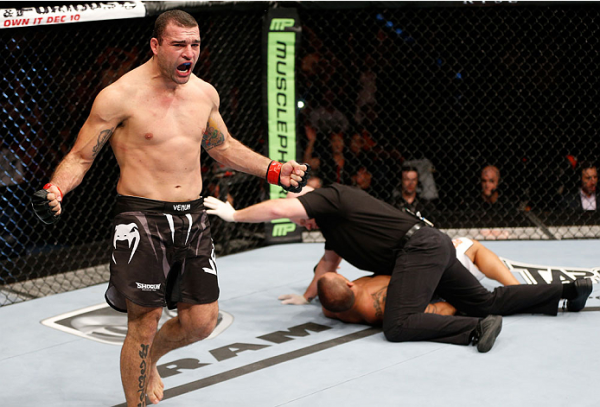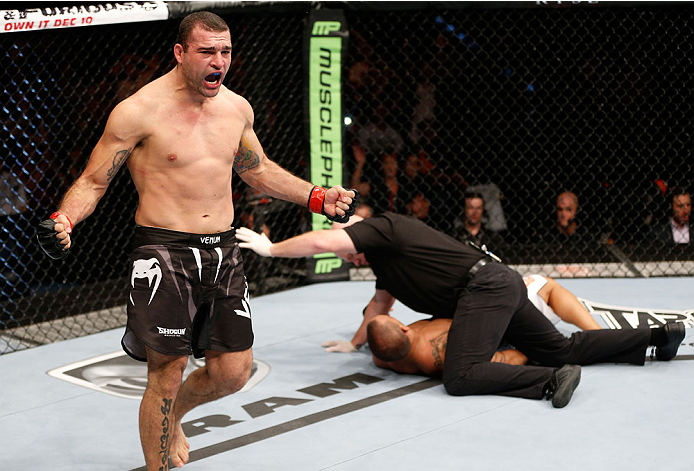 Lightweight: Glaico Franca vs. Fernando Bruno
Line: Glaico Franca (-170) vs. Fernando Bruno (+135) – view all UFC 190 lines
Fernando Bruno (15-2) and Glaico Franca (12-3) met each other in The Ultimate Fighter: Brazil Season 4 lightweight tournament final. Bruno, a representative of Team Nogueira, is an established veteran of the sport with eight submission victories. Franca, of Team Rua, is also a talented submission artist with five of his 12 wins coming by submission.
But Franca is also a competent striker with six knockout finishes in his career. He should have the youth and diversity to give Bruno troubles.
Writer's prediction: Franca outpoints Bruno to a unanimous decision victory.
Bantamweight: Reginaldo Vieira vs. Dileno Lopes
Line: Reginaldo Vieira (+245) vs. Dileno Lopes (-325) – view all UFC 190 lines
Dileno Lopes (19-1) is one dangerous Brazilian hailing from the highly-touted Nova Uniao camp. A teammate of pound-for-pound talents Jose Aldo and Renan Barao, Lopes has a blistering striking arsenal to hurt his opponents standing and a suffocating submission game to finish fights. Lopes has won 12 of his career victories by submission.
Reginaldo Vieira (13-3) is also an excellent grappler with 10 wins coming by submission. But he may not have the striking chops to hang with Lopes on his feet.
Writer's prediction: Lopes outgrapples Vieira to a unanimous decision win.
Heavyweight: Stefan Struve vs. Antonio Rodrigo Nogueira
Line: Stefan Struve (-180) vs. Antonio Rodrigo Nogueira (+140) – view all UFC 190 lines
Brazilian heavyweight legend Antonio Rodrigo Nogueira (34-9-1) may have his hands full against his "Skyscraper" of an opponent in seven-footer Stefan Struve (29-7). The Dutchman is a versatile mixed martial artist with rangy and powerful strikes and a crafty submission game using his long limbs for leverage. But Struve is hittable, absorbing about four significant strikes per minute (not good against hard-hitting heavyweights).
Nogueira is getting up there in age, slowly losing his speed and chin in the process. He was knocked out by Roy Nelson in his last outing in April 2014 and submitted by champion Fabricio Werdum before that in June 2013.
Writer's prediction: Struve cracks Nogueira's chin for the first round knockout.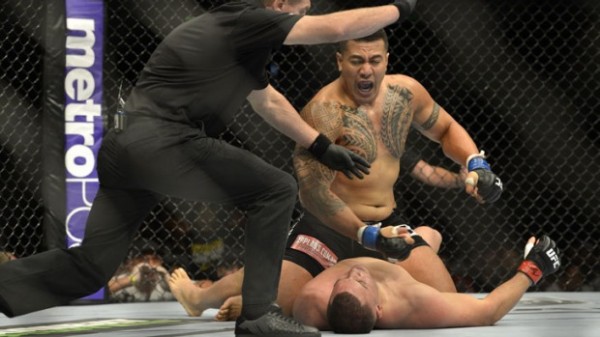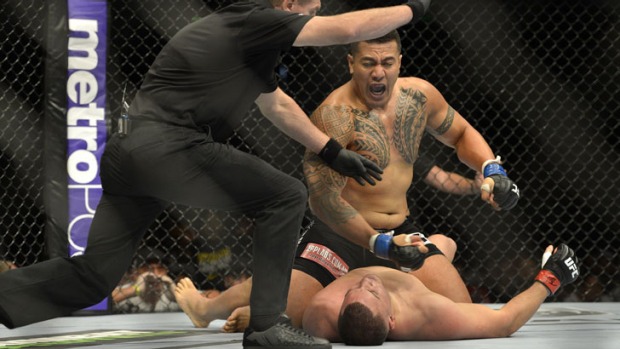 Heavyweight: Antonio Silva vs. Soa Palelei
Line: Antonio Silva (+160) vs. Soa Palelei (-200) – view all UFC 190 lines
Antonio "Bigfoot" Silva (18-7) looks like a shell of his former self. He's looked far removed from his prime after dropping back-to-back first round knockouts against Andrei Arlovski and Frank Mir. Bigfoot looked flat-footed in both knockout losses, as his once sturdy chin was also easy to crack. That'll prove problematic against up-and-comer Soa "The Hulk" Palelei (22-4).
Palelei isn't the most technical of strikers in the UFC Heavyweight Division. He prefers to take opponents down and rain punishment with a stream of punches and elbows. But he still hits like a mack truck on his feet. Expect Palelei to hurt Bigfoot with a big winging strike in this fight.
Writer's prediction: Palelei drops Silva with a lunging right hand then adds some ground-and-pound for good measure. Palelei wins by first round knockout.
Women's Strawweight: Claudia Gadelha vs. Jessica Aguilar
Line: Claudia Gadelha (-400) vs. Jessica Aguilar (+300) – view all UFC 190 lines
Claudia Gadelha (12-1) came oh so close to defeating current UFC Women's Strawweight Champion Joanna Jedrzejczyk last December. She just came out on the wrong side of a controversial split decision. Now she gets a chance to right that ship when she takes on UFC newcomer Jessica Aguilar (19-4).
Gadelha is an excellent fighter on the ground being a black belt in Brazilian Jiu Jitsu. She's finished six of her 12 pro victories by submission. Gadelha has an underrated ability to take her opponents down to the mat, totalling 12 takedowns in her first two Octagon appearances.
Make no mistake, that despite being a UFC newcomer, Aguilar is a veteran of the sport riding a 10-fight win streak. Aguilar was formerly the consensus No. 1 women's strawweight fighter before the division was included in the UFC. A grappler by trade, Aguilar could engage in a heavy grappling contest with Gadelha. She has the cardio to outwork the Brazilian as well as the ability to remain on her feet.
Writer's prediction: Gadelha starts strong, but Aguilar takes over from the second round onward for the unanimous decision victory.
Preliminary Quick Picks
Neil Magny def. Demian Maia by unanimous decision.
Patrick Cummins def. Rafael Cavalcante by unanimous decision.
Warlley Alves def. Nordine Taleb by first round knockout.
Iuri Alcantara def. Leandro Issa by second round submission.
Vitor Miranda def. Clint Hester by unanimous decision.
Hugo Viana def. Guido Cannetti by first round technical knockout.
Create a betting account now and walk away from an exciting night of fisticuffs with some cash in the bag.
[sc:UFC490banner ]
3,129 total views, 1 views today
Comments
comments