Ohio State defied the odds last season. Despite losing not one, but two Heisman-caliber quarterbacks to injury, the Buckeyes still squeaked their way into the inaugural College Football Playoff, defeated Alabama and Oregon, and were crowned national champions.
This year, the odds will be very much in the Buckeyes' favor as their immensely talented team looks to defend the national title. Let's break down some of the Buckeyes' keys to victory, their best/worst case scenarios and preview their upcoming season as a whole.
And in case you missed them, check out our verdicts for the Winners and Losers of the college football offseason, as well as the early Heisman Trophy candidates.
[sc:NCAAFArticles ]
2015-2016 Ohio State College Football Preview
Overview
[sc:NCAA240banner ]There's a good reason why the Ohio State Buckeyes are big +240 favorites to defend their national title this season: they are so ridiculously stacked on both sides of the ball. The Buckeyes return eight starters on offense, which include quarterback JT Barrett (along with Braxton Miller and Cardale Jones), as well as College Football Playoff MVP Ezekiel Elliott and four starters along the offensive line.
On defense, Big Ten Defensive Player of the Year and possible top NFL draft pick Joey Bosa headlines a group of eight returning starters that was last seen shutting down Oregon's explosive offense in the national title game. Add in a three-time national title-winning head coach in Urban Meyer, and the Buckeyes have all the makings of a potentially historic college football team.
Key Player – Ezekiel Elliott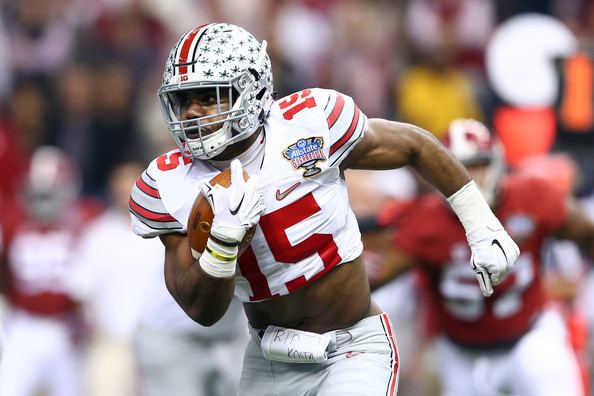 Ohio State's starting quarterback situation remains a mystery (although Barrett is a -120 favorite to take the spot ahead of Miller and Jones) but whoever starts under center will still be spending a fair number of snaps handing the ball off to running back Ezekiel Elliott.
Elliott carried the added load for the Buckeyes after Barrett's injury against Michigan. In the next three games against Wisconsin, Alabama and Oregon, Elliott rushed for at least 220 yards in each game and had eight total rushing touchdowns to the lead the Buckeyes to the national title.
After that incredible breakout party in the playoff, Elliott is expected to be a major part of the Ohio State offense this season. The junior running back is priced at +600 to win the Heisman – second only to Trevone Boykin.
Key Game – vs. Michigan State (Nov. 21)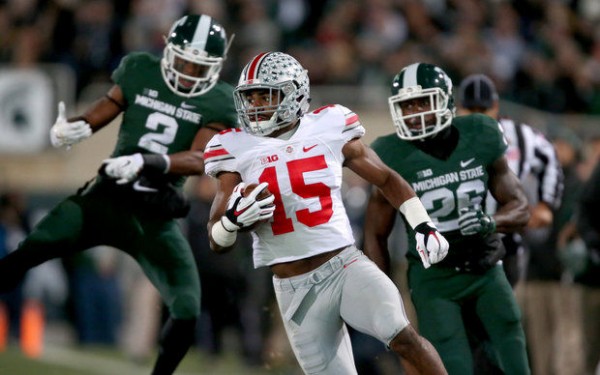 Ohio State's penultimate game of the season against Michigan State is hands down the toughest test on its very manageable 2015 schedule. And the Buckeyes will even be at home against the Spartans. Their toughest road game will be at Ann Arbor against Michigan in the week after, but who knows just how good the Wolverines will be in Year 1 under Jim Harbaugh.
But back to the Spartans. They're projected to be a top-10 team in the nation – maybe the only Top 25 team Ohio State faces before the Big Ten title game – and will pose the biggest threat to the Buckeyes in the Big Ten-East.
However, Ohio State took care of a No. 8-ranked Spartans team, 49-37, in East Lansing last season. If the Buckeyes can get by Michigan State again, they could very easily take an undefeated record all the way back to the College Football Playoff.
Best/Worst Case Scenario for the Season
Best Case Scenario
Urban Meyer handles the potentially volatile quarterback situation perfectly and picks the right quarterback to lead his offense. Meanwhile, the two back-ups don't make too much of a stink about being passed over. With the quarterback debate finally settled, the super-stacked Buckeyes live up to their incredible potential and go undefeated en route to defending their national championship.
Worst Case Scenario
Ohio State already overcame losing two Heisman candidate quarterbacks last season, which would've been a doomsday scenario for any other team. This season, though, the worst case scenario for them will be if Meyer fails to handle the three-healthy-quarterbacks situation well (maybe the two losing QB's sulk and become a distraction, or Meyer goes QB-by-committee) and creates instability within the team.
That, in turn, causes the Buckeyes to slip up and improbably drop two games despite a cakewalk schedule, and they miss out on the playoff completely.
Create a betting account now and don't miss out on any of the defending champion Buckeyes' games this upcoming season.
Complete Schedule
| DATE | OPPENENT | TIME |
| --- | --- | --- |
| Monday, Sept 7 | @ Virginia Tech | 8:00 PM ET |
| Saturday, Sept 12 | vs Hawaii | 3:30 PM ET |
| Saturday, Sept 19 | vs Northern Illinois | TBD |
| Saturday, Sept 26 | vs Western Michigan | TBD |
| Saturday, Oct 3 | @ Indiana | TBD |
| Saturday, Oct 10 | vs Maryland | 12:00 PM ET |
| Saturday, Oct 17 | vs Penn State | 8:00 PM ET |
| Saturday, Oct 24 | @ Rutgers | 8:00 PM ET |
| Saturday, Nov 7 | vs Minnesota | TBD |
| Saturday, Nov 14 | @ Illinois | TBD |
| Saturday, Nov 21 | vs Michigan State | TBD |
| Saturday, Nov 28 | @ Michigan | TBD |
Writer's Prediction
Ohio State goes undefeated and wins the Big Ten title en route to a second-straight College Football Playoff berth.
[sc:NCAA490banner ]
2,997 total views, 1 views today
Comments
comments