Mixed Martial Arts once again takes center stage in Las Vegas when UFC 191 takes over the MGM Grand Garden Arena. One of the best pound-for-pound fighters in all of mixed martial arts, Demetrious "Mighty Mouse" Johnson defends his flyweight title for the seventh time against old nemesis John "The Magician" Dodson.
It's also going to be knockouts galore before the two best flyweights in the world duke it out in the Octagon. A pair of hard-hitting heavyweights in Andrei Arlovski and Frank Mir trade fists in the co-main event. Also on the card, former light heavyweight title challenger Anthony Johnson makes his return to the Octagon to meet the heavy-handed Jimi Manuwa. This is going to be an event you don't want to miss.
There's plenty more fisticuffs to come this month. Check out the complete preview for the big Floyd Mayweather vs. Andre Berto boxing match later this month. You can also find out what the experts have to say about Mayweather's retirement fight here.
[sc:MultiSportArticles ]
UFC 191: Johnson vs. Dodson II Preview
UFC Flyweight Championship: Demetrious Johnson vs. John Dodson II
Line: Demetrious Johnson (-550) vs. John Dodson (+375) – view all UFC 191 lines
UFC Flyweight Champion Demetrious "Mighty Mouse" Johnson (22-2-1) may just be one of the best pound-for-pound fighters in all of mixed martial arts. He's been seemingly unstoppable as he racked up title defense after title defense in the UFC. However, Johnson did struggle against former opponent John "The Magician" Dodson (17-6).
[sc:UFC240banner ]Dodson knocked Johnson down three times in the first two rounds of their first matchup back in January 2013. He also managed to repeatedly sweep the champion off his feet to win both frames. The Magician ran out of tricks, though, as he slowed down in the final three rounds. Johnson took a closely-contested third, then proceeded to batter Dodson up close in the fourth and fifth, landing 64 of 72 of clinch strikes.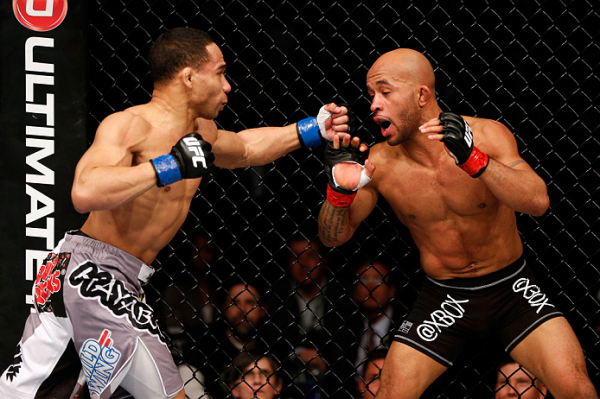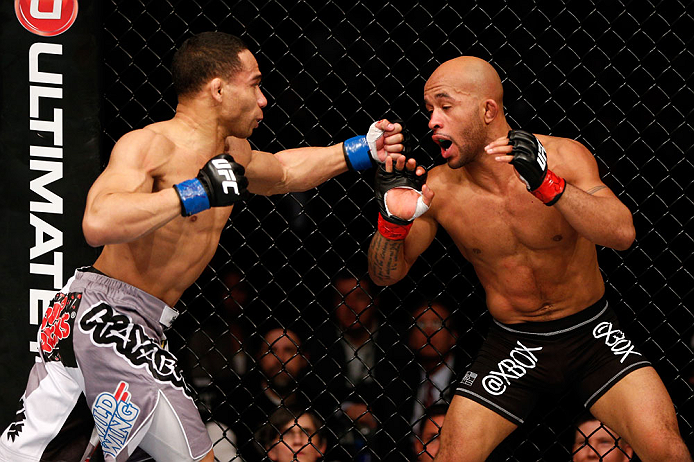 That fateful meeting seems to have brought the best out of the two fighters. Johnson would go on to finish four of his next five fights – three by submission and another by knockout. Two of his finishes came in the fifth after wearing out tough opponents Kyoji Horiguchi and John Moraga. Dodson has never been finished in his career, but Johnson may be able to do so in the latter frames of this fight when fatigue sets in.
The Magician has also been fantastic of late. He had back-to-back knockout victories (one via TKO) over Darrell Montague and the aforementioned Moraga. Dodson looked slow in dispatching top contender Zach Makovsky to earn another shot at the belt, but he could owe it up to ring rust after spending close to a year healing from a torn ACL. Now with his feet set under him, Dodson should be ready to catch a Mighty Mouse.
Writer's prediction: It won't be competitive this time. Johnson swarms Dodson with endless clinch strikes early and often. Might Mouse (-550) deals the finishing touches with a fourth-round armbar.
Heavyweight: Andrei Arlovski vs. Frank Mir
Line: Andrei Arlovski (-155) vs. Frank Mir (+125) – view all UFC 191 lines
It's a throwback to 2004 when Andrei "Pitbull" Arlovski (24-10, 1NC) and Frank Mir (18-9) were at the top of the UFC Heavyweight Division. The two are still dangerous killing machines right now. Arlovski is on a five-fight win streak topped off by back-to-back knockouts of Antonio Silva and Travis Browne, while Mir has two consecutive knockouts of his own of Silva and young stud Todd Duffee.
Writer's prediction: Arlovski and Mir both hit hard and with bad intentions. Pitbull should have the edge, though, with his slick boxing and hand speed. Arlovski (-155) wins by knockout in the first round.
Light Heavyweight: Anthony Johnson vs. Jimi Manuwa
Line: Anthony Johnson (-550) vs. Jimi Manuwa (+375) – view all UFC 191 lines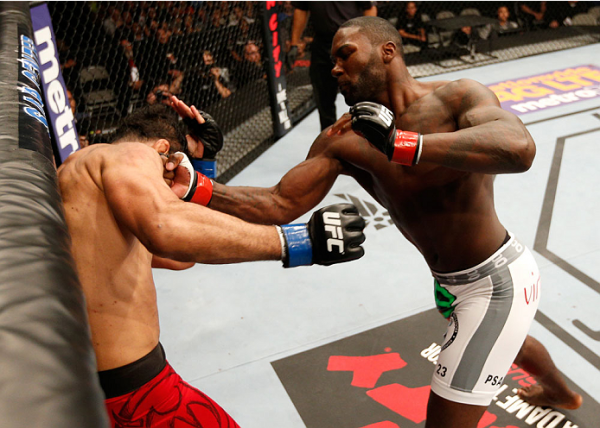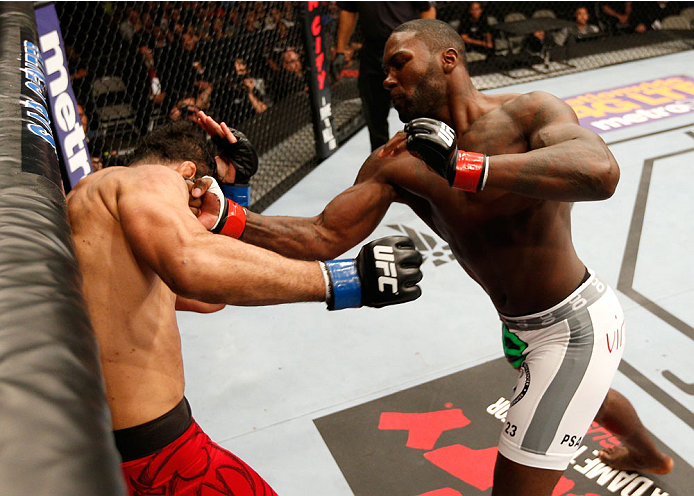 Anthony "Rumble" Johnson (19-4) missed out on his chance for UFC gold when he yielded to a third-round rear naked choke to current light heavyweight champion Daniel Cormier in may. But he did have a couple flashes of brilliance with a first round knockdown and some gnarly head kicks. Johnson gets to stand and bang for his next fight, facing skilled striker Jimi "Poster Boy" Manuwa (15-1), who excels when given space to work his powerful kicks and punches.
Writer's prediction: Let's get ready to Rumbleeeeee. Johnson (-550) puts the hurting on Manuwa from the get-go, finishing the fight with thudding uppercuts by the fence.
Light Heavyweight: Jan Blachowicz vs. Corey Anderson
Line: Jan Blachowicz (-155) vs. Corey Anderson (+125) – view all UFC 191 lines
Corey Anderson (6-1) is a physical specimen with a penchant for swarming opponents with never-ending takedown attempts and strikes. The Ultimate Fighter 19 winner lands 5.94 significant strikes per minute and 4.45 takedowns per fight. Anderson's takedowns could use more work, though. He was successful in just 47 percent of his attempts in the Octagon.
Jan Blachowicz (18-4) is one tough fighter to take down; he's never been dragged to the mat in his UFC career. The Polish fighter excels on the feat, using his precision to light opponents up with strikes. Blachowicz has won six of his last seven fights.
Writer's prediction: Blachowicz (-155) wins by unanimous decision.
Women's Strawweight: Paige VanZant vs. Alex Chambers
Line: Paige VanZant (-1,500) vs. Alex Chambers (+800) – view all UFC 191 lines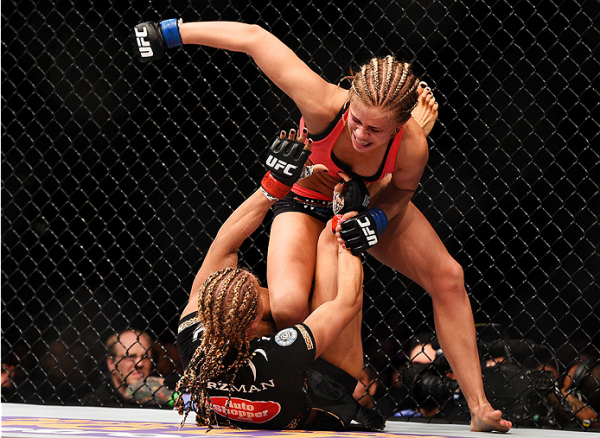 At first glance, you'd think "12 Gauge" Paige VanZant (5-1) is just your average, sweet 21-year-old college coed with her sweet smile and penchant for dresses. Little would you know that she's one relentless vixen slowly rising up the ranks of the UFC Women's Strawweight Division. VanZant routinely overwhelms her opponents with a never-ending stream of kicks and punches, landing 4.59 significant strikes per minute.
Don't let the odds tell you that Alex Chambers (5-2) has no chance in this match. What VanZant does best (ground fighting), Chambers does better. The Australian has tricky clinch takedowns that could catch an overaggressive VanZant off-guard. Chambers is also quick and well-versed in submissions, even from the bottom.
Writer's prediction: VanZant is the younger, hungrier fighter and should be the clear-cut winner in this fight. But you'd be crazy not to place your stakes on the crafty Chambers at +800, especially against a green prospect like VanZant.
You're all set to take some big winnings from UFC 191. Create a betting account now and feast on some best lines and odds across around.
Preliminary Quick Picks
Paul Felder (-400) knocks out Ross Pearson in the second round.
Francisco Rivera (+110) blitzes John Lineker in the first round.
Raquel Pennginton (+180) takes a contentious split decision over Jessica Andrade.
Clay Collard (-140) cruises to a unanimous decision over Tiago Trator.
Joe Riggs (+135) chokes out Ron Stallings with a rear naked choke in the second round.
Nazareno Maegerie (-150) chokes out Joaquim Silva via arm triangle choke in the first round.
[sc:UFC490banner ]
2,258 total views, 3 views today
Comments
comments