It was supposed to be a grudge match between two of the best light heavyweights in the world. That is until UFC Light Heavyweight Champion Daniel Cormier stepped down due to a knee injury. Now the best pound-for-pound fighter in the world Jon Jones faces the always dangerous Ovince St. Preux for the interim light heavyweight title.
It's going to be an explosive encounter. Will Jon Jones punctuate his status as the No. 1 pound-for-pound fighter in the world with a dominant victory? Or will St. Preux shock the world with a huge stoppage?
Wait there's more! The No. 2 pound-for-pound fighter in the world UFC Flyweight Champion Demetrious Johnson puts his title at stake in the co-main event of the evening. He'll face former 2008 Olympic gold medallist Henry Cejudo in what should be an action-packed fight.
Check out some more action throughout the sports world with our complete previews for the NBA Playoffs' Hawks vs. Celtics and Spurs vs. Grizzlies.
Sports News and Predictions
UFC 197: Jones vs. St. Preux Preview
Interim UFC Light Heavyweight Championship: Jon Jones vs. Ovince St. Preux
Line: Jon Jones (-550) vs. Ovince St. Preux (+375) – view all UFC 197 lines
It has long been speculated that Jon "Bones" Jones' biggest opponent may be himself. He was a party boy, using the likes of marijuana, cocaine and alcohol on a regular basis before he was popped in an out-of-competition drug test early in 2015. He further exacerbated his status as the sport's greatest of all time after being involved in a hit-and-run incident before a May 2015 title defense.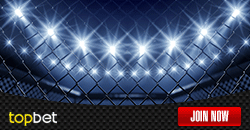 Jones was stripped of his belt and suspended for a year. He's back now after fulfilling community service, while focusing his energy on weightlifting and training rather than prohibited substances. Bones' return is highly anticipated. He's an exciting fighter with killer elbows and an opportunistic submission game. He has nine knockout/technical knockout finishes and six submissions in his career.
What makes Jones so adept at fighting is his ability to fight anywhere. He can grind with his vaunted wrestling skills, or use his long limbs for long range strikes. He has the second-longest reach in the entire UFC roster at 84.5 inches. He can throw his elbows from long range, which could be very damaging to his opponents. But for all his excellence, Jones struggles against long fighters if he can't take them down.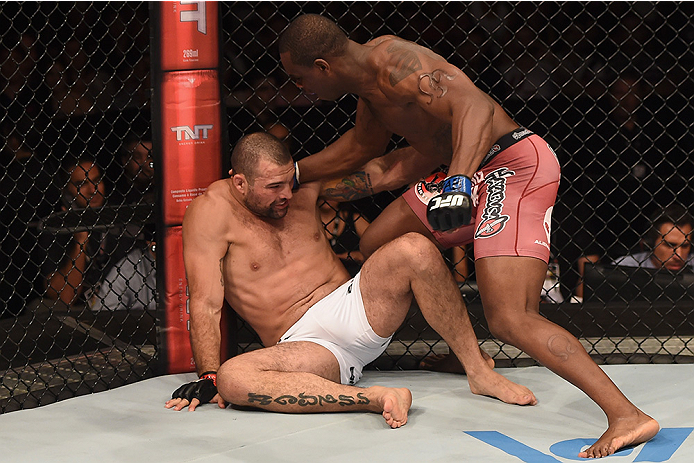 Ovince St. Preux is a very dangerous fighter who could give Jones a run for his money. He's as athletic as they come being a former Division I football player for the Tennessee Volunteers. St. Preux stands at 6-foot-3 with an 80-inch reach. He's very tough to take down and even harder to keep down due to his cat-like reflexes and brute strength.
While St. Preux is ridiculously strong and athletic, he has one flaw: he's too raw when it comes to fighting. He's not technical and relies mostly on just one weapon—his left hand. But oh boy does he do so much damage with that left. He owns knockout victories over Mauricio "Shogun" Rua, a legend in his own right, and a gritty wrestler Patrick Cummings. He has different set-ups to his left, which could have Jones inevitably running into a big game-changing haymaker.
Writer's prediction: Jones (-550) wastes no time. He takes down and beats up St. Preux before he sinks in the game-ending rear naked choke in the second round. It's going to be a slaughter.
UFC Flyweight Championship: Demetrious Johnson vs. Henry Cejudo
Line: Demetrious Johnson (-380) vs. Henry Cejudo (+290) – view all UFC 197 lines
He's one of the best pound-for-pound fighters on the planet. He's one of the fastest mixed martial artists in the UFC. He's undefeated as a champion. He's the one and only Demetrious "Mighty Mouse" Johnson. Mighty Mouse cannot be any hotter right at the moment. He's already cleaned out his division with wins over top five flyweights Joseph Benavidez, Ian McCall and Kyoji Horiguchi.
Johnson has a seamless mixed martial arts game, blending each and every art with technical brilliance. He can shoot for takedowns off of combinations, and can fire crushing strikes off clinching exchanges. His footwork is impeccable, always dancing around the Octagon to confuse his opponents as he looks for the perfect angle to attack. Mighty Mouse's work rate is amazing. He lands about 3.46 significant strikes per minute at over a 50 percent clip. He also doesn't get hit much due to his footwork.
Johnson has also evolved his submission game. He has submission wins in two of his last three title defenses, locking up an armbar in the dying seconds of the fight against Horiguchi and a wrenching a kimura in the second round against Chris Cariaso. We may see little of Johnson's submission game in this fight, though. He'll have a very tough challenger in the form of former freestyle wrestling Olympic champion Henry "The Messenger" Cejudo.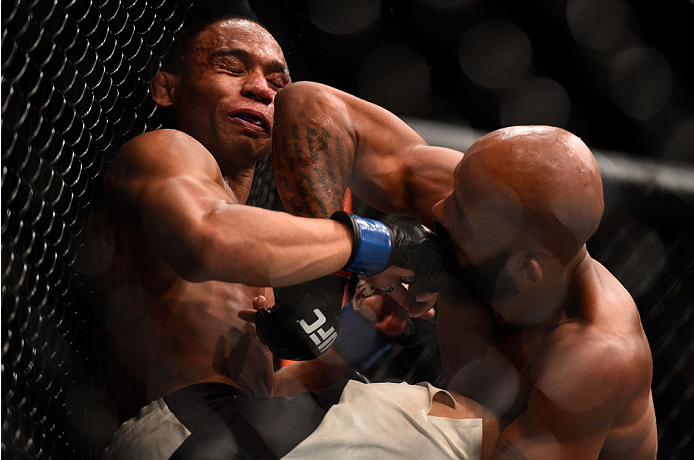 Cejudo knows how to win. He's a multiple time champion in the Pan American Championships, World Championships and U.S. Nationals in freestyle wrestling. He reached his peak in 2008 when he won an Olympic gold medal, becoming the youngest Olympic wrestling champion in U.S. history. The Messenger made his mixed martial arts debut in 2013, amassing a 6-0 record before signing with the UFC.
The Messenger isn't just a wrestler. He's learned to embrace every aspect of mixed martial arts. He has very technical boxing and muay Thai, which could serve him good against a well-rounded fighter like Johnson. He has shown some power—he knocked down a bantamweight, Dustin Kimura—and an ability to switch up his strategy.
Cejudo also knows that he can't just run into the fight guns blazing. He'll need to set some traps to catch the Mighty Mouse. Cejudo makes sure to keep active whenever he's in the Octagon. He's landing at a rate of 3.78 significant strikes per minute. His straight punches are excellent regularly catching opponents at the end of his punches. This sort of technical approach could be what finally dethrones Mighty Mouse.
Writer's prediction: It's going to be one hell of a fight. Cejudo is no slouch, but he lacks the experience needed in a five-round mixed martial arts championship fight. Johnson (-380) steals the fight by dominating the championship rounds en route to a unanimous decision victory.
Lightweight: Anthony Pettis vs. Edson Barboza
Line: Anthony Pettis (-170) vs. Edson Barboza (+140) – view all UFC 197 lines
Anthony "Showtime" Pettis was once the king of the lightweight division and on his way toward pound-for-pound great status. But back-to-back losses to current champion Rafael Dos Anjos and current No. 1 contender Eddie Alvarez has him fighting to stay relevant. He doesn't get an easy out as well when he faces dangerous striker Edson Barboza.
Barboza has thunderous kicks and power in his punches. He's going to stalk you until he puts you to sleep. Pettis also has knockout power, but has been prone to being pressured along the fence. The former champ has also been gun-shy recently, but facing a fellow striker could have him opening up like never before.
Writer's prediction: Barboza (+140) sends Pettis into obscurity, taking a unanimous decision victory.
Middleweight: Robert Whittaker vs. Rafael Natal
Line: Robert Whittaker (-350) vs. Rafael Natal (+270) – view all UFC 197 lines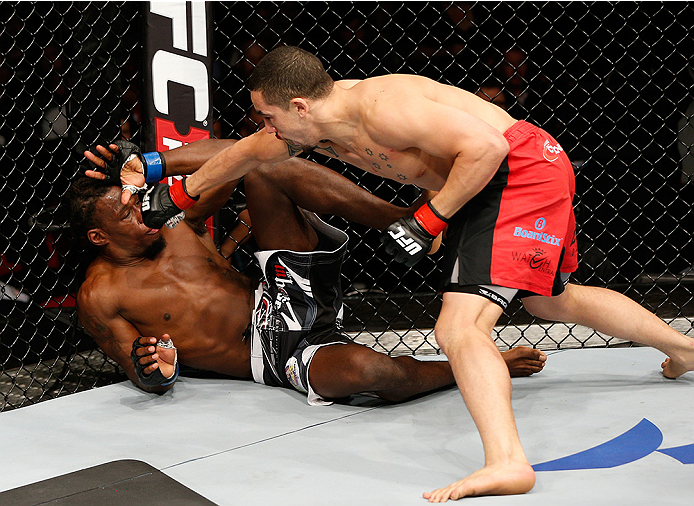 Robert "The Reaper" Whittaker is on the rise since moving up to the middleweight division. He owns knockout victories over Brad Tavares and Clint Hester. He also won a unanimous decision against Uriah Hall. He gets a step up in Rafael "Sapo" Natal, a well-rounded mixed martial artist with an excellent ground game. Considering Whittaker keeps this standing, he should have the edge with his raw unadulterated power.
Writer's prediction: Whittaker (-350) dominates the striking exchanges en route to a second round stoppage.
Featherweight: Yair Rodriguez vs. Andre Fili
Line: Yair Rodriguez (-155) vs. Andre Fili (+125) – view all UFC 197 lines
Yair "El Pantera" Rodriguez is a super prospect in the featherweight division. He has plenty of flashy techniques either in striking or grappling. He's off to a good start in the UFC, winning his last three fights. He gets a step up in competition when he takes on Team Alpha Male export Andre "Touchy" Fili to open up the UFC 197 main card.
Fili is a solid fighter, but has repeatedly left himself open to his opponents' attacks. He was submitted in his last two losses, via triangle choke to Godofredo Pepey in 2015 and via guillotine to Max Holloway in 2014. But he does have knockout power and a reliable wrestling base to grind out opponents.
Writer's prediction: Fili (+125) uses his wrestling to grind out a unanimous decision victory.
Fox Sports 1 Prelims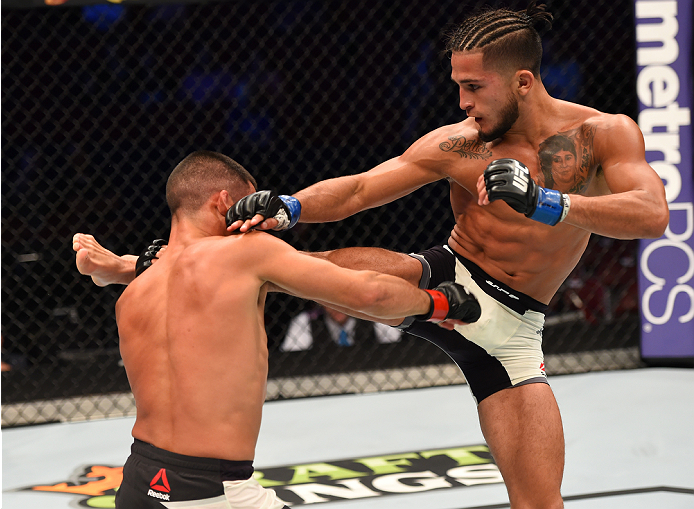 Sergio Pettis could set the stage for his older brother, Anthony, in the prelims. He faces a well-rounded but lacking opponent, Chirs Kelades, in the featured Fox Sports 1 Prelim. Pettis' (-225) striking and slick grappling should be enough to get him a unanimous decision victory.
Danny "Hot Chocolate" Roberts is a finisher with five knockouts and five submission victories in his career. But he may face his toughest test to date in the form of wrestler, Dominique Steele. Steele (+300) could be a terror to keep away as he glues himself to Roberts en route to an upset decision victory.
Carla "Cookie Monster" Esparza returns for the first time since losing her starwweight title to Joanna Jedrzejczyk in 2015. She faces a pretty tough challenge, Juliana Lima. The Brazilian is tough, but hasn't faced a wrestler as good as Esparza. Cookie Monster (-200) grinds out a victory.
James Vick has a habit of losing fights until he wins them. He puts his unbeaten record on the line against rising Brazilian Glaico Franca. A winner of TUF Brazil, Franca (+140) should have the grappling chops to dominate Vick en route to a second round submission.
UFC Fight Pass Prelims
Cody East (-160) makes a thunderous UFC debut with w knockout of Walt Harris.
Clint Hester (+105) revitalizes his career with a knockout of Marcos Rogerio de Lima in the first round.
Kevin Lee (-350) dominates Efrain Escudero en route to a unanimous decision victory.
Create a betting account now and treat yourself to some hard-hitting MMA action.

Comments
comments