---
The new City of Champions – Cleveland, Ohio – will play host to UFC 203, which will be headlined by the heavyweight title bout between hometown hero Stipe Miocic and Alistair Overeem. The main card will also feature the much-anticipated MMA debut of Phil "CM Punk" Brooks against Mickey Gall. Get a complete breakdown of those high-profile fights, as well as the rest of the main card.
---
Cash In on the Best Online Sportsbook Offers Now at TopBet!
---
UFC 203: Miocic vs. Overeem Main Card Preview
Main Event (For the UFC Heavyweight Championship)
Stipe Miocic (c) (-150) vs. Alistair Overeem (+120)

Why Miocic will win: Miocic has been in some kind of roll. He's won three fights in a row – all by KO/TKO – which includes a dominant TKO win over the notoriously granite-chinned Mark Hunt and the one-punch knockout of Fabricio Werdum to win the heavyweight title.
Miocic is an elite boxer, and as illustrated by all his recent stoppages, has quite a bit of power in those punches. 11 of his 15 career wins have come via knockout. He also has the edge over Overeem in terms of wrestling, and should be able to avoid Overeem's powerful kicks by working in the clinch.
Why Overeem will win: Overeem is arguably the more dangerous striker than Miocic thanks to his elite-level kickboxing. He knows how to utilize those striking tools as well, as he showed in his jumping front kick TKO of Andrei Arlovski in his previous fight. Overeem comes into this contest on a four-fight win streak, three of which coming via knockout.
The recent trend of UFC titles changing hands bodes well for Overeem, as does the fact that the last two heavyweight title fights have seen the incumbent (Cain Velasquez and Werdum) lose on home territory. Miocic is from Cleveland, venue for UFC 203.
Writer's Prediction: The UFC championship carousel strikes again. Overeem (+120) finally claims the heavyweight title via second-round TKO.
Co-Main Event
Heavyweight: Fabricio Werdum (-220) vs. Travis Browne (+170)
Why Werdum will win: Werdum won his first fight against Browne back in 2014 via unanimous decision. In that fight, the Brazilian dominated with his new and improved striking game, which completely befuddled Browne.
But while Werdum has developed his stand-up exponentially, he's still a Brazilian jiu-jitsu expert at his core. The BJJ black belt will have an overwhelming edge over Browne on the ground if he can get it there.
Why Browne will win: Browne didn't really anticipate Werdum's improved striking game in their first fight, but that element of surprise won't be there this time around. Browne will have five rounds worth of film to break down and use to devise a much more coherent gameplan for this matchup.
Werdum is the more technical striker, but Browne still has much more powerful hands and legs than the Brazilian. As Miocic showed, Werdum will go down if he's caught. At age 39, his chin could finally be starting to fail him. If Browne catches him with one of those powerful punches, it could be good night for the Go Horse.
Writer's Prediction: Browne (+170) exacts his revenge with a second-round TKO over Werdum.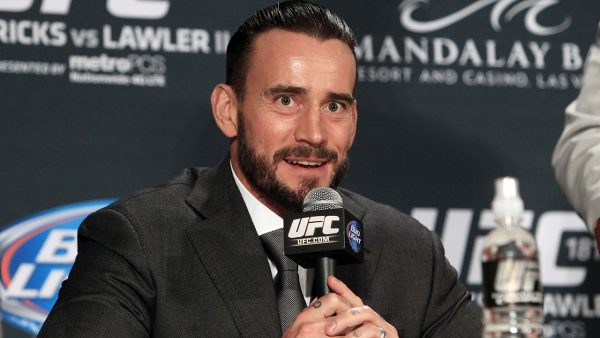 Welterweight: CM Punk (+325) vs. Mickey Gall (-450)
Why Punk will win: If someone does a WWE-style interference and distracts the referee while Punk lands the GTS? Seriously, though, it's hard to formulate any realistic scenario where Punk wins his MMA debut. Apart from his gross lack of inexperience, his injury-ravaged 37-year-old body just doesn't seem like it can handle a real fight.
Why Gall will win: Gall isn't the most seasoned MMA fighter – he's 2-0 as a pro – but he still has more in-cage experience thank Punk at this stage. He's also a spry 24 years-old, with a lot less miles on his body and a lot more skill on the mat as his two wins via rear-naked choke indicate.
This fight is Gall's big shot at a potential UFC career. He should come out much more motivated than Punk, who has already made his money and could very well be done from MMA after his debut.
Writer's Prediction: Gall (-450) ends Punk's pro debut via first-round submission.
Bantamweight: Urijah Faber (+110) vs. Jimmie Rivera (-140)
Why Faber will win: It takes a special level of opponent to get the better of Faber. His five UFC losses have all come against championship-caliber opposition (Renan Barao when he was good, Dominick Cruz, and Frankie Edgar). He's the vastly more experienced fighter, and is much more capable of stopping the fight than Rivera. 26 of Faber's 33 career wins have been via stoppage, including 19 via submission.
Why Rivera will win: The 37-year-old Faber has to slow down some time, and the 27-year-old Rivera has just the tools to take the California Man down. Rivera is 19-1 in his MMA career (3-0 in the UFC), with 13 of those victories coming via decision. However, he does have a bit of power in those hands. Three of his four career knockout wins have come in the last two years, including his UFC debut against Marcus Brimage.
Writer's Prediction: Faber (+110) makes his experience count as he stops Rivera in the second round.
Women's Strawweight: Joanne Calderwood (+120) vs. Jessica Andrade (-150)
Why Calderwood will win: Calderwood's the more accomplished striker of the two, with her kickboxing capable of causing a lot of damage. She's also improved her takedown defense, which will help her keep the fight in her preferred position – on the feet – if Andrade decides to take her down.
Calderwood has proven to be a pretty durable fighter. Five of her last six fights have gone the distance. She should have the substantial edge in cardio over Andrade, who is often in danger of gassing herself out do to her all-out style.
Why Andrade will win: Andrade's aggressiveness makes her a tough matchup for Calderwood. Her willingness to go forward and close the distance will help her shut down Calderwood's preferred technical striking offense. Andrade will also have the strength and wrestling advantage, and could look to score some points by getting Calderwood down on the mat.
Writer's Prediction: Calderwood (+120) picks Andrade apart en route to a unanimous decision win.
Create a betting account now and cash in on all the awesome mixed martial arts action on display in UFC 203.

1,870 total views, 2 views today
Comments
comments