---
Some explosive MMA action will head our way this coming Saturday when Dana White's fight organization rolls out UFC 214. The event will see a much-awaited return to the Octagon by Jon Jones, who's been away from action for almost a year. Can Jones stop Daniel Cormier's win streak and regain the Light Heavyweight Championship? Read on below for a breakdown not only for this main event, but also the supporting bouts for UFC 214.
---
Most Recent Articles
---
UFC 214: Cormier vs. Jones 2 Preview
UFC Light Heavyweight Championship
Daniel Cormier (+190) vs. Jon Jones (-250)
Despite being the defending champion and winning 19 of his 20 professional fights, Daniel Cormier finds himself as the underdog in this rematch with the controversial Jon Jones. That isn't a complete surprise considering Jones defeated Cormier decisively by unanimous decision in their first fight at UFC 182 in January 2015.
A lot has transpired since then, though, with Jones going on a downward spiral and Cormier ascending to elite status in the UFC. DC has looked great since that loss to Jones, taking impressive victories over Anderson Silva, Alexander Gustafsson and Anthony Johnson (twice). Jones, on the other hand, was embroiled in a drug-related controversy and has fought just once since then. He did beat Ovince Saint Preux in that encounter by unanimous decision at UFC 197 in April 2016.
Writer's Prediction: Cormier (+190) shocks the world and beats Jon Jones via split decision.
UFC Welterweight Championship
Tyron Woodley (-220) vs. Demian Maia (+170)
There's no question that Tyron Woodley is the best 170-pound fighter on the planet. He has grown from strength to strength since his shock knockout win over Robbie Lawler last year, successfully defending the title twice against Stephen Thompson at UFC 205 and 209. Woodley will face his toughest test, though, this coming Saturday when he locks horns with the great Demian Maia.
The 39-year-old veteran has stood the test of time and, should he win on Saturday, will be tied with Michael Bisping for the most victories in UFC history. Maia had to go through the proverbial eye of the needle to get this title shot as he was forced to win seven consecutive fights to earn a bout with Woodley. This will be the second title fight in the storied career of the legendary Brazilian. Maia fought Anderson Silva for the middleweight championship in 2010.
Writer's Prediction: Woodley (-220) wins via unanimous decision.
UFC Women's Featherweight Championship
Cris Cyborg (-1,200) vs. Tonya Evinger (+700)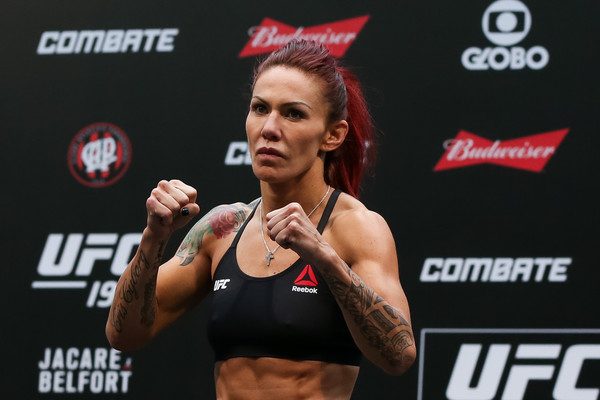 Expect fireworks to erupt this coming Saturday when Cris Cyborg squares off with Tonya Evinger for the vacant UFC Women's Featherweight Championship. They head into this matchup in fine form, with both fighters carrying lengthy winning streaks. Cyborg's been the most consistently dominant female MMA fighter to ever step in a cage, going more than 12 years and 18-straight fights without a defeat. She has done so in devastating fashion, knocking out 16 of her last 19 opponents.
Evinger, on the other hand, is in the midst of a 10-match unbeaten run. The reigning Invicta FC bantamweight champion is at an extreme disadvantage, though, considering she took the fight against Cyborg on short notice. Evinger's chance to fight at UFC 214 only came about when Cyborg's originally scheduled opponent, Megan Anderson, was forced to back out from the event one month out due to personal issues. Evinger's a brave fighter, though, and will undoubtedly provide a stern test for Cyborg.
Writer's Prediction: Cyborg (-1,200) defeats Evinger by TKO in Round 2.
Welterweight: Robbie Lawler (-160) vs. Donald Cerrone (+130)
At long last, Robbie Lawler and Donald Cerrone will finally square off in the Octagon. Ever since Lawler's stunning loss to Tyron Woodley last year, UFC has done its best to match up the former champion with 'Cowboy', knowing the result would be a sure slugfest. Cerrone looked to be on his way to a title shot, but a TKO loss to Jorge Masvidal six months ago scuppered his plans.
Cowboy can get that dream fight back on track with a win over Lawler. The Muay Thai specialist has finished a whopping 14 opponents in the UFC. Pulling off that feat isn't going to be easy, though, against Lawler who's among the most violent members of the sport. 'Ruthless' has won eight of his last ten fights, going to war twice against Johny Hendricks before defending the welterweight championship in bloodbaths against Rory MacDonald and Carlos Condit.
Writer's Prediction: Lawler (-160) wins via third round TKO.
Light Heavyweight: Jimi Manuwa (-190) vs. Volkan Oezdemir (+155)
Jimi Manuwa and Volkan Oezdemir will be laying it all on the line this coming Saturday, as the winner of this clash will more than likely be the main contender for the UFC Light Heavyweight championship. Manuwa has been petitioning for a title shot ever since his first-round KO of Corey Anderson at UFC Fight Night 107 in London last March. A comprehensive victory over the talented Oezdemir will leave Dana White no choice but to give Manuwa that fight. Meanwhile, Oezdemir is 14-1 in his MMA career, with his lone loss coming three years ago via submission in Bellator.
Writer's Prediction: Manuwa (-190) wins via unanimous decision.
Create a betting account now and cash in on all the awesome mixed martial arts action on display at UFC 214.

1,506 total views, 1 views today
Comments
comments