Bethe Correia pounded away at Ronda Rousey's training partner Jessamyn Duke in April 2014, and the seeds for her title shot were planted. 16 months later, "the Pitbull" finally gets her shot at UFC gold when she takes on Rousey for the UFC Women's Bantamweight Championship in the main event of UFC 190. As an added bonus, Correia gets to fight in front of her adoring fans in her home country of Brazil.
Will Correia keep her unbeaten record intact with a big win over the consensus baddest woman on the planet? Or will she fall back in her place like many before her? Let's take a look at Correia's chances of a victory with this breakdown.
Fists will fly and bones will break when UFC 190 rocks HSBC Arena in Rio de Janeiro. Check out our complete UFC 190 preview and predictions as well as Rousey's keys to victory ahead of her title defense.
[sc:MultiSportArticles ]
Bethe Correia's Keys to Victory at UFC 190
Punches in Bunches
The challenger is pretty much a pitbull alright. She goes forward with reckless abandon, wailing away at opponents with multi-punch flurries. But that may not be the best of approaches against Rousey. If Correia goes about her usual fighting style, she'd get clinched up and dumped on her head. Instead, she'll need to be very methodical and break Rousey apart utilizing footwork and angles.
[sc:UFC240banner ]Correia has stayed undefeated after nine professional fights blitzing opponents with punches in bunches. She'll need to show another dimension in her game this time around. Lateral movement instead of backing up in a straight line should help mitigate Rousey's advances into the clinch. That sort of movement will also open up angles for Correia to land her punches.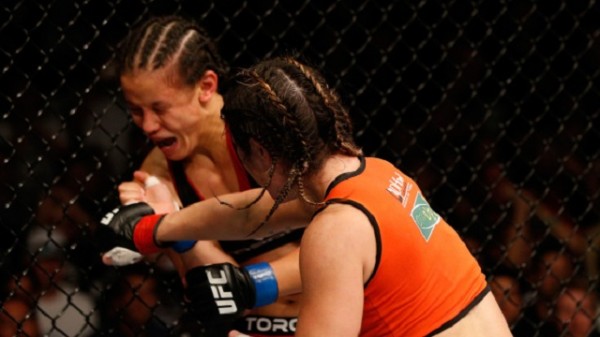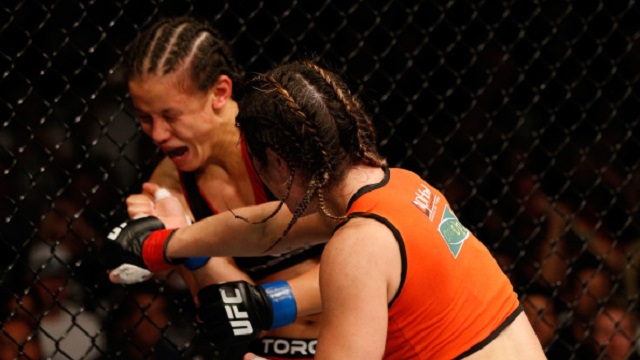 The oblique kick, what former UFC Light Heavyweight Champion Jon Jones so dearly love, would also be a viable weapon. An oblique kick takes as little skill as possible to throw; it should help Correia stop Rousey at her tracks when rushing in for clinch attempts.
Alas, Correia has yet to show these kinds of skills or techniques in her game. She's more of a rock 'em sock 'em robot type of fighter, winging badly-thrown arm punches from her waist. It'll be very surprising to see her improve on her ring craft in this fight.
Way Over Her Head
Being undefeated breeds great confidence. Correia truly believes that she's the best in the world, and will beat Rousey to prove it. While the Pitbull hasn't displayed the skill to do so, having so much belief in herself can do wonders to boost her performance.
Training the right way also helps. Ahead of her fight against Rousey, Correia decided to train her Judo. But training in a sport Rousey has been dominant in this late into her career may not help the challenger much. She, at least, gets to familiarize herself with certain clinch entry points and positions for takedowns. Having knowledge of those situations should help her avoid getting stuck in a sticky predicament.
Brazilian Highway Robbery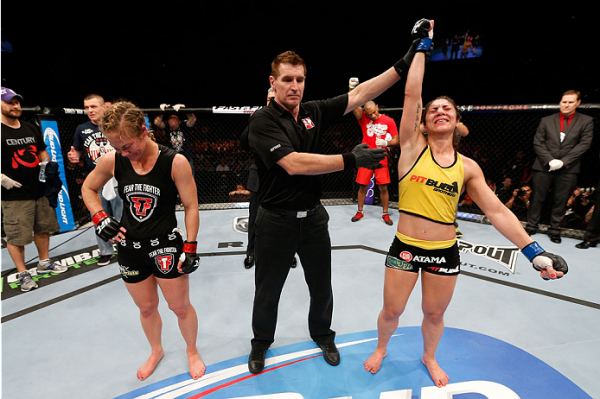 The UFC has seen its fair share of controversial decisions in Brazil. The judges just seem to love how the Brazilian fans react to each hit, takedown or stuffed takedown whenever one of their own manages to pull one off inside the Octagon. Rousey may find herself on the wrong side of a very controversial decision in the off-chance that Correia takes her the distance in a competitive fight.
It'll be quite a long shot that the fight even reaches the third round. Rousey's a known finisher with 10 of her victories coming in the first round, some even in the first 20 seconds. Correia has been a decision machine, but managed to stop her last opponent, Shayna Bazsler, in the second round last August.
Acts of God
Looking at the odds alone, there's virtually no chance for Correia to beat Rousey at UFC 190. But crazier things have happened in the Octagon.
The aforementioned former champ Jones almost lost his belt to a big underdog in Chael Sonnen in 2013 when his toe was almost ripped off his foot entirely during a wrestling exchange. Thanks to adrenaline, Jones didn't feel the injury and finished the fight in the first round. Should Sonnen have lasted past the first round, he'd have been champion via technical knockout due to injury.
Maybe Rousey could knock herself out after throwing Correia into the ground. Or get one of her toes or fingers ripped off or broken after having them caught in the fence. Those would result to a victory for Correia. At 'dog odds of +800, it may be worth taking a stab at Correia.
Writer's Prediction
No freak accident happens as Correia succumbs to a first round technical knockout loss. Create a betting account now and immerse yourself into the wild atmosphere at UFC 190.
[sc:UFC490banner ]
3,294 total views, 2 views today
Comments
comments