The list of accolades just keeps growing for UFC Women's Bantamweight Champion "Rowdy" Ronda Rousey. She was the last Strikeforce Women's Bantamweight Champion, an Olympic bronze medallist in Judo, and multiple-time world and national champion in Judo. Rousey has also won the past two ESPY Female Athlete of the Year awards the 2015 Fighter of the Year award, boxing out the likes of boxing stars Floyd Mayweather and Gennady Golovkin.
Despite being a world renowned athlete, Rousey's heading into hostile territory. She'll enter HSBC Arena in Rio to a cheer of "Voce vai morrer" when she defends her title against undefeated Brazilian slugger Bethe Correia. But how exactly will Rousey end this fight? Will she prolong it like she suggested? Read on as we take a close look at how Rousey defends her title at UFC 190.
Get the full UFC 190 experience right here at Top Bet. Check out the picks and predictions for the card from top to bottom. If you're looking for how Correia may be able to pull the upset, head over to our breakdown of the challenger's keys to victory.
[sc:MultiSportArticles ]
Ronda Rousey's Keys to Victory at UFC 190
Light Her Up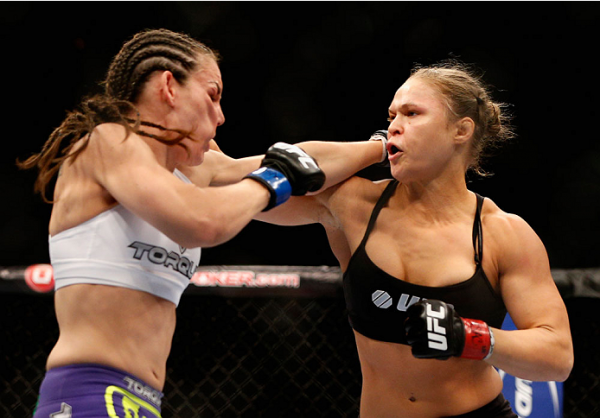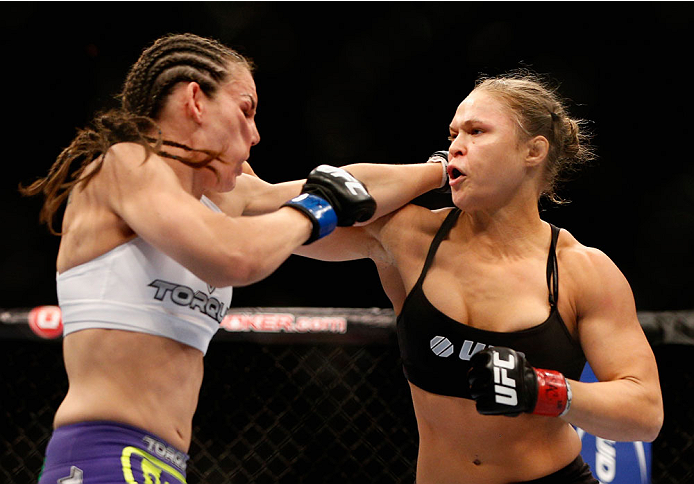 [sc:UFC240banner ]Ronda Rousey used to be just a one-dimensional grappler. She pumped out a lazy jab as she rushed toward her opponents to clinch up and throw them on their heads.
Today's Rousey just became even rowdier, adding some slick boxing skills through the care of Glendale Fight Club's Edmond Tarverdyan. Check out her Instagram to see how far she's gone with her hands. She posts plenty of training clips for everybody's pleasure.
Rousey showcased her improved striking in her title defense against Alexis Davis last July. A long, rowdy right hook put Davis on rubbery legs. Rousey then promptly tossed her to the canvas before putting the lights out with a vicious flurry. She outlanded Davis 14 to 2 and needed just 16 seconds to defend her title.
Preparations for this fight are going smooth for Rousey. She's enlisted the help of IFBA Super Featherweight Champion Lissette Medel, who has amassed a professional record of 9-1-1. And if Tarverdyan is to be believed that Rousey drops boxing champs with body shots, there's going to be little that Correia can show that Rousey hasn't seen in training.
Toss Her on Her Head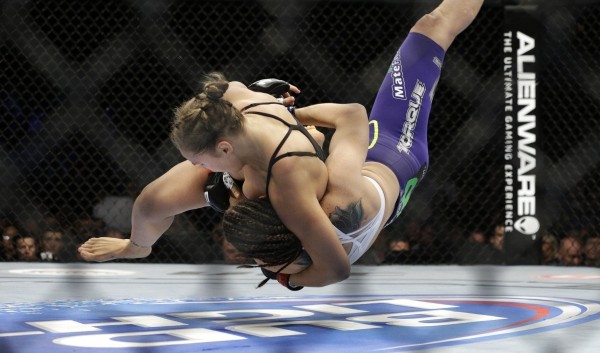 Of course, Rousey's bread-and-butter is still her Judo. A lifelong Judoka, Rousey has collected a wide array of accolades throughout her Judo career. She's a three-time US Open Senior gold mendalist, and has collected plenty of gold medals in international competition. But none are bigger than winning the bronze medal in the 2008 Beijing Olympics, becoming the first American to win an Olympic medal in women's judo since its inclusion in the Olympics in 1992.
The champ has needed just one technique for most of her fights, both amateur and professional. Rousey's favorite technique is her harai-goshi, a head and arm throw that allows her to land right into side control. This bypasses the hassles of passing guard, therefore allowing Rousey to lock up an arm in seconds.
Rousey has finished nine of her 11 professional fights with her trademark armbar. She was at her most impressive in dismantling Cat Zingano in her latest title defense in February. Rousey set the record for the fastest finish in UFC championship bouts, needing just 14 seconds to elicit the tapout from Zingano. If Rousey gets a grab of Correia, then the Brazilian may be in for a short night. Correia doesn't have the same grappling chops as Rousey, being just a Brazilian Jiu Jitsu blue belt.
Does Rousey make quick work of Correia? Create a betting account now and get "Rowdy" at UFC 190.
Bite Down on Your Mouthpiece and Grind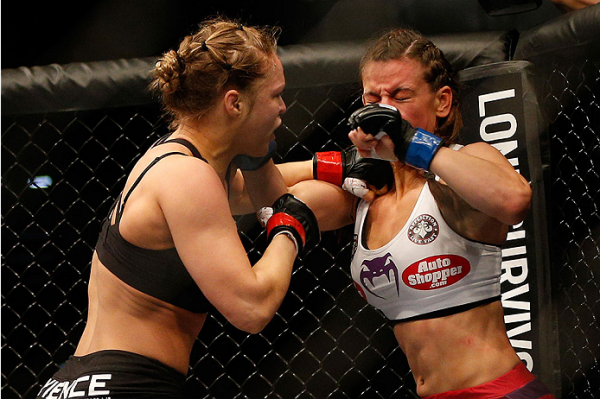 Why is Rousey so effective? Her skills speak volumes. But what takes the cake is her relentlessness and toughness inside the Octagon. Nobody has ever forced Rousey to be on the defensive in her career. She takes the first step forward and does as she pleases, no matter how many shots she eats to grab a hold of her opponents.
While taking a shot to the face to give one isn't the prettiest of strategies, there doesn't seem to be a fighter in the women's bantamweight division who possesses true one-punch knockout power. Correia certainly doesn't, nor does she have the speed or technical boxing to put all her force into one punch. Rousey's a grinder, and she should be able to close the distance en route to a stoppage victory.
Championship Experience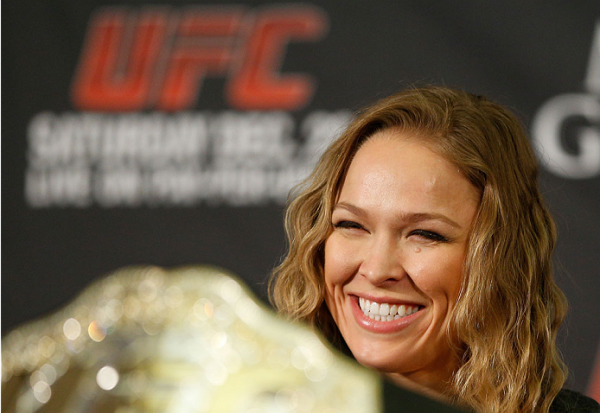 Rousey is the most dominant athlete in sports, according to Sports Illustrated. She's been a champion pretty much her whole life. Rousey needed just under a year to capture her first professional title, winning the Strikeforce Women's Bantamweight Championship from Miesha Tate in March 2012. She also captured plenty of gold medals as a Judoka as previously mentioned.
Being a champion for most of her athletic life has given Rousey everything there is to experience in a championship bout, where the pressure is at its highest. Correia has no such experience in her career. She merely started training four years ago to stay in shape. It remains to be seen how the challenger reacts to the pressure of a championship fight. We all know how Rousey looks under pressure; she sets records in devastating fashion.
Writer's Prediction
Rousey (-1,500) tests her ever-improving striking in this bout en route to a technical knockout stoppage in just under a minute.
[sc:UFC490banner ]
2,382 total views, 2 views today
Comments
comments