The Washington Capitals are back to owning the best record in the NHL. That's thanks to the Caps' victory over the Bruins on Tuesday paired with the Dallas Stars' loss at the hands of the New York Islanders last Sunday. Speaking of the Islanders, this team must be flowing with confidence that win over the Stars. Will New York build on that success and take down the Caps? Or will Washington emerge victorious in this rematch of last season's Eastern Conference semis.
Read on for a breakdown of this matchup. You can also check out our preview of Red Wings vs. Sharks.
[sc:NHLArticles ]
Washington Capitals vs. New York Islanders Betting Preview
Where: Barclays Center, Brooklyn
When: Thursday, January 7, 2016 7:00 PM ET
Line: Washington Capitals vs. New York Islanders – view all NHL lines
TV Broadcast: CSNB (Local: WAS)/ MSG+ (Local: NYI)
Betting on the Washington Capitals (29-7-3)
[sc:NHL240 ]With strong play from both ends of the ice, the Capitals have every reason to believe that they're among the favorites to win the Stanley Cup this year.
Washington is among the most balanced teams in the league in terms of great play on both ends of the ice. They rank inside the top five in the league in both goals for (3.14 per game) and against (2.15).  Against Boston on Tuesday, the Caps were once again terrific on offense and defense, as they stopped their two-game skid with a 3-2 victory in TD Garden. They're going to be just as good later tonight versus the Islanders, who are beginning to heat up again.
Braden Holtby's going to have his hands full again against the equally menacing offense of New York, but this is the kind of assignment that a Vezina candidate like him should be able to handle. And his 27-save effort against the Bruins' third-ranked offense should be a nice springboard heading into tonight's game in Barclays Center.
Holtby currently has a league-best record of 25-4-2, while placing third (.932) and second in saves percentage and goals against average (1.93), respectively.
As for their offense, the Capitals are hoping Evgeny Kuznetsov will turn it up again after the center scored a goal and assisted on another in Boston. Kuznetsov leads the team with 37 points (13 goals, 24 assists).
Washington, which is 6-4 in its last 10 road games, blanked all of the Islanders' 14 power play opportunities during last season's conference semifinals.
Create a betting account now and see if you're prediction will be right on target.
Betting on the New York Islanders (22-13-5)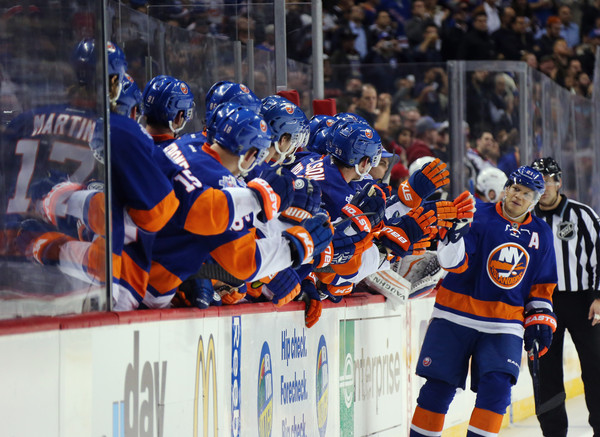 Beating Washington isn't that too tall of a task for the Islanders, especially after earning a confidence-boosting win over the NHL-best Dallas Stars. Thanks to their scorching offense, the Islanders were able to outlast Dallas in a 6-5 goal-fest on Sunday. With the victory, the Islanders improve their home record to 13-6-2 this season. Moreover, they are 7-3 in their last 10 overall at Barclays Center.
As implied earlier, the Islanders owe much of their success this season to their offense that is currently 10th in the league with 2.75 goals per game.
While John Tavares is unquestionably the face of the franchise, it's Kyle Okposo who's arguably been playing the best hockey on the team. Okposo (10 goals, 21 assists) is on a contract year, which partly explains his performance, but in any case, the 27-year-old right win will have to carry an extra load on offense (just like everyone on the team) with the Isles' defense looking shaky with Johnny Boychuck and Jaroslav Halak out with upper-body injuries.
Halak hasn't played since December 21 but is now back practicing with the team. That said, he's unlikely to play tonight. Instead, the Isles might roll with Thomas Greiss, who's far from being dependable in between the pipes. In five starts as Halak's replacement, Greiss has allowed 15 goals, including nine in the past two.
Writer's Prediction
Washington wins, 4-3.
Create a betting account now and build a winning NHL parlay.
[sc:NHL620 ]
1,861 total views, 2 views today
Comments
comments