Betting on College Football: Washington Huskies vs. Arizona State Sun Devils
Two Pac-12 squads try to right the course of their respective seasons' path before it's too late when the Huskies take on the Sun Devils Saturday.
No. 20 Washington is hoping to return to its winning form after opening with all guns ablaze, winning its first four before succumbing to top 10 teams, Stanford and Oregon, respectively. For Arizona State, another loss could put it a step behind Pac-12 South leader UCLA, something they are looking to prevent.
The game will also put on the same field two of the nation's best running backs in the Huskies' Bishop Sankey and the Sun Devils' Marion Grice, a couple of names you could find high in the list of rushing and yards and touchdowns statistics.
Washington Huskies vs. Arizona State Sun Devils Game Details:
When: 6:00 PM ET, October 19, 2013
Where: Sun Devil Stadium, Tempe, Arizona
Washington vs. Arizona State Odds:
Money: Washington (+140) vs. Arizona (-160)
Spread: Washington (+3.5) vs. Arizona (-3.5)
Totals: 67.0
Betting on Washington: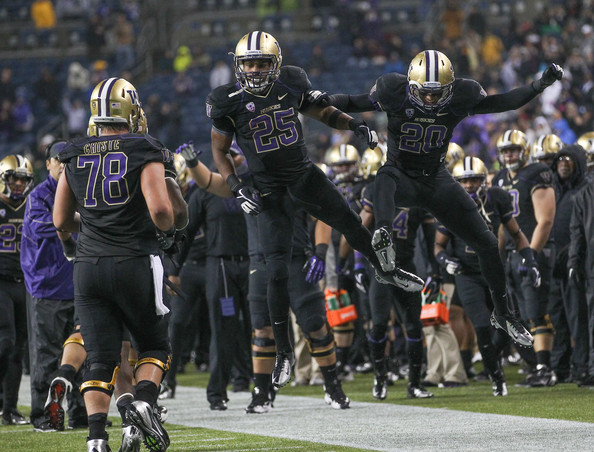 Two straight defeats have left Washington skidding down to fifth place of the Pac-12 North, but for a team who opened the season with four straight wins, all hope isn't lost yet.
To recapture their confidence, Washington needs to intensify their defense, which has been abused in their last games against Oregon. Overall, the Huskies allow opponents an average of 380.2 yards per game. The number should have been lower had they offered a little more resistance against the Ducks who burned them for 631 yards.
The loss to Oregon (45-24) was Washington's second straight defeat following a close 31-28 loss to No.5 Stanford in Week 5.
[sc:Other240banner ]One player who has consistently been shining bright for the Huskies is running back Bishop Sankey. Sankey is tops in the nation in rushing yards with 149.8 a game. He did even better than his average with a 167 rushing yard-game against Oregon. Moreover, Sankey's 9 rushing touchdowns are tied for second best in the FBS. He could cause headaches for the Sun Devils who has problems of their own on defense, giving up 192.6 rushing yards per game.
In Washington's 31-13 victory over Arizona in Week 4, Sankey set a school record of 40 carries, highlighting the Huskies' strong ground game.
The Huskies arrive at Sun Devil Stadium having not won against the Sun Devils in their last seven meetings. Can Sankey blaze the path to a rare Washington win over Arizona State? Bet now on the Washington Huskies.
Betting on Arizona State:
Scoring hasn't been much of a problem for the Sun Devils who put up at least 42 points on the board in three games this season, including their 54-point outburst against Colorado last Saturday.
Taylor Kelly and Maurice Grice had a field day in that game. Kelly was 9-of-19 for 233 yards and threw two touchdowns while Grice increased his touchdown production to 15 TDs after rushing for two.
[sc:NCAA490banner ]
Apart from the win, the game itself against the Buffaloes was a breath of fresh air for Arizona State, which had to endure consecutive games against Wisconsin, Stanford, USC, and Notre Dame. The Sun Devils were 2-2 SU during that stretch.
The Sun Devils are 10th in FBS in scoring with a 44.2 PPG average. The scoring prowess of Arizona State is mainly driven by the exploits of the trio of Kelly, Grice, and receiver Jalen Strong. Kelly is sixth in total yards with 1965; most of it was targeted to Strong, who is seventh in FBS in total receiving yards with 678. Even better was Grice, who aside from leading the nation in TDs, is also tied for first in rushing touchdowns with 10.
For its next assignment, Arizona State will be up against a team they have absolutely dominated in the last 10 years. The Sun Devils are 7-0 SU and ATS in their last seven games against Washington. Can they continue this winning streak? Bet now on the Arizona State Sun Devils.
Comments
comments