We're still dancing as we enter the NCAA Tournament's Sweet 16. All No. 1 seeds have survived so far, while there have already been plenty of upsets all throughout the tournament. While each of the 16 remaining teams are excellent in their own rights, it's time we pick out the cream of the crop. Read on as we take a look at our top 10 teams in this week's iteration of our college basketball power rankings.
For more on March Madness, check out our complete previews for Villanova vs. Miami and Oklahoma vs. Texas A&M.
March Madness News & Predictions
College Basketball Power Rankings
Kansas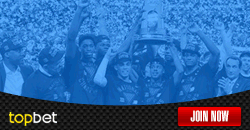 The Kansas Jayhawks are here to stay ladies and gentlemen. The Jayhawks have plowed through their competition as the No. 1 overall seed in the NCAA Tournament. They demolished No. 16 Austin Peay Round 1, 105-79, before blowing past No. 9 Connecticut 73-61. Perry Ellis has been a monster for Kansas averaging 21 points per game through the first two contests. He'll carry his hot streak as Kansas attempts to make the Elite 8.
North Carolina
They're No. 1 seeds in the East Region, but many believed that the North Carolina Tar Heels would be prime upset victims. But they're still here in the Sweet 16 due to their unstoppable offense. The Tar Heels blew out Florida Gulf Coast 83-67 in the first round before barely breaking a sweat against Providence 85-66. It's going to take one special team to slow down North Carolina.
Virginia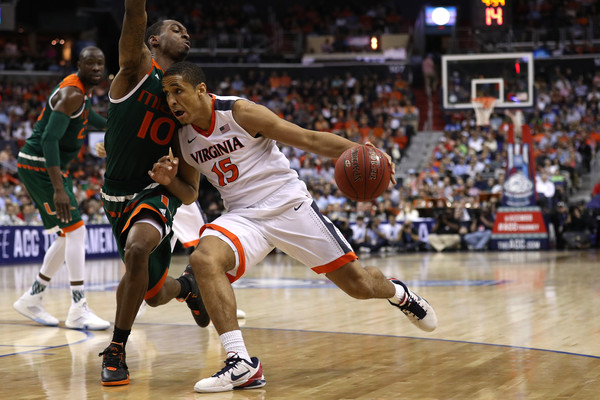 The Virginia Cavaliers may not entertain many with their suffocating defense and conservative play. But like the saying goes, defense wins championships. They held Hampton to just 45 points in the first round, a feat difficult to do against any Division I program. But it's not all defense for the Cavaliers; they exploded for 77 points on 73 percent shooting against Butler in the next round. Virginia has it all to turn heads in the tournament.
Oregon
All four No. 1 seeds remain standing thanks to Oregon's come-from-behind victory over St. Joseph's. But their struggling against a No. 8 team has them way down in the first seed ladder. The Ducks, though, can't be slept on. They have one of the best offenses in the league and plenty of firepower. Any of their top four players from Dillon Brooks to Chris Boucher can explode for big scoring nights. They're also very athletic. When their mechanics aren't on point, they can just pound the ball inside to let loose some monster jams.
Oklahoma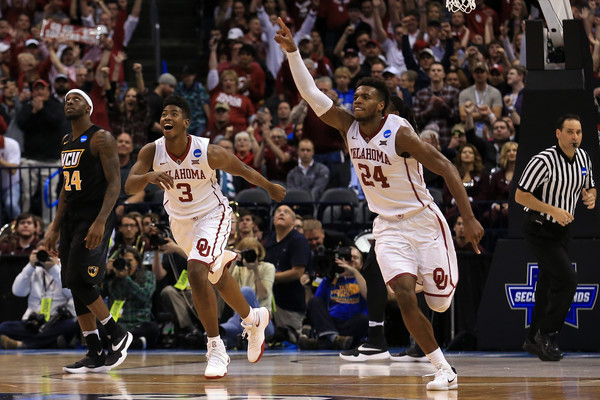 The Oklahoma Sooners are into the Sweet 16 thanks in large part to their senior guard Buddy Hield. After struggling in the first half (2 for 8), Hield let havoc loose by making 9 of 12 in the second half alone. He finished with 37 points as Oklahoma stood up to the occasion to beat VCU 85-81 in the second round of the NCAA Tournament. Hield provides the necessary experience to reign supreme in the biggest stage of them all. Don't count out Oklahoma while he's there to guide the way.
Villanova
Villanova has the makings of a champion. They barely broke a sweat in the first two rounds of the tournament. They beat UNC-Asheville 86-56 in the first round and beat the talented Iowa Hawkeyes 87-68 the round after. The Wildcats have it all from offense (77 points per game, 83rd in the nation) to defense (63.7 points allowed per game, 20th) to make a championship team.
Texas A&M
Man. Wow. The Texas A&M Aggies were down 12 in the final 30 seconds of their second-round game against Northern Iowa. They still won. Yes, they used a 14-2 run to tie the game before winning in double overtime. Do not count out these Aggies. They won't accept defeat no matter the situation.
Indiana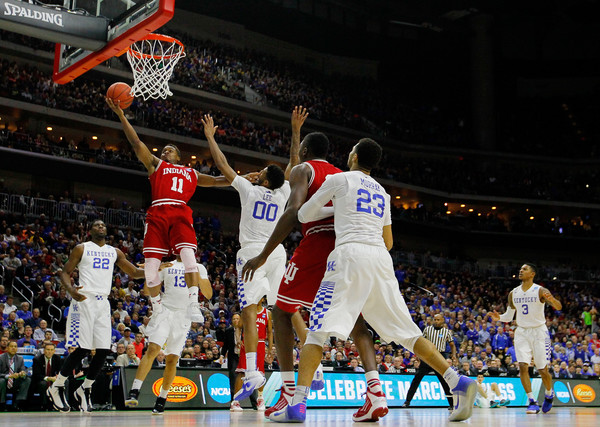 Indiana handled Chattanooga, then took a big upset against archrival Kentucky to make the Sweet 16. The Hoosiers are one of the most talented teams still in the NCAA Tournament led by a stellar point guard Yogi Ferrell. He's averaged 19 points and seven assists through the first two rounds of the Big Dance. Back court play is crucial in the tournament, thus having Ferrell is already a big advantage for Indiana.
Notre Dame
This bunch of the Notre Dame Fighting Irish aren't as talented as last year's Sweet 16 team. But they're back thanks in large part to backup Rex Pflueger, who tapped in a rebound with 1.5 seconds left to beat No. 14 Stephen F. Austin in the second round of the NCAA Tournament. Still, Notre Dame will be led by the excellent backcourt play of Demetrius Jackson, while solid forwards V.J. Beachem and Zach Auguste will provide their support up close.
Miami
The Miami Hurricanes survived upset bids by No. 14 Buffalo and No. 11 Wichita State to make the Sweet 16. Now they find themselves as legitimate underdogs to the No. 2 Villanova Wildcats. The pressure will be very different for the Canes as they head into the next round of the NCAA Tournament. But they have plenty of talented players to help them with their own upset bid.
Create a betting account now and go dancing while the NCAA Tournament lasts.

Comments
comments