The Heisman Trophy has been awarded since 1935 to young men who wowed the world of college athletics through their performances on the gridiron. These are players with names like Doak Walker, Paul Hornung, Bo Jackson and OJ Simpson. Maybe you've heard of them before?
According to the Heisman committee, the award is given to:
"The outstanding college football player whose performance best exhibits the pursuit of excellence with integrity."
Such an accolade would lead us to believe that these individuals almost always go on to do great things — and in many instances, this assumption holds true. [sc:Other250banner ]
Take Bo Jackson for example, who played for the Oakland Raiders of the NFL and was an All Star selection in the MLB. Bo also had a relatively successful acting career, earning roles on The New Adventures of Superman, Married with Children and everybody's favorite, The Fresh Prince of Bel-Air.
Then there's Pete Dawkins, who won the award in 1958. He was a Rhodes Scholar, won a Bronze Star fighting in the Vietnam War, ran for a position in the US Senate and was CEO of Primerica.
Herschel Walker danced in a professional ballet, competed in the Winter Olympics and had a short but successful MMA career.
But it seems for every great Heisman winner in history, there's another who more or less flopped.
Billy Cannon, after a solid ten years in the American Football League, wound up in a counterfeiting operation that saw him print $50 million worth of fake US bills and hide them in ice chests buried in his backyard. After serving half of a five year sentence, he struggled to reopen his dental practice. He ended up grabbing a position as a dentist at the Louisiana State Penitentiary.
Eight former winners never went on to play in a regular season professional game, ending up with gigs at factories, shoe stores and as construction workers.
We all know what happened to OJ Simpson.
So scroll down and see for yourself what these former college stars have been up to. Some of these individuals are hard to track down, and the graphic may not be completely comprehensive, but we feel it'll give you a pretty good idea of…
What Happens to Heisman Trophy Winners?
Click on the picture enlarge it in another window.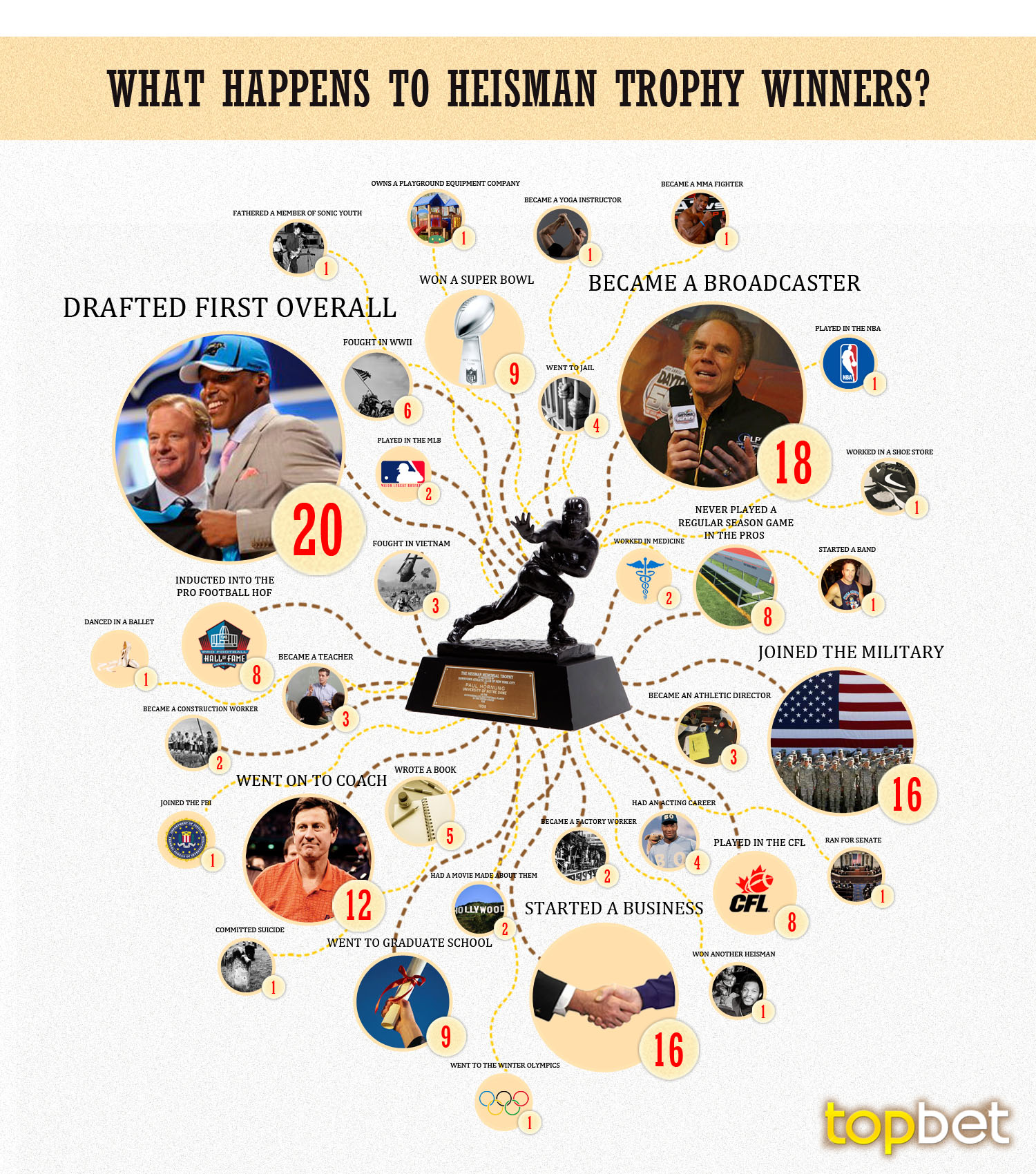 Interesting Facts:
The Heisman has been awarded to individuals from 39 different schools.
Notre Dame and Ohio State are tied for the most Heisman recipients at seven.

Angello Bertelli was father to Bob Bert (born Robert Bertelli) a member of Sonic Youth.

Doug Flutie started a band that still performs to this day called The Flutie Brothers.
OSU's Archie Griffin is the only player to ever win the Heisman twice. He played seven seasons with the Bengals.
Charles Woodson is a well-known oenophile and has his own brand of wine called TwentyFour Wines. He was warned by the league not to appear overly tied to the label publicly, in accordance with their strict anti-substance policies.
Charlie Ward, winner in 1993, went on to play in the NBA.
Herschel Walker has a professional MMA record of 2-0.
Richard Kelly, the second-ever recipient of the trophy, killed himself at the age of 85.
Eric Crouch, the 2001 recipient, owns and operates his own playground equipment company.
Davey O'Brien, who won the trophy in 1938 playing for TCU, became an FBI agent.
Share this graphic with your friends and followers on Facebook, Twitter, Pinterest and Instagram, and check out the sportsbook for odds and lines for all of this season's bowl games!
3,177 total views, 1 views today
Comments
comments