Baseball isn't called America's Pastime for nothing. With over a century's worth of history, the game has ingrained itself deeply into the very culture of the USA. However, with its soaring popularity in the past few decades, football has now taken the title of America's favorite sport. [sc:NFL240banner ]
Apparently, MLB and Bud Selig don't seem to care because they scheduled the World Series so that five out of the seven possible games will go up against NFL and college football games.
Many are predicting lower television ratings for the World Series because of the eyeballs that will be attracted to the gridiron as opposed to the diamond. But more importantly, it may divide bettors who will be forced to choose which event to follow.
If you are indeed one of those people, we have you covered. We're here to match-up the World Series games with the conflicting football games to decide which game is worth your valuable time and money.
Which games to bet on: World Series vs. Football
1. World Series Game 2 or Carolina Panthers vs Tampa Bay Buccaneers? (Thursday, Oct. 24)
Michael Wacha has been the story of the MLB postseason so far. The Cardinal rookie has a sparkling 0.43 ERA in his first three postseason starts. He goes against grizzled vet John Lackey in what could be an interesting pitcher's duel.
In the NFL's Thursday offering, the streaking Panthers and their imposing defense meet a winless Buccaneers team now without star running back Doug Martin to help out rookie quarterback Mike Glennon. This game doesn't immediately strike as competitive or entertaining.
OUR PICK:
World Series Game 2
2. World Series Game 3 or NCAA Football? (Saturday, Oct. 26)
Jake Peavy and Joe Kelly will be on the mound on Saturday. With possibly the two weakest pitchers in each team's rotation, there are bound to be runs. And with neither particularly dominant, it's anyone's game for the taking.
But they will go head-to-head with a day's worth of NCAA football games. There are some intriguing match-ups in the Pac-12 this week. Undefeated Oregon can strengthen its BCS title credentials against an upstart UCLA and Stanford has a tricky road game at Oregon State. Both have some upset potential brewing, and should be an enticing bet.
OUR PICK:
NCAA Football
3. Game 4 or NFL Sunday Night Football? (Sunday, Oct. 27)
It was a suicide mission to go against Sunday's NFL slate, and Clay Buchholz vs Lance Lynn isn't an incredibly enticing pitching match-up. If Game Four turns out to be for a sweep, the action could get a little more appealing.
But with so many options from the different games, the NFL is still the way to go. Take your pick of overwhelming favorites (49ers +17 over the Jaguars) or potential underdogs (Dolphins +260 against the reeling Patriots). The Broncos will be looking to bounce back against the Redskins and the Pack will be in Minnesota for a classic rivalry game.
OUR PICK:
NFL Football
4. Game 5 (if necessary) or Seattle Seahawks vs St. Louis Rams? (Monday, Oct. 28)
A potentially historic Monday night could be in store in St. Louis. Provided that the Cardinals don't get swept, the city will host both Monday Night Football and the World Series on the same night simultaneously.
Game 5 could already be a clinching game for either team, which is sure to be an interesting bet. And with the season-ending injury to Sam Bradford, the Kellen Clemens-led Rams don't particularly look like they'll pose a challenge to the Seahawks.
OUR PICK:
Game 5
5. Game 7 (if necessary) or Cincinnati Bengals vs Miami Dolphins (Thursday, Oct. 31)
There has only been one Game 7 in the last 10 years, and it involved the Cardinals. Should it go the distance this year, it will face off with the Bengals-Dolphins game on Thursday night. But nothing beats a Game 7.
Bengals-Dolphins doesn't really look like an exciting match-up on paper, and of course, there's the fact that Game 7's don't happen very often. It's the most exciting game in sports, and should be just as exciting to bet on.
OUR PICK: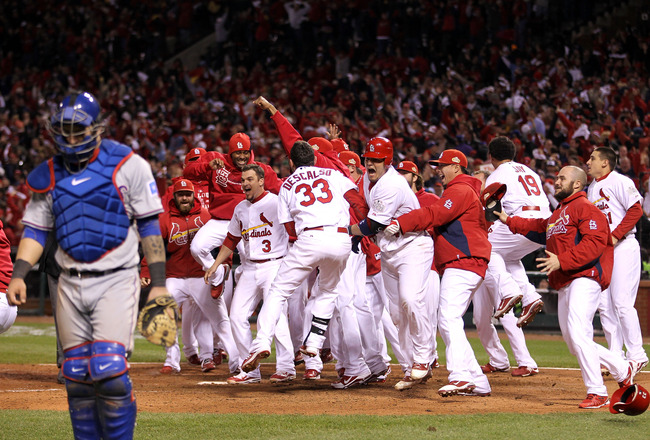 Game 7
Final Tally: World Series 3-2
[sc:MLB490banner ]
The MLB only has itself to blame for not maximizing its television ratings, but for our money, the World Series could very well prove itself to be the more exciting option. If you have the time and money for both, by all means place your bets on the World Series and this week's top NFL and NCAA football games on Top Bet Sportsbook.
1,883 total views, 2 views today
Comments
comments