The World's Largest Outdoor Cocktail Party is about to get started once again this Saturday in Jacksonville when the Florida Gators meet the Georgia Bulldogs.
After strong 4-1 starts, both SEC teams have now lost two consecutive games and are now out of the Top 25 rankings. A victory would simultaneously be a step in the right direction for one team while sending their rival further down the mire. [sc:NCAA240banner ]
The Gators are the underdogs, but are 11-4 SU in their last 15 games vs Georgia. On the other side, the Bulldogs are the favorites and have won the past two meetings, but a porous defense has (33.3 points/game) has contributed to the over going 6-1 in Georgia's last 7 games.
Aside from their historic football games and an all-time fierce rivalry, Florida-Georgia is renowned for its pre-game tailgating, hence the title of "World's Largest Outdoor Cocktail Party." The official nickname has since been dropped due to some alcohol-induced incidents in the past, but from the way both fans tailgate, it still fits.
Florida and Georgia fans sure know how to have fun, but they're not the only ones.
Top 10 College Football Tailgating Traditions
1. Techno Tailgate
As the name suggests, Arizona State's Techno Tailgate is a relatively new concept, and it's more or less what the name implies: just a bunch of drunken college kids dancing (quite well) to some beats and having fun. And it does look like a lot of fun.
2. Couch Burning
Nothing best typifies the unbridled passion and emotion of youth like a good old fashioned bonfire. West Virginia fans light up one of those bad boys after a big win (or loss) by setting a couch aflame at the post-game tailgate. The school isn't a fan of this practice, but Mountaineer fans have ways to keep their beloved couch fire alive.
3. The Grove
Each school has a distinct style when it comes to tailgating, and Old Miss' is certainly one of the more elegant and sophisticated in college football. The alums and students hardly look like Rebels while wearing their Sunday best around The Grove, their picture-perfect tailgating venue.
4. Auburn Tiger Walk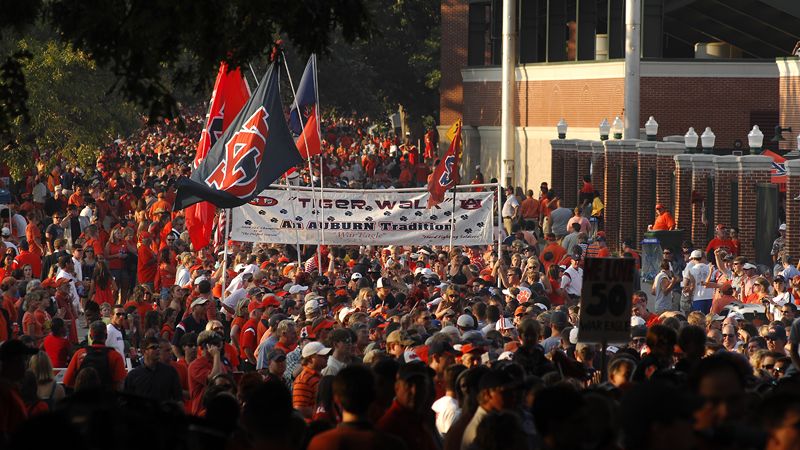 As their #1 Yahoo ranking suggests, Auburn knows how to have a good time during tailgates, and the highlight of each tailgate weekend is undoubtedly the Tiger Walk. Since the 1960's, Auburn players have walked from Sewell Hall to the stadium while fans line Donahue Drive to wish them luck. This tradition has since become a major part of the game day experience.
5. Harvard Soiree
Leave it to the oh-so-superior Harvard grads to put their upper crust spin on tailgating. On the eve of "The Game" between Harvard and Yale, alums hold a wine and cheese soiree in place of the customary beers and brats. This particular one even had an impromptu Jazz performance.  To that we can only say, "To each his own."
6. Vol Navy
It's usually not advisable to mix football, large quantities of alcohol and boats (and Vikings and hookers), but Tennessee fans don't seem to mind. Each week, the "Vol Navy" docks on the Tennessee River to sing Rocky Top and put on their own unique tailgate party.
7. Mirror Lake Jump
Tailgating doesn't need cast-iron grills and state-of-the-art RV's to be fun. For some inebriated college kids, an ice cold lake to jump in at the dead of night is more than enough. Ohio State fans usually gear up for their big game against hated rivals Michigan with a nice dip in Mirror Lake.
8. Red River Rivalry
The Red River Rivalry is a blood feud if there ever was one in college football, but the lead-up to the big game can hide the animosity between Oklahoma and Texas. Because the game coincides with the State Fair of Texas, the already great tailgating experience is intensified by the joy and amusement of the fairgoers.
9. Ramblin' Wreck
The Georgia Tech tailgating experience isn't complete without seeing the golden chassis of the Ramblin' Wreck. A symbol of Tech's rich engineering history, the 1930 Ford Model 'A' Sport Coupe has been part of the tailgating and game day tradition since 1961 as it leads the band, dance squad, coaches and players into the stadium.
10. Gator Roast
There's no question that Florida State hates their in-state neighbor's guts, but they apparently don't mind their mascots'. On the contrary, it's quite good eating. The Seminoles fans cook and eat alligator during their tailgates in the much awaited game against the Gators.
[sc:NCAA490banner ]
Do you have any great tailgating traditions to share? Get at us on Twitter, Facebook and Google Plus with some of your favorite game day festivities, and check out lines and odds for your favorite college teams over at the sportsbook.
7,043 total views, 1 views today
Comments
comments