How to get started?
Setting up an account is easy. Once you open an account here, you can deposit money and start playing instantly in our casino or bet on your favorite sports! You can also play our games for free without creating an account by using "Practice Mode."
How do deposit bonuses / Free Money work?
Since we offer different types of deposit bonuses, we encourage you to read the details of each initial or reload bonus you'd like to accept to better understand their associated conditions and rollover requirements. All bonus information is available on our Promotions page. In the sportsbook and casino, the bonus dollars (FREE MONEY) and principal balance (REAL MONEY) are used at a 1:1 ratio until the bonus dollars are gone. A $20 sports wager will be made up of $10 of real money and $10 of free money. If you only have $5 remaining in your free money balance, then the $20 wager would include $15 of real money and $5 of free money. Free Money cannot be withdrawn from your account. As you play any of our games, your Free Money balance will be used in tandem with your real money at a ratio determined by the casino and sportsbook management. Please consult the bonus section of the site for rules regarding free money or contact support@topbet.eu. Please note that all bonuses and the rules of play for the free money are offered at the discretion of the casino management and bonuses and rules may change periodically. Bonuses can be earned when you make a deposit, through redeeming your Club Cash points, or by spinning the Big Wheel 'O' Free Money. * Free Money may not be available for use in all casino games at management's discretion. * Note: when using a promo code to claim a bonus, it must be entered before the deposit is made. They can be entered in the Cashier section, by clicking the 'Bonuses' link, then 'Redeem Promo Code'.
How do the rollover requirements work?
There is a rollover requirement attached to the initial and reload deposit bonuses. Before you can withdraw any winnings, you need to wager the deposited amount + the bonus amount and multiply that total number by the rollover number assigned to that bonus offer. For example, our reload bonus offer of 10% the rollover is 5x in sportsbook and/or 20x in Casino. You can combine play in both areas to meet rollover. Let's say you deposit $100, for which you receive $10 bonus, for total of $110 with which to play. Using our sportsbook rollover 5x ratio, you would need to make $110 x 5 = $550 in wagers before requesting a withdrawal. If you would like to opt-out of any rollover requirements, please contact our customer support team before making your first wager so that your bonus dollars can be removed. You can call our toll-free line at: 1-877-528-6748. You can also call us anytime to get an instant update on your rollover count.
How old do I need to be to play?
You must be at least 18 years of age. In some jurisdiction, you might need to be older. You must abide by the applicable laws in your area. If you are not of legal age you can practice and participate in all games where real money is not involved.
Is online gambling legal?
Gambling online for real money is legal in most countries. However, some countries do not allow online gambling. You must abide by the applicable laws in your jurisdiction or area. In order to play for real money, you must first read and agree with our Terms and Conditions.
Is your company licensed to operate gambling software?
TopBet is legally licensed to operate by the government of Curacao.
Are my winnings subject to taxes?
It is the players responsibility to find out what the tax implications are in their jurisdiction. Every country has unique tax laws and it is up to you, the player, to pay taxes on your winnings as applicable.
How do I bookmark the TopBet website?
Bookmarks or favorites are a great way to save a list of your top websites in one easily accessible place. Using Chrome, Internet Explorer or Firefox? Just press Ctrl+D to create a bookmark for TopBet and get one-click access to your favorite sports and games. Safari users on a Mac can hit ⌘+D
How can I make a deposit?
We have many quick and simple ways to fund your account including Visa, Mastercard and Bitcoin. Simply visit the online cashier.
Are there any fees for depositing with a credit or debit card?
TopBet won't charge you for funding your account. However, please be reminded that some banks might charge you of transaction fees. Please coordinate with your Bank to confirm this with them.
Why was my credit card deposit declined?
There are many reasons a deposit could be declined, often times your bank may not authorize international transactions. These three easy steps will help you fund your account without delay:
Call the toll free 1800 number on the back of your credit card and choose the option to speak with an agent.
Advise the agent to release the international purchase block on your account and ask if they can waive the block for future purchases.
The purchase will not show up as TopBet purchase; so to avoid further blocks, do not mention your gaming account when speaking with credit card issuers or bank representatives.
Alternatively try any of our other quick and easy to use deposit methods in the cashier.
What do I say if the bank representative or credit card agent is asking what the purchase is for?
A: Keep it simple. Simply advise the agent that you are trying to make an international purchase online and ask that they release the block. There is no reason to say something more. The rep should only be concerned with you being the account holder and owner of the credit/debit card.
What is the minimum dollar amount I must have in my credit card balance to make a minimum purchase?
The minimum purchase at TopBet is $50.00 via credit card. Due to possible credit card fees and foreign exchange fees it is recommended that you hold a minimum of $60.00 in your credit card balance to make a $50.00 purchase. This means that a gift card for $50.00 may not be successful due to international fees or exchange differences.
My purchase was successfully but why is it not showing up on my credit/bank statement?
The purchases from your credit and debit account are processed immediately but your credit card issuer reconciles those payments with your bank. This can take 24-48 hours. For this reason there is typically a difference of 2-3 business days between the date of the purchase on your statement and the immediate posting of the funds from your successful purchase at TopBet.
Why was I charged more or less than the amount that was credited to my TopBet account?
Sometimes international purchases have currency exchange differences at the time of the transaction. Alternatively; transaction fees can be applied by your credit card issuer/bank for international purchases.
Can I use a credit card that does not belong to me to deposit in my account?
Customers are not permitted to use a card issued under a corporate account under a company name or even a company card under their name where they are not the principal account holder and person responsible for paying the bill. All deposits must be made with a personal credit card.
What will happen to the wagers and balance in my account if I use a card to fund my account that is not my own personal credit card or gift card?
If a customer can't verify their credit cards and/or are found to be using a card that is not their own personal credit card all winnings/wagers generated from the deposit in question will be considered invalid and the deposit will be refunded to the card in question.
How do I send a Bank Wire to TopBet?
Contact TopBet support at 1-877-528-6748 and speak with an agent. They will be able to guide you through the process in one call.
Please have your personal banking info ready including your swift number and/or ABA routing number, account number and bank address. With this information an agent will prefill a wire send form with the receiving bank details which will be emailed to you so all you would need to do is go to your bank and hand them a single piece of paper.
For online wire transfers through your online banking account the process is about the same. The agent will still send you the receiving bank details through email and help you as you fill out the transfer form online.
In both cases it is very important that you never mention that these funds are to be used for online gaming. If a reason is needed at the bank please simply notate it as an 'investment'.
Be sure to keep a physical copy or screen shot of the transmittal receipt and send it back to support@topbet.eu. This is 100% needed in all cases so we can track the payment with our 3rd party receiving banks.
Can I send multiple bank wires to the same receiving bank account?
Each wire transfer must be sent to a specified account which our agents will provide to you. Please call 1-877-528-6748 to ask about this process.
Why can I not send more than $9500 in a single transfer?
All transfers of $10,000 and over are reported by your bank to the government by law. For this reason we would not accept funds beyond this amount to avoid issues customers may experience with their future tax records. Any wires sent beyond our limits will be returned by the receiving bank back to the issuing account/bank.
How soon will I be able to use the funds I send via wire?
Bank wires take approximately 2-3 business days to be received but as soon as you submit a copy of the transmittal receipt to our support team we will review it and if the information is all correct we will proactively credit up to 50% of the sent amount (inclusive of bonuses) into your balance so you can use the funds right away. The remainder will be credited to your balance once the funds are received by our bank. The benefit of this service is great for bigger bettors who want to build a huge balance fast and don't want to wait like they might at other sites.
Can I Track My Previous Deposits?
Absolutely! Topbet allow you to track your transaction history up to 90 days. Just follow these simple steps:
Click Cashier Button on the upper right side of the screen
Choose My Account on the left part of the page
Several options will appear then choose Financial Statement.
How long will it take for my bet(s) to be settled?
We always try to settle bets as quickly as possible. For some events, official confirmation of the result is necessary before settlement takes place, which may cause a slight delay. We aim to settle all bets within an hour of the event finishing and In-Play bets during the event, where the result is available.
How do I place a bet?
To bet on a single selection, make your choice from the sports navigation and then choose your market. Select the price you wish to take and this automatically adds your selection to the Bet Slip. Once on the Bet Slip, you can enter the stake you wish to risk. If your selection is correct, select Place Bet. Make sure that you click the check box 'Confirm Bet' in order for your wager to push through. If you wish to receive an email confirmation of your bet, check 'Email Receipt' check box.
What types of sports wagers do you offer?
We offer straight bets, totals, spreads, Asian handicaps, parlays, propositions and some teasers/progressive parlays bets.
Do you offer Live In-Play wagering?
Yes. Our livebetting feature is available on the desktop version only. It will be soon available in the mobile site. We offer live in play for the following sporting events:
NBA
MLB
NCAAM BASKETBALL
NCAAF
NHL
What is the minimum amount I can wager?
The minimum bet in the sportsbook online is $5. Combo wagers such as Parlays and Teasers have a minimum wager amount of $1.
Moneyline Wagers
Moneyline wagers are also called Straight Bets It is the simplest form of wager: you predict which team wins the game. That's it!
Odds are determined by a moneyline (American), price (decimal) or fraction and you must win these bets outright. Moneylines are indicated as + (plus) or - (minus) followed by a numerical value, like +150 or -150, while the price odds are reflected by using the moneyline transfigured as a decimal like 1.67 or 2.5. Fractions appear as 3/2 or 2/3.
With moneyline wagers, in the event of a tie, your bet becomes a push/no action.
The minus sign (-150) indicates the favorite and the plus sign (+150) indicates the underdog. That value shows the amount you win for every $100 bet. For example; If a favorite has -150, you need to bet $150 to win $100. The reverse applies for the underdog. If an underdog has +150, your $100 bet nets you a $150 winnings.
You cannot buy points on a moneyline wager.
American, Fraction & Decimal Odds Conversion Table
| | | |
| --- | --- | --- |
| Fraction | American | Decimal |
| 2/7 | -350 | 1.29 |
| 1/3 | -300 | 1.33 |
| 2/5 | -250 | 1.40 |
| 1/2 | -200 | 1.50 |
| 4/7 | -175 | 1.57 |
| 2/3 | -150 | 1.67 |
| 4/5 | -125 | 1.80 |
| 5/6 | -120 | 1.83 |
| 10/11 | -110 | 1.91 |
| 1/1 | 100 | 2.00 |
| 21/20 | 105 | 2.05 |
| 11/10 | 110 | 2.10 |
| 6/5 | 120 | 2.20 |
| 5/4 | 125 | 2.25 |
| 3/2 | 150 | 2.50 |
| 7/4 | 175 | 2.75 |
| 2/1 | 200 | 3.00 |
| | | |
| --- | --- | --- |
| Fraction | American | Decimal |
| 9/4 | 225 | 3.25 |
| 5/2 | 250 | 3.50 |
| 3/1 | 300 | 4.00 |
| 4/1 | 400 | 5.00 |
| 5/1 | 500 | 6.00 |
| 6/1 | 600 | 7.00 |
| 7/1 | 700 | 8.00 |
| 8/1 | 800 | 9.00 |
| 9/1 | 900 | 10.00 |
| 10/1 | 1000 | 11.00 |
| 15/1 | 1500 | 16.00 |
| 20/1 | 2000 | 21.00 |
| 30/1 | 3000 | 31.00 |
| 40/1 | 4000 | 41.00 |
| 50/1 | 5000 | 51.00 |
| 75/1 | 7500 | 76.00 |
| 100/1 | 10000 | 101.00 |
European Wagers (1x2 Wagers)
As with moneyline wagers you must win this bet outright, but have the choice of win, lose or tie each displaying the odds for those selections using your preferred format choice. The most common sport where this line type is used is soccer.
Point Spread Wagers
Point Spreads are the types of wagers wherein an 'advantage' is given to the underdog or a handicap is given to the favorites. The favorite will have a - (minus) points listed and the underdog will have a + (plus) points listed. The point spread indicates the amount of points that the favorite must win by or not lose by. Conversely, the underdog must not lose by more than the spread. Please see the image below:

Asian Handicapping Soccer only
The Asian Handicap soccer bet is reflected as a +0.5 or -0.5 point spread for each game with the offered odds/price, thereby eliminating the tie bet, there are no pushes.
This will appear as...

For the "Splitball" bet there are two point spreads listed for each game, such as 0, +0.5, and 0, -0.5, with both lines listed at the same odds/price. The amount you bet will be "split" between the two lines thereby making essentially two separate bets in one wager.
This will appear as...

Since the "Splitball" option offers a whole and ½ point spread, ties are possible on these wagers. Ties are considered pushes on only that half (or "Split") of your bet. This means your bet on the ½ point spread (+/- 0.5) can win if there's a tie game, while the whole point spread (0, 1, etc) can lose if there is a tie.
Remember when you place a "Splitball" wager for say $20, what you're betting is $10 on each of the two spreads. If you want $20 on each spread, you'd need to bet $40.
Your payouts will be based on the same odds/price for both lines.
Buying Points
You must be betting basketball or football on either Point Spreads or Over/Under to be able to buy points. Please see image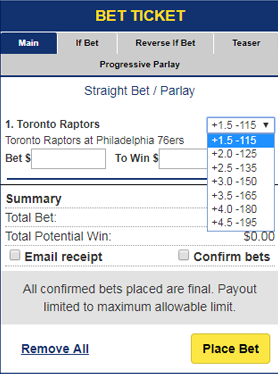 TopBet offers ½ point increments available on your bet ticket up to a total of THREE points (each ½ point increment is considered as a buy). When you move a spread 1.5 points, you're buying three ½ points and each will be calculated in accordance with the following:
Your Total Bet price will reflect the cost of the ½ points you select and will vary depending on the final spread you have selected. The first two ½ points are priced at $0.10, while the THIRD through SIXTH ½ points are priced at $0.15.
In football, we will charge extra for ½ points that move the line onto, or off of, three or seven.
For the ½ point that moves onto or off of 3, we'll charge you an extra $0.15 for a total of $0.25.
For the ½ point that moves onto or off of 7, we'll charge you an extra $0.5 for a total of $0.15.
For Example:
Let's say the St. Louis Rams are playing the Dallas Cowboys and the lines are set at:

If you think St. Louis can cover the point spread at +4, then you can buy the extra ½ point for $0.10. For this example you would move your line by $0.10 effectively buying yourself these new odds:
If you think Dallas can cover the point spread at -3, then you can buy the extra ½ point. For moving the line onto 3 in this example we'll charge you $0.10 for the ½ point and $0.15 for moving the line onto 3. Your total for that ½ point purchase becomes $0.25. Remember in football, wagers when moving the line onto, or off of, 3 or 7 your points will cost more and will be listed in the dropdown menu on the bet ticket.
For this example, you would move your line by $0.25 effectively buying yourself these new odds:

If you think Dallas can cover the point spread at -2, then you have to buy two more ½ points. Since these are the THIRD and FOURTH ½ points you are buying, they will each now cost you $0.15 for a total of $0.30 added to your line.
Here are your final odds: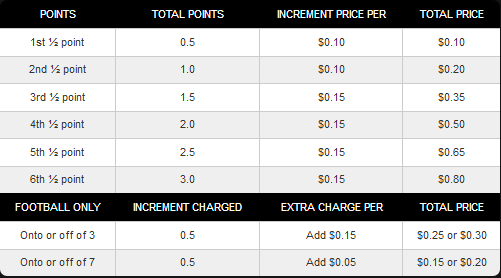 Basically, you are giving yourself a higher chance of covering the spread by Buying Points. In turn, it lessens the amount you can win since there has been an extra advantage placed on your bet.
Can wagers in the sportsbook be cancelled?
At TopBet all confirmed wagers are FINAL. Once you receive your Wager ID Number, the wager is in the system and considered final. We have a series of checks in place to help ensure that customers review and confirm their selections before placing their bets. The betting ticket has a Confirm check-box and a Place Bet button that must be checked and clicked before a wager is accepted.
If Wagers Win & Action
If Win and If Action wagers are similar to a parlay in that you are choosing multiple selections on a single bet ticket. You may add up to EIGHT games on each If Win or If Action bet ticket. You may also combine different sports and leagues on a single ticket. The nature of If wager is that it allows your bet to move to the next wager as long as you keep winning. If wagers are useful tools for when your account balance is low.
Different from a parlay, you are only investing one initial wager amount from your account (for the first selection wager on the Bet Ticket). This is reflected as the Unit Bet on your bet ticket. All subsequent wagers are bet with the same initial wager amount.
If you're Unit Bet is $10 and on the first selection your payout is $20, you will be betting $10 (and no more) on the next selection on the bet ticket. If you win the second game and earn $60, you will still be betting that original Unit Bet amount $10 (and no more) on the next game and so on.
On an If Win ticket, should a game end in a tie or be cancelled for any reason, it is considered a LOSS. Once a loss has occurred in your multiple selections the wager stops and you only get payouts from the previous winning wagers on the bet ticket.
On an If Action ticket, should a game end in a tie or be cancelled for any reason, that game is considered a PUSH. That selection's wager is refunded and the ticket is still live, thereby placing your next wager on the next selection.
If Wager Rules:
Selections do not need to be added to your bet ticket in chronological or simultaneous order. Whichever game you add first (selection #1, at the top of your bet ticket) will be your first selection. Selection #2 will be your second selection and so forth. For grading purposes, your first selection will be considered first, then second, and so on. IF Wager selections are not considered or graded in event time chronological order.
If Wagers cannot include multiple wagers on the same game or event. You cannot, for example, If Wager the over/under and the point spread on the same game. You are essentially allowed to pick one wager per game (of which there will be multiple up to 8) per bet ticket.
If Win Example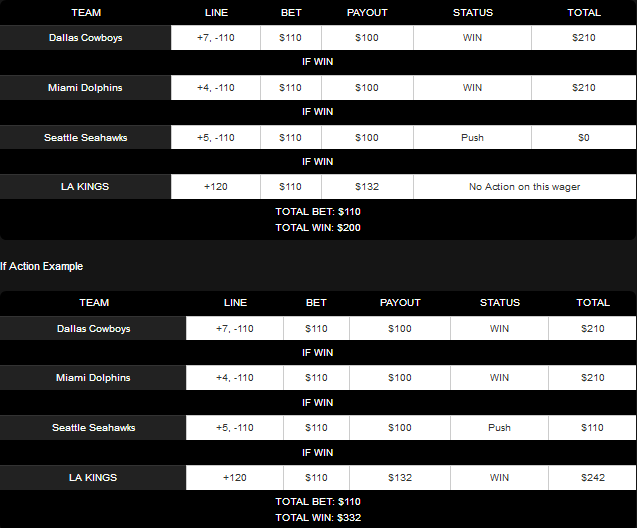 Live Betting FAQ
Q. Is this the same product as TopBet previously offered?
A. No, this is an entirely new Live Betting product where in-game wagering lines are updated in real-time with a variety line options. Some of the many line options include; Spreads/Runlines, Moneylines, Totals, Alternate Totals/Spreads, Winning Margins, Road and Home Team Totals etc.
Q. How do I place my wagers for Live Betting?
A. Similar to the pregame markets bet ticket there is a Live Bet Ticket. Click on the line and it will populate that wager's details into the Live Bet Ticket, you then add you wager amount and click Confirm and then Place Bet, your wager is placed and the wager details are available to view in the My Bets tab at the top of the Live Bet Ticket.
Q. What is the Quick Bet Mode on the Live Bet Ticket?
A. With live betting the action can move quickly; TopBet's Live Betting Quick Bet Mode allows player's bets to be placed in one step. Simply ; select Quick Bet Mode and select your bet amount. Each time you click a line in the betting area that bet will placed. Be careful, however, because once you click the line the bet is placed. You will not have a chance to confirm.
Q. How do I update the Quick Bet Value?
A. The Quick Bet Mode's value is preset to $25. To change the value, you can add dollar amounts to the bet amount by clicking any preset value button, these preset values are additive, so when clicking on the them, you will add that amount to the wager value already in the window. Simply click on Clear All to reset to bet value to zero. You can also update the bet value manually by clicking the Value Window and inputting your own desired bet value.
Q. How come I can't bet on a line?
A. The lines update in real-time and while doing so for a very short instance, will also become light grey and have a spinning symbol; during that short time, you would be unable to place a wager. In some instances, the lines box will show OFF, this indicates the line is Off The Board and may be down for a variety of reasons such as line updating, end of wagering period (e.g. 1st Quarter lines after the 1st Quarter is over) or the end of the game.
Q. I clicked on a line to bet it but my wager would not go through. Why?
A. Sometimes when dealing with automated feeds there are slight delays between our system and the system of the original source. In the time between when the source sends the information and you click on the wager to be placed, the information may have changed. Therefore, the system will do a final check before the bet is placed and your wager may be denied.
Q. Are there any special rules for Live Betting?
A. There are a few specific rules for Live Betting when it comes to the platform (Live Betting Rules), however, since these are not "special" prop bets the sport specific rules for Live Betting are the same as pre-game wagering.
Live Betting Rules
1. If any market remains open with an incorrect score, match time/status we reserve the right to cancel wagers.
2. The user is not allowed to place a bet that exceeds their current available TopBet account balance (total balance less all pending bets).
3. The user is liable for all bets submitted, accidental or otherwise.
4. All lines determined to have been available past post will be graded cancelled and your stake returned.
5. In the event of an obvious line error on the posted proposition, all bets on the affected line ID will be graded No Action at the discretion of TopBet.
6. If the flow of the game causes the play calling to become too predictable, TopBet reserves the right to suspend certain propositions related to such situations.
7. Where we have reason to believe or suspect that a live bet has been placed after the outcome of a live event is known, or if delayed "live" television coverage results in a live bet being placed at the incorrect price after the selected participant has gained an advantage or disadvantage, we shall be entitled to treat the bet as No Action.
Over/Under Wagers
This wager involves combining the final scores of both teams participating in the game and betting whether you think the combined score will go Over or Under our posted/offered total.
If there are .5 (half point) totals listed it eliminates the possibility of a tie/push/or no action to occur in those over/under wagers.
TopBet uses -110 odds for over/under wagers unless specifically/otherwise noted. This means you must bet $110 to win $100.
Buying points is possible on basketball and football over/under wagers.
Parlays
You can combine multiple selections into one "string of bets" to make a Parlay. Although betting the outcomes of multiple games or events simultaneously/consecutively, a parlay ticket is one single bet that hinges on ALL of your selections on that one winning bet ticket. This is one of the most exciting wagers available on the website.
By adding two or more games/events to one ticket you will increase your payout, if you selected the winner of each game/event and bet them all together in a parlay. The more games in your parlay equals higher possible payout amount.
In the case of ties, the affected game/event will be essentially removed from your ticket and thereby reduce the number of selections in your parlay. This will inherently reduce your payout. If only ONE event remains in your parlay due to ties/push, your remaining game/event bet becomes a Straight Wager.
The payouts in True Odds Parlay betting are based on multiplying each bet on your ticket's individual odds. Betting all favorites will have a lower payout than betting all underdogs.
You can combine multiple different sports on one parlay ticket (like a ticket with a soccer game, a football game and boxing match), but you cannot build parlays with any selections which you have bought points for on the bet ticket. We recommend checking the Parlay Card to see all parlayable wagers. Some other special bets like props are also not parlayable. Please consult Customer Support for a full list of not parlayable bet types.
TopBet determines the number of games/teams that are available on a parlay ticket and uses the bet ticket's listed payouts, as opposed to the reference chart listed here.
Payout Chart for standard -110 bets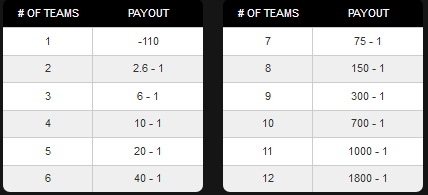 Sportsbook Support
Progressive Parlays
Similar to regular parlays in that you must bet all of your multiple selections on one Bet Ticket, the progressive parlay is restricted to either 4 or 8 game/event/team selections.
Payouts on progressive parlays are fixed, no matter what the odds of an individual game/event/team on your ticket are.
They also allow for 1 loss on a 4 event ticket and 2 losses on an 8 event ticket, just at lower payouts.
Payout Charts
4 Team
Wins
Payout
4 wins
4 - 1 (+400)
3 wins
1 - 1 (EVEN)
8 Team
Wins
Payout
8 Wins
75 - 1 (+7500)
7 Wins
5 - 1 (+500)
6 Wins
3 - 1 (+300)
Sportsbook Support (Reverse Wagers Win & Action)
Reverse Wagers Win & Action
You may only bet TWO games in a Reverse Wager.
You may also combine different sports and leagues on a single ticket.
Similar to If Wagers and Parlays, in that your ticket is alive after a win and moves "forward" to the next selection, but different in that Reverse Wagers are actually TWO If Wagers made as ONE bet. You're betting the wager amount on each game as your Unit Bet and since it's reversed you are making TWO bets and thereby doubling your Total Bet for that bet ticket.
An If Win Wager is saying, "if your first team wins, you will bet the same initial amount back again on the second team". A Reverse Wager is adding the possibility for the reverse of that as well, which is saying "if your second team wins, you will bet the same initial amount back again on that first team". This is why your Unit Bet is doubled.
Let's say you Houston is playing Orlando in an NBA game and Cincinnati is playing Seattle in an MLB game, and you like both Houston and Cincinnati to win their games...
You can bet them both in a single Reverse Wager.
There are 4 possible outcomes to a Reverse Wager on TWO teams (they have to be from two different games but can be from different sports):
If Houston wins, your ticket continues with the straight wager payout from that game and essentially reinvests your initial wager amount on a win bet for Cincinnati. If Cincinnati wins, then you've won both parts of your Reverse Wager.
If Houston wins and Cincinnati loses, you will win the first If Wager but lose the second. You will win the straight wager payout for Houston winning, then minus your Unit Bet amount for the Cincinnati loss.
If Houston loses and Cincinnati wins, you will win the second If Wager but lose the first. You will win the straight wager payout for Cincinnati winning, then minus your Unit Bet amount for the Houston loss.
If they both lose then your ticket loses and you lose both Unit Bet amounts.
You can also choose to make an If Action Reverse Wager.
Wager Limits
Football
| | Spreads | Overnight | Totals | Overnight | Moneyline | Overnight | Specials | Parlays | Teasers |
| --- | --- | --- | --- | --- | --- | --- | --- | --- | --- |
| NFL | 2000 | 200 | 2000 | 500 | 2000 | 200 | | 1000 | 1000 |
| NFL 1st half 2nd half | 1000 | 200 | 500 | 500 | 500 | 200 | | 1000 | 1000 |
| NFL quarters | 500 | | 500 | | | | | 1000 | 1000 |
| NFL props | | 100 | | | | 100 | 300 | 1000 | 1000 |
| Futures | | | | | | | 500 | 1000 | 1000 |
| NCAAF | 2000 | 200 | 2000 | 500 | 2000 | | | 1000 | 1000 |
| NCAAF 1st half 2nd half | 1000 | 200 | 500 | 500 | 500 | 300 | | 1000 | 1000 |
| NCAAF quarters | 500 | | | | | | | 1000 | 1000 |
| NCAAF props | | | | | | | 300 | 1000 | 1000 |
| Futures | | | | | | | 500 | 1000 | 1000 |
| Arena Football | 500 | | 500 | | | | | 1000 | 1000 |
| CFL | 500 | | 500 | | | | | 1000 | 1000 |
Basketball
| | Spreads | Overnight | Totals | Overnight | Moneyline | Overnight | Specials | Parlays | Teasers |
| --- | --- | --- | --- | --- | --- | --- | --- | --- | --- |
| NBA | 1500 | 200 | 1000 | 300 | 1000 | 200 | | 1000 | 1000 |
| NBA 1st half 2nd half | 500 | 200 | 500 | | 500 | 200 | | 1000 | 1000 |
| NBA quarters | 300 | | | | | | | 1000 | 1000 |
| NBA props | | 100 | | | | 100 | 300 | 1000 | 1000 |
| Futures | | | | | | | 500 | 1000 | 1000 |
| NCAAB | 1500 | 200 | 1000 | 300 | 1000 | 200 | | 1000 | 1000 |
| NCAAB 1st half 2nd half | 500 | 200 | 500 | | 500 | 200 | | 1000 | 1000 |
| NCAAB quarters | | | | | | | | 1000 | 1000 |
| NCAAB props | | | | | | | 300 | 1000 | 1000 |
| Futures | | | | | | | 500 | 1000 | 1000 |
Baseball
| | Spreads | Overnight | Totals | Overnight | Moneyline | Overnight | Specials | Parlays | Teasers |
| --- | --- | --- | --- | --- | --- | --- | --- | --- | --- |
| MLB | 500 | 200 | 500 | 300 | 1000 | 200 | | 1000 | 1000 |
| MLB 1st half | 500 | | | | | | | 1000 | 1000 |
| MLB props | | | | | | | 300 | 1000 | 1000 |
| Futures | | | | | | | 500 | 1000 | 1000 |
Hockey
| | Spreads | Overnight | Totals | Overnight | Moneyline | Overnight | Specials | Parlays | Teasers |
| --- | --- | --- | --- | --- | --- | --- | --- | --- | --- |
| NHL | 500 | 200 | 500 | 300 | 1000 | 200 | | 1000 | 1000 |
| NHL props | | | | | | | 300 | 1000 | 1000 |
| Futures | | | | | | | 500 | 1000 | 1000 |
Combat Sports
| | Spreads | Overnight | Totals | Overnight | Moneyline | Overnight | Specials | Parlays | Teasers |
| --- | --- | --- | --- | --- | --- | --- | --- | --- | --- |
| Boxing | | | | | 500 | 300 | | 1000 | 1000 |
| Boxing props | | | | | | | | 1000 | 1000 |
| MMA | | | | | 500 | 300 | | 1000 | 1000 |
| MMA props | | | | | | | | 1000 | 1000 |
Soccer
| Spreads | Overnight | Totals | Overnight | 1x2 | Overnight | Asian Handicap | Parlays | Teasers |
| --- | --- | --- | --- | --- | --- | --- | --- | --- |
| 500 | | 500 | | 500 | | 500 | 1000 | 1000 |
Golf
| | Spreads | Overnight | Totals | Overnight | Moneyline | Overnight | Specials | Parlays | Teasers |
| --- | --- | --- | --- | --- | --- | --- | --- | --- | --- |
| H2H | | | | | | | 500 | 1000 | 1000 |
| Props | | | | | | | 300 | 1000 | 1000 |
| Futures | | | | | | | 500 | 1000 | 1000 |
Tennis
| | Spreads | Overnight | Totals | Overnight | Moneyline | Overnight | Specials | Parlays | Teasers |
| --- | --- | --- | --- | --- | --- | --- | --- | --- | --- |
| H2H | | | | | | | 500 | 1000 | 1000 |
| props | | | | | | | 300 | 1000 | 1000 |
| Futures | | | | | | | 500 | 1000 | 1000 |
Auto Racing
| | Spreads | Overnight | Totals | Overnight | Moneyline | Overnight | Specials | Parlays | Teasers |
| --- | --- | --- | --- | --- | --- | --- | --- | --- | --- |
| H2H | | | | | | | 500 | 1000 | 1000 |
| To win | | | | | | | 500 | 1000 | 1000 |
The above wager limits are subject to change at any time for any individual player. They are to be recognized as a guide only. For up to date information on wager limits, please contact our customer service team
What is the "retain selections" option on my bet ticket after I confirm my wager?
After you confirm and place your wager, the betting ticket refreshes with a confirmation message that includes your Wager ID Number. There is then an option at the bottom to retain the same selections from your ticket to start a new ticket with the same selections. It is merely a shortcut to opening up another bet ticket using the same selections as the previous one.
This is not to be confused with an extra (final) step to completing your previous wager. That wager was already confirmed, hence the wager ID number.
Nor is the Retain Selections an option to cancel the wager just placed.
Casino Support: Getting Started
There are three ways to play in TopBet's Casino
Instant play right on our website
Downloading TopBet Casino to play on your desktop
Instant FREE play (JUST FOR FUN) on our website
To start winning with our casino immediately follow these simple instructions:

1. Simple start with an existing account If you already have an account you're using for sports betting, then you can start playing with your established account right away. Simply hover over or click the Casino tab to pick a game. You can select either PLAY FOR FUN or PLAY FOR REAL. If you select PLAY FOR REAL you are required to sign in. Since each game is a little different, feel free to play a couple hands for fun to get the hang of it. You can view the game's pertinent information, such as limits or limits by clicking in the upper righthand corner on any of the following that appear LIMITS, RULES or ?. You can also go directly back to the game menu by clicking GAME MENU in the upper left hand corner on GAME MENU. You'll always be able to see your account BALANCE (REAL Money), your FREE MONEY balance and your COMP POINTS at the bottom of the game window. Please help protect your account by not sharing your Password and PIN with anyone. 2. Funding your new account TopBet offers initial deposit bonuses for new players. Any funds you deposit are good for play in the casino or the sportsbook, although there may be different rollover requirements on your bonus cash. We'll always be upfront about bonus rules and rollover requirements. You can fund your account by clicking DEPOSIT NOW or logging into the CASHIER and clicking Deposit. All initial deposit bonuses are automatically and instantly credited to your new account upon your first deposit.

Topbet offer a huge variety of deposit options that range from credit cards to Bitcoin. Some may take some time to clear and some will allow your deposit to be made immediately.
Once you've made your first deposit, you're ready to start playing a variety of high percentage payout games (over 96%).

Games at TopBet:
4 different types of Blackjack
5 different types of Slot games with Progressive Jackpots
Over 22 popular Slot Games and 40 3DSlot games
4 Video Poker games
2 types of Video Keno
15 different types of Fun Games
12 electronic table games including:

Roulette
Craps
Baccarat
Mini Baccarat
Pai Gow Poker
Triple Card Poker
Caribbean Poker
War
Reddog

Daily Real and Free Money Tournament
TopBet's Casino also offers FreeRoll and small buy-in tournaments. These are reserved for account holders selecting the PLAY FOR REAL option and who are signed in.
CASINO 10% Rebate
Weekly 10% Casino Rebate
TopBet is pleased to announce its new weekly Casino Rebate program. We all can have a bad run at the tables or slots. We want to help lessen the blow of any loss you have while playing in the casino. So, TopBet will calculate your losses in the casino and provide you with a 10% rebate automatically each week. This is open to all TopBet Casino players and there is no need to opt-in.
Weekly 10% Casino Rebate TERMS AND CONDITIONS
This promotion is only valid in for Casino Play only.
Bonuses are calculated on play from Monday 12:00:00 AM ET Midnight to Sunday 11:59:59 PM.
Bonuses will be awarded before the End of Day, each Monday following the previous week.
Minimum weekly rebate awarded is $1.
Maximum weekly rebate awarded is $200. Should you lose more than $2,000 in a given week your bonus would max out at $200.
Rebates are to be used exclusively for Casino play.
Rebates are awarded as Free Money and are subject to standard rollover of 25x casino.
Rebate Bonuses are valid for 7 days. If no portion of the rebate is used within 7 days of awarding they are removed from your account. Partially used bonuses will not be removed.
Rebate Bonuses are calculated on net cash losses in the casino for the week.
TopBet reserves the right to have the final say in case of dispute.
TopBet reserves the right to update or end the promotion at any time.
This promotion is valid for existing players in good standing.
Comp Points F.A.Q.
Comp points are a way for TopBet casino players to get cash back when playing our casino games. Players earn comp points for every dollar that they wager in the TopBet Casino. Those comp points can be redeemed for real cash rewards. Those rewards can then be wagered further or withdrawn from your account.
How do I enroll in the Comp Points program?
Enrollment into Comp Points program is automatic upon registering at TopBet. Your Comp Points username and password will be the same as your player account info.
How can I earn Comp Points?
Comp points are earned by wagering in the casino at TopBet. For every $1 wagered you will earn a comp point. Each game in the casino earns you a different amount of comp points. Please see the chart to know how many points you will earn at each different game
| | | | |
| --- | --- | --- | --- |
| Blackjack | 1 | Single Deck Side Bet Blackjack | 1 |
| Single Deck Blackjack | 1 | VIP Side Bet Blackjack | 1 |
| VIP Blackjack | 1 | VIP Single Deck Side Bet Blackjack | 1 |
| VIP Single Deck Blackjack | 1 | Baccarat | 1 |
| Side Bet Blackjack | 1 | Mini-Baccarat | 1 |
| Pai Gow Poker | 2 | European Roulette | 2 |
| Lucky 8's Bonus Pai Gow Poker | 2 | Craps | 2 |
| Triple Ride Poker | 2 | War | 2 |
| Triple Card Poker | 3 | Caribbean Poker | 4 |
| American Roulette | 4 | Red Dog | 4 |
| Multi-Hand Double Barrel | 4 | Multi-Hand Jacks or Better | 4 |
| Multi-Hand Wild Joker | 4 | Multi-Hand Deuces Wild | 4 |
| Conspiracy Bonus Slots | 6 | Black Magic Slots 6 | 6 |
| 5x Wild Diamonds Bonus Slots | 6 | Headline Slots 6 | 6 |
| Carnival Wheel Slots | 6 | Wild Sushi Slots 6 | 6 |
| Crazy Coconuts Progressive Slots | 6 | Charmed Reels Slots 6 | 6 |
| Party Bucks Progressive Jackpot Slots | 6 | Cross Country Reels Slots 6 | 6 |
| Fruit Fuzion Slots | 6 | Roughneck Reels Slots | 6 |
| Spider Guy Slots | 6 | Volcano Bonus Slots | 6 |
| Heist Slots | 6 | Freak Show Slots | 6 |
| Banana Beach Slots | 6 | Aces High Bonus Slots | 6 |
| Kings Court Slots | 6 | Cleopatra's Bonus Slots | 6 |
| High Noon Slots | 6 | Coral Cash Bonus Slots | 6 |
| Fast Lane Slots | 6 | Deal or Steal | 6 |
| Bar Room Blast Slots | 6 | Heaven Cent Slots | 6 |
| Final Table Poker Slots | 6 | Free Spin Saloon Slots | 6 |
| Samurai Slots | 6 | King's Castle Slots | 6 |
| Instant Keno | 6 | Shockwave Keno | 6 |
TopBet Casino Tournaments FAQs
Where can I find specific details for each tournament?
Details for each tournament can be found in the tournament lobby. Listed are the registration end time, tournament start and end time, minimum/maximum number of entrants, minimum/maximum hands or rounds requirements to be qualified for the prize pool and starting number of tournament chips among many other relevant details.
What's the difference between tournament chips and real money chips?
When in a casino tournament, you only put at risk the amount you paid for your buy-in. Better yet, if you bought in for free, it means you have no real money at risk but gets the chance to win real money or free money bonus.
For every tournament, a player gets the same amount of tournament chips, which holds no real money cash value but is used to keep the score in that tournament. Tournament Chips balance does not include chips in play. Real money chips meanwhile are used in casino games outside of the tournaments. Tournament chips can only be used in tournaments and not as real money chips.
What is a prize pool?
A prize pool is the total amount of prizes to be given away for each tournament. TopBet Casino Tournaments have a guaranteed prize pool for each tournament and given to the winners on a pre-set percentage and a pre-set number of winners. Prize pool payouts vary from tournament to tournament and are detailed in the tournament lobby.
Until what time can I join a tournament?
Any qualified player may register for the tournament up until the entry cut-off time, which is posted on the tournament schedule and also in the casino tournament lobby. The cut-off time for each tournament is scheduled 8 minutes before the end of the tournament, so players can still join and register even if the tournament is on-going
Where can I monitor my performance during the tournament?
When a TopBet Casino Tournament is in progress, the player rankings will be available on the leader board window in the tournament lobby. This window will display the players rank, players name and players' tournament chips. A scrolling leaderboard and your current ranking also appear within the tournament screen while you are playing.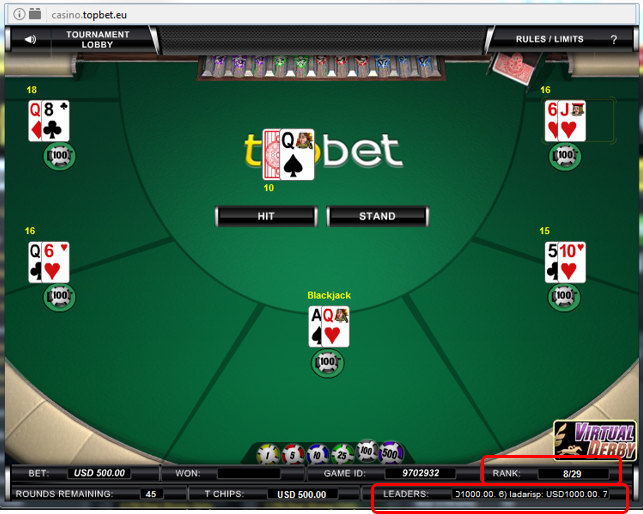 Are there any tiebreaker rules for the casino tournaments?
None. In case players have the same final tally, the prize is evenly split between players involved in the tie.
The tournament is over, where can I see the result?
Immediately after the casino tournament is over, the official results will be displayed in the casino tournament lobby. To remind you of your win, and how much you've won, TopBet will send you an email too.
I've won! Now what? How can I claim my prize?
You don't have to do anything. Once a casino tournament is done, all real money and free money winnings will be automatically credited to your account within 5 to 15 minutes! In case of prizes other than real money, TopBet will send you an email on how claim that special prize.
I forgot I signed up for a tournament; can I still enter late and play it?
You may log in and join the tournament. As long as you meet all the conditions for that tournament you are still eligible to join and win.
What happens if I get disconnected during tournament play?
Don't worry, we have some rules in place if and when you get disconnected from the system while the tournament is on-going:
The game will continue even if you are disconnected.

If you reconnected while the tournament is still on-going, you can continue play in the tournament from exactly where you were prior to the disconnection.

If you do not reconnect, your tournament score or the total amount of your tournament chips during the time of your disconnection will be considered your final score.

Game or tournament malfunction voids all plays and pays.
I've won! Can I withdraw my winnings from my account?
Depositing players can withdraw real money free roll winnings without restriction. Depositing players must turn free money free roll winnings into real money before withdrawing. Depositing players are players who have made at least one cash deposit into their account. Non-depositing players can withdraw free roll winnings after having rolled over their prize money 25 times in the casino and sportsbook.
When can I use my "free money"?
Free money winnings cannot be used in the casino and/or sportsbook unless the player has an equal or more amount of real money dollars in his account. For example, if a player has won $10 in free money but does not have any real money in his account, he will have to deposit at least $10 in order to utilize the free money.
Can the "free money" in my account be used for tournament buy-ins?
Yes, your "free money" balance will be used in tandem with your real money at a ratio of 1 to 1 when buying into casino tournaments. For example, when buying into a tournament that costs $2, $1 will be deducted from your real money balance and $1 from your "free money" balance. "Free money" will not be used while playing the actual casino tournament; tournaments are played with tournament chips and not your real money balance.
Suggestions to be added to HELP Section:
How does Topbet make sure its online casino games are fair?
We use a sophisticated random number generator that yields a payout percentage (the percentage of total wins out of total bets) for all our online casino games. This means you can be certain that our casino games meet industry standard fairness regulations.
What is the Random Number Generator (RNG) and how does it protect me?
• A Random Number Generator (RNG) is a computer program which randomly produces the game results.
• The RNG produces the outcome of each card deal and every dice roll, without any unrealistic duplication (such as two of the same card dealt at the same time).
• These results cannot be predicted, and are subject to game rules.
• The RNG is completely random and the results cannot be manipulated.
How Do I Know If an Online Casino Is Safe?
Topbet make sure to offer the highest level of encryption services to protect your personal and financial information. Our security measures meet or exceed all industry standards.
You also have a responsibility as a player to ensure your own safety when dealing with Topbet. You must never divulge your casino account username and password to avoid unauthorize claims.
What happens if I lose my connection during a casino game?
Not a problem. Should you get disconnected while playing a particular game, the outcome stays the same and any winnings will be credited to your Real money balance. However, in the event that you lose your connection while playing any Blackjack games, you need to re-login to finish the game.