In the long and illustrious history of the Florida Gators football program, many of its stars and teams have placed themselves in college football's record books through their impressive achievements. If you're a fan of the Gators,
Here are 10 amazing facts  that every Florida Gators fan should know:
1. 99 yards
Florida's Cris Collinsworth (you may know him as the color commentator on Sunday Night Football) holds the NCAA and Gator records for the longest touchdown pass – a 99-yard throw to Derrick Gaffney in a 48-3 win over Rice in 1977.
2. Bowl Streak
The Gators have appeared in a bowl game for twenty-two consecutive years, the fifth longest in college football history and the second longest current streak among all college football teams, behind archrivals Florida State.
3. Winning Streaks
We might as well just chalk up every game in Florida's college football schedule against Kentucky and Vanderbilt as wins. The Gators have beaten the Wildcats 26 straight times, the second longest active winning streak against one opponent, and also hold an active 22-game run over Vanderbilt.
4. Running up the Score
Florida owns the record for the most points ever scored by an opposing team at Georgia's Sanford Stadium. As Bulldogs fans will never forget, Steve Spurrier's team famously ran up the score to win a final of 52-17 in 1995.
5. Longest catch
Florida's Larry Smith holds the record for the longest touchdown catch in the Orange Bowl, a 94-yarder against Georgia Tech in 1966.

6. Arrested Abroad
Coach G.E. Pyle of the Florida Gators football team was arrested in Havana, Cuba in 1912. The team, playing against Cuban Athletic Club of Havana, refused to continue play after they complained about unfair officiating.
7. Tebow!
Tim Tebow (in 2007) was the first underclassman (a sophomore) to ever win the Heisman Trophy in its history. Apart from that, he was also the first home-schooled athlete to have been nominated for the award.
8. More Tebow!
Tebow was also the first player to ever rush for 20 TDs and throw for over 20 TDs in a single season. He achieved this during his Heisman-winning 2007 season, throwing for 32 touchdowns and rushing for 23.
9. 144-0
In 1913, Florida defeated Florida Southern 144-0, the largest margin of victory in school history. In their very next game, they lost to Auburn 55-0.
10. Spurrier's Heisman Clincher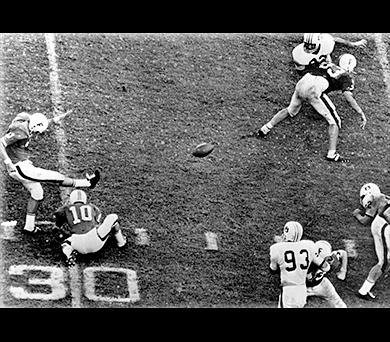 Steve Spurrier (who played quarterback) essentially clinched the 1966 Heisman Trophy by unexpectedly stepping up and kicking a game-winning 40-yard field goal to defeat Auburn 30-27.

Are there any other Florida facts you know that should be on the list?  Share this article on Facebook, Twitter, and Google Plus and share your Florida trivia.
Follow the college football season and bet on upcoming Florida games at the Top Bet Sportsbook.
More on the Florida Gators:
3,492 total views, 2 views today
Please follow and like us:
Comments
comments