College football fans across the nation recognize Ohio State Buckeyes football as one of the top programs in the country.
If you're a fan of the Buckeyes, good for you. You can brag all you want about your college football team because they're consistently one of the top ranked teams in the country. If anyone gives you a hard time — keep the faith and if need be throw these 10 facts in their face…
10 Interesting Fan Facts About the Ohio State Buckeyes:
So Buckeyes Nation, feast your eyes on these 10 interesting football facts on your Ohio State Buckeyes: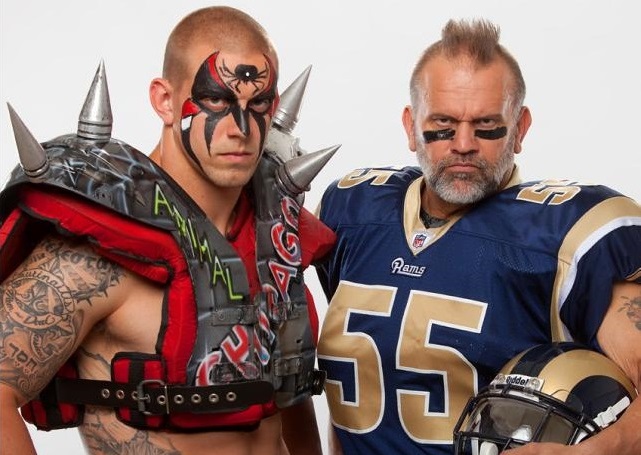 1. James Laurinaitis' Wrestling Roots
James Laurinaitis, a standout in OSU, could have picked a better sport than football. If not football, this vicious linebacker could have picked professional wrestling as his other sport. The St. Louis Rams' linebacker is the son of pro wrestler Joe Laurinaitis, who is better known in WWE as "Road Warrior Animal" from the legendary tag-team "Road Warriors." His uncle is John Lautinaitis, who was a former pro wrestler and now a producer in WWE.
[sc:NCAA490banner ]
2. Urban Meyer's OSU Connections
Current head coach Urban Meyer went back to his alma-mater after his stint in Florida. It is a homecoming for Meyer, who grew up in Ohio and idolized Buckeye football. In high school, he chose to play with No. 45 to honor Buckeye legend Archie Griffin
Speaking of Griffin…
3. College Football's Gold Standard
Archie Griffin is known to be arguably the best player in college football ever. Some people may have a say on that, but if there is one that people will never argue about is the fact that the star running back is the only back-to-back Heisman Trophy winner in 1974-75. Certainly a gold standard in college football.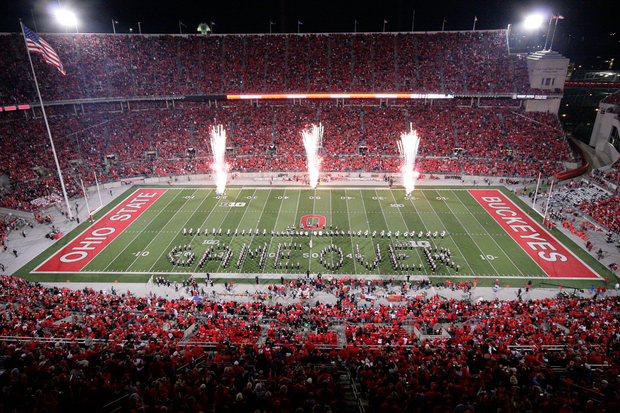 4. OSU's Marching Band's Swagger Nickname
If your school's marching band earned the nickname "The Best Damn Band in the Land," then the swagger factor definitely fits. The band has backed-up their nickname after winning the coveted Sudler Trophy in 1988. They've also performed in sever Inaugural Parades and , and being able to do crazy formations based on video games like Pokemon, Super Mario Bros., Halo, Tetris, Pac-Man and The Legend of Zelda.
5. Not for His Namesake
Earle Bruce, the coach who replaced the great Woody Hayes, was a star halfback for Ohio State before he went on to coaching. But in 1949, when he was a high school star in Allegany High, Bruce was heavily recruited by a someone with a similar name, Penn State assistant coach Earl Bruce. He then ultimately chose to play in OSU and went to become a great coach for his alma-mater.
6. Captain Bros.
In 1917, Harold and Howard Courtney played for OSU. Their spot on the roster marked the only time two brothers served as OSU captains at the same time.
7. Ohio State's Early Dominance over Michigan
From 1934-1937, Ohio State ran off four straight shutout victories in which the Buckeyes outscored the Wolverines 112-0. Michigan didn't score a touchdown for four years in a row over this embarrassing stretch. Michigan  fans couldn't do a thing, except to hope for the best next year; and Ohio
8. Civil War Origins
There was "The Ten Year War" from 1969 to 1978 that intensified this heated rivalry between Ohio State and Michigan.  But some historians theorized that the border war between the two football teams might have originated way back past their first meeting in 1922.
It was said that during 1835 and 1836, the State of Ohio and the Michigan Territory engaged in a brief and nearly bloodless border dispute known as the Toledo War. Some have proposed that this football rivalry is a modern manifestation of this historical tension.
Whether or not you believe a dispute from the early 1800's has anything to do with this rivalry is up to you. What isn't up for debate is the fact that there is hatred between these two teams. There is a mutual respect them, but these teams never like each other. The hatred is even stronger between the two fanbases.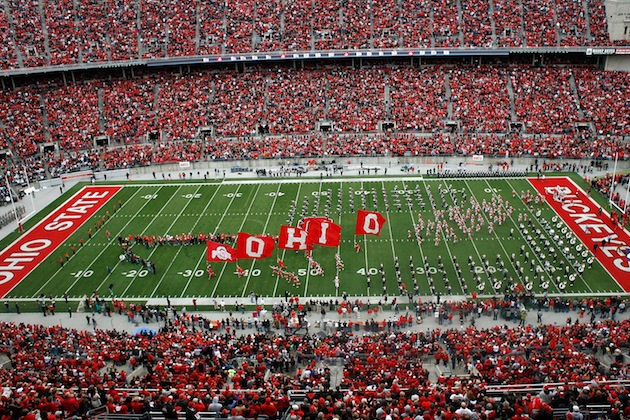 9. The School Cares about "The Game"
The rivalry better known as "The Game" made schools really care about the feud. It got to the point where both Ohio Stadium and Michigan Stadium were dedicated during the Ohio State-Michigan game.
It speaks to the importance of this rivalry for both teams when each stadium was dedicated during an Ohio State-Michigan game.
You can call in a coincidence if you want, but I don't buy it. You can bet this was done on purpose to further emphasize the greatest rivalry in college sports.
10. Lotto Luck Appeared for OSU
On Nov. 18, 2006 at Ohio Stadium, we were blessed with one of the most exciting games in the history of this rivalry. In what was called the "Game of the Century", the number-1 ranked Ohio State defeated number-2 ranked Michigan in a high scoring affair, 42-39.
Here's the interesting fact: A half-hour after the 2006 game in Columbus, the Ohio Lottery Pick 4 evening drawing was 4-2-3-9, which matched the game's final score. Talk about a freaky fact!
Are there any other Ohio State facts you know that should be in this list?
Share this article on your Facebook, Twitter, and Google Plus and tell your friends about it. At the same time, you can bet on upcoming Ohio State games in Top Bet's sportsbook.
[sc:OhioStateArticles ]
7,119 total views, 1 views today
Comments
comments