The nation's best teams have one goal in common: to win the big one at Pasadena. Most of the best teams' rosters have stayed intact to increase their chances of winning this season. It all starts August 29, 2013.
All eyes will be on Alabama's quest for three-peat, Johnny Manziel taking on the field and continuing his incredible college career, the Buckeyes finally being eligible to play in the BCS  after serving their punishment, and many other top teams all having unique story-lines, but have one goal, which is to be the best in the nation.
Here are the odds of the top ten contenders for the BCS National Championship: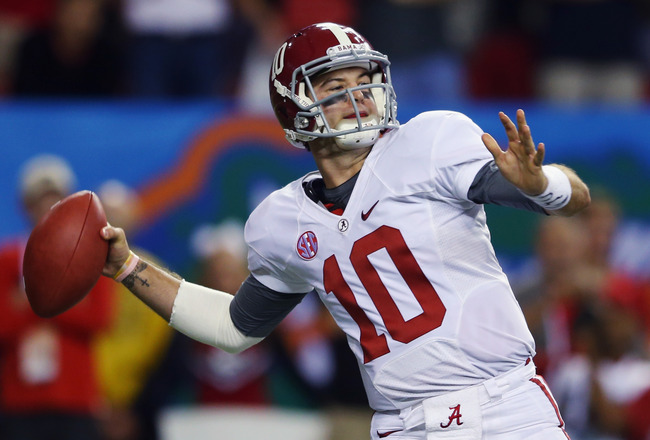 Alabama Crimson Tide
Odds to win BCS: +250
With three BCS National Championships over the past four years, as well as a strong recruiting class, Alabama is the team to beat. Although Nick Saban lost key talent to pro football, the Crimson Tide still has the overall personnel to remain on track.
Last year, the Crimson Tide had a 13-1 SU record. Although it had a dominating SU record, it only had a 7-7 ATS record, with five of its losses suffered at home.
The Crimson Tide remain loaded. They have a deep quarterback roster with former Heisman Trophy candidate A.J. McCarron and his main back-up Blake Sims. Amari Cooper will continue to improve from his overachieving season. Anthony Steen and brothers Cyrus and Arie Kouandjio will man-up the offensive line.
Nothing has much changed on their great defense, with returning defensive ends Ed Stinson, Jeoffrey Pagan and Brandon Ivory heading the D-line. Rising youngsters Dalvin Tomlinson, Darren Lake, and LaMichael Fanning will have roles that are promised to increase in 2013. Behind one of the best defensive lines is a fantastic crew of linebackers with C.J. Mosley and Adrian Hubbard.
The Top Bet Sportsbook gave 'Bama a line of 11.0 in the 2013 College Football Regular Season Wins odds. But with the deepest team in college football, the Tide is head-and-shoulders above the rest of the nation, thus eclipsing that line could be a near formality of that claim.
There's no doubt who the No. 1 team is, and the Tide could very well roll in 2013 to their third straight BCS Championship.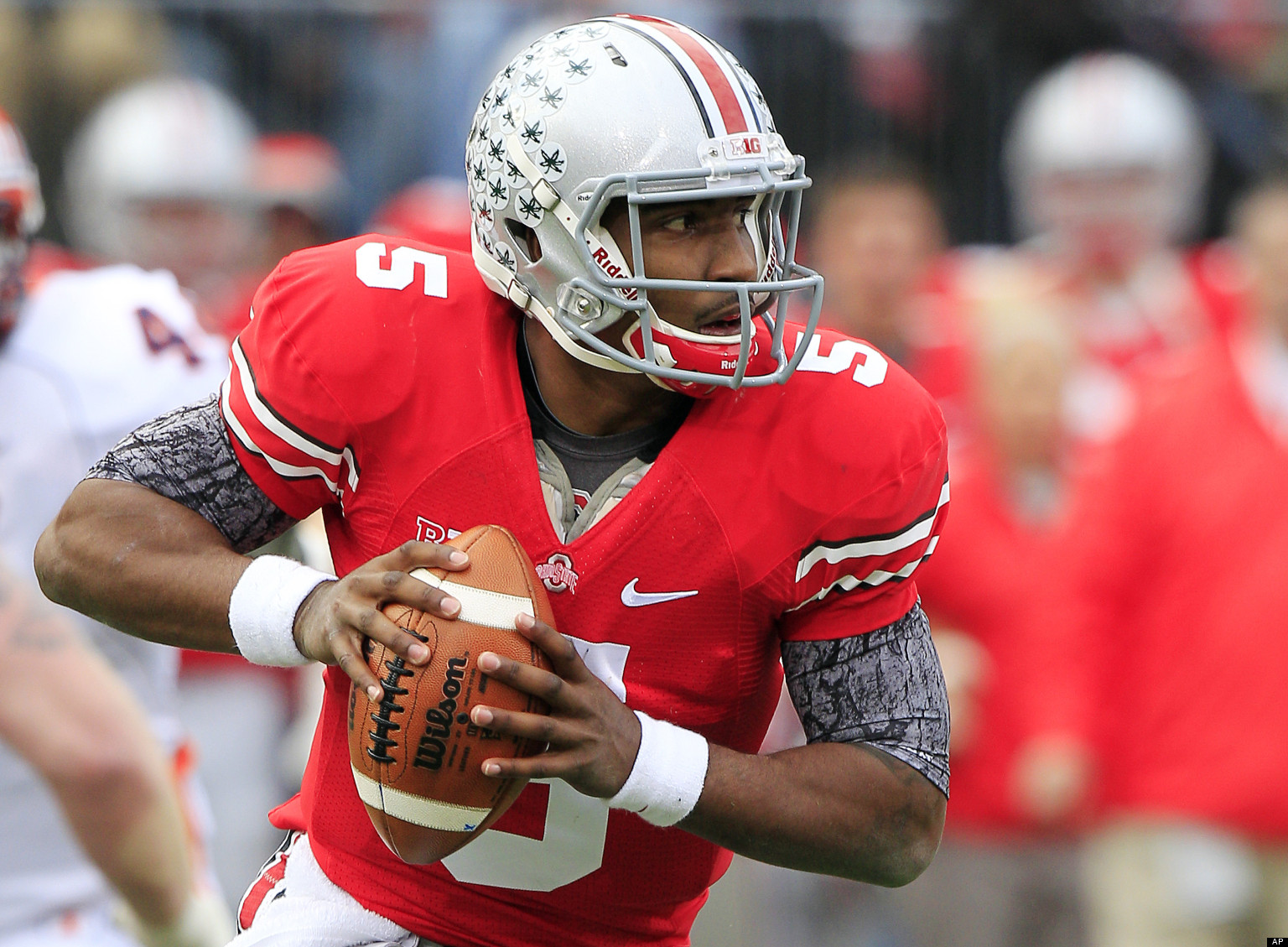 Ohio State Buckeyes
Odds to win BCS: +600
Just like Alabama, Ohio State brings in a great recruiting class. In addition, Urban Meyer's squad comes off a perfect 12-0 SU record (7-5 ATS record) and has plenty of talent ready for a real run.
Looking at OSU's schedule, there's a pretty decent chance the Buckeyes could run up the schedule once again, but this time having a chance to play for a National Championship, unlike last year.
The team is also much better, particularly on offense with nine returning starters and a bevy of talented freshmen Urban Meyer can plug in for certain situations.
It also helps having Heisman hopeful Braxton Miller back for his junior season after having a breakout season in 2012, flourishing in Meyer's spread offense.
The defense is definitely a question after being very inconsistent through most of 2012. Losing six starters on the front seven, even with an ultra-talented pair of sophomore defensive ends in Noah Spence and Adolphus Washington set to take over, doesn't help matters.
Like Alabama, the Top Bet Sportsbook gave OSU a line of 11.0 in the 2013 College Football Regular Season Wins odds. The Buckeyes have a very deep team that has the ability to eclipse that line. A perfect season may be possible once again for Ohio State.
While two-time defending champion Alabama will be the overwhelming favorite to hoist the crystal football again next January, the Buckeyes are a trendy pick to emerge as the prime challenger and the nation's best hope of ending the SEC's national championship stranglehold in 2013.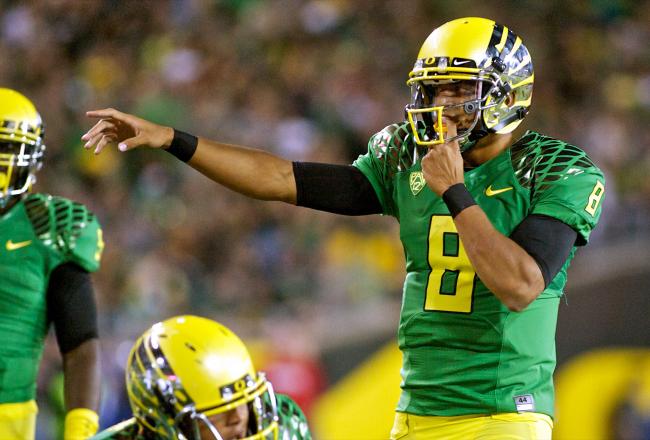 Oregon Ducks
Odds to win BCS: +700
Oregon drops a couple of notches because we have seen in the past just how much a head coach plays a part to a team's success. Just ask Arkansas how things worked out.
But even without Chip Kelly calling the shots, Oregon remains one of the best teams in the country on paper. Oregon's offense remains explosive with quarterback Marcus Mariota, who is a Heisman candidate, and has tons of weapons around him such as De'Anthony Thomas, who is always a threat to score. No matter what plays are being called, with their athletic ability, they will find the end zone a lot next season.
Defensively, losing Dion Jordan and Kiko Alonso was tough. However, the Ducks aren't too shabby with seven starters returning, including every starter in the secondary, which could be the best in the conference this year. In short, the defense will develop better than expected.
The Ducks possess a 12-1 SU record, along with a good ATS record at 8-5. They put up a 4-1 ATS record on the road, where they lit up the scoreboard with their potent offense. Despite different setbacks with their personnel, the Top Bet Sportsbook still have the utmost confidence in the Ducks by giving them a line of 10.5 in the 2013 College Football Regular Season Wins odds.
On paper, Oregon still has one of the best teams in the nation. But the real test is the team's adjustments through their major changes. The transition may not be a sexy one, but this isn't the end of the world for Oregon, or its season.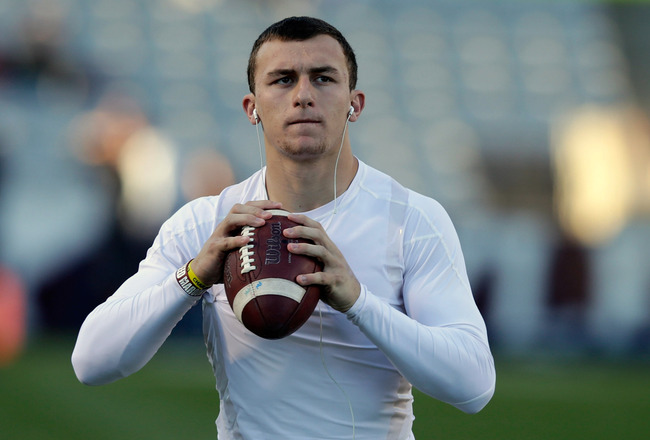 Texas A&M Aggies
Odds to win BCS: +900
Texas A&M came out of nowhere last season with an 11-2 SU record. They have also performed well against the spread at 8-5 ATS, especially on the road, with a 5-2 ATS. Their emergence as a contender is due to the historical season of their prime quarterback, Johnny Manziel.
After becoming the first-ever freshman to win the Heisman Trophy, Manziel is back for an encore performance.  He will have an enormous target on his back in every game the Aggies play in 2013, but that will not stop him from dominating defenses every week.
Jake Matthews is just as reliable as Luke Joeckel, the former All-American offensive tackle. Wide receiver Mike Evans provides Manziel with a big target and their running game should be very good. Head Coach Kevin Sumlin proved he can win and has become a star on the recruiting trail.
The Aggies will still be a dangerous contender with an easy conference schedule. However, the one game that will make or break Texas A&M's season is when Alabama rolls into College Station. A tasty match-up between the two best quarterbacks in college football will be their barometer game.
The Top Bet Sportsbook gave the Aggies a line of 9.5 in the 2013 College Football Regular Season Wins odds. Also, "Mr. Johnny Football" is again the favorite to win the Heisman Trophy this year.
With the nation's best player leading an explosive offense, the Aggies are poised to breakout in the SEC; they have emerged as one of the favorites to win the BCS championship.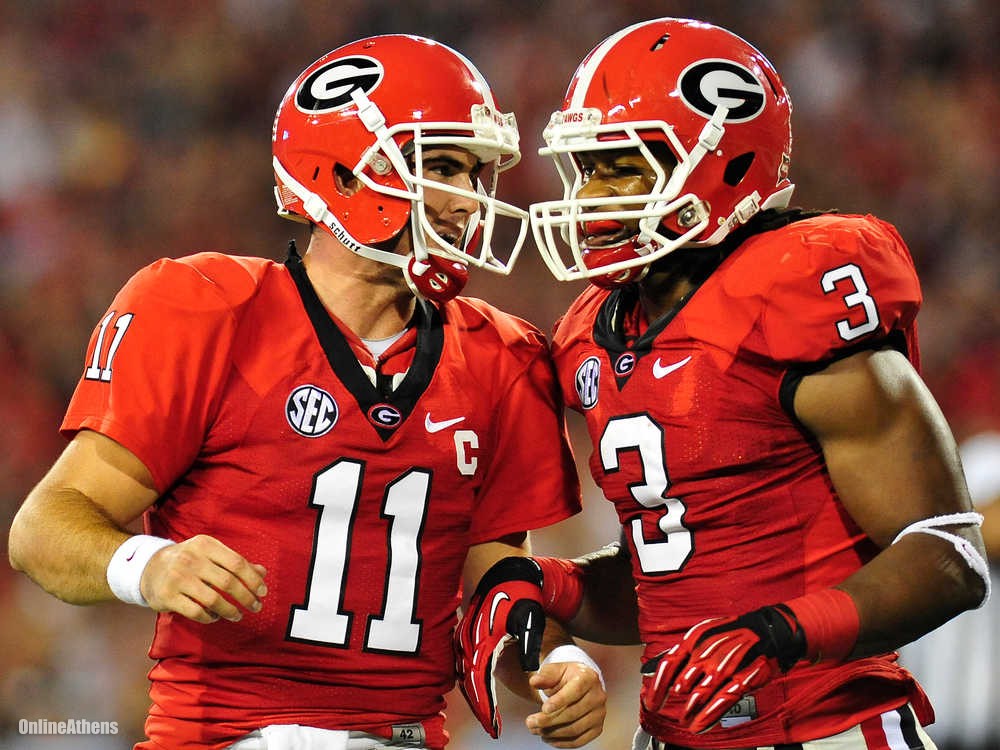 Georgia Bulldogs
Odds to win BCS: +1,200
Bulldogs head coach Mark Richt may have lost a boatload of defense, but he possesses one of the most dynamically potent offensive duos in Aaron Murray and Todd Gurley.
Gurley could be the best running back in the country. He proved that he was the best running back in the SEC last year when he rushed for over 1,300 yards and scored 17 touchdowns. Gurley has a combination of size and speed that all college coaches love to have. He should only be better this season because he will be more seasoned, he is working in front of an experienced offensive line and he has a senior quarterback to put him in the right place to succeed.
Aaron Murray also has improved each year and is showing no signs of slowing down. Although he is not a preseason All-American like Gurley, he can get the job done as he threw for nearly 4,000 yards and 36 touchdowns in 2012. His combination of arm strength and decision-making has made him one of the best quarterbacks in the country.
Despite the knock on him of not performing well in big games, and even if he does perform well, the team does not win, Murray has one last shot to prove that he can lead the Bulldogs to the BCS championship. He just needs to get that signature win. If he can find a way to carry the Bulldogs in the big games, especially in a much improved and deeper SEC, they will have a successful 2013 campaign.
They also have an inexperience, yet promising pool of young talent on the defensive front line. They have acquired linebacker James DeLoach, safety Tray Matthews and defensive end Sterling Bailey, who all have the potential to be good players.
The Bulldogs are primed to improve from their last season's performance, thanks to having the team intact and an easy conference schedule. That little luck could have them charging through the tournament and eventually, the BCS National Championship.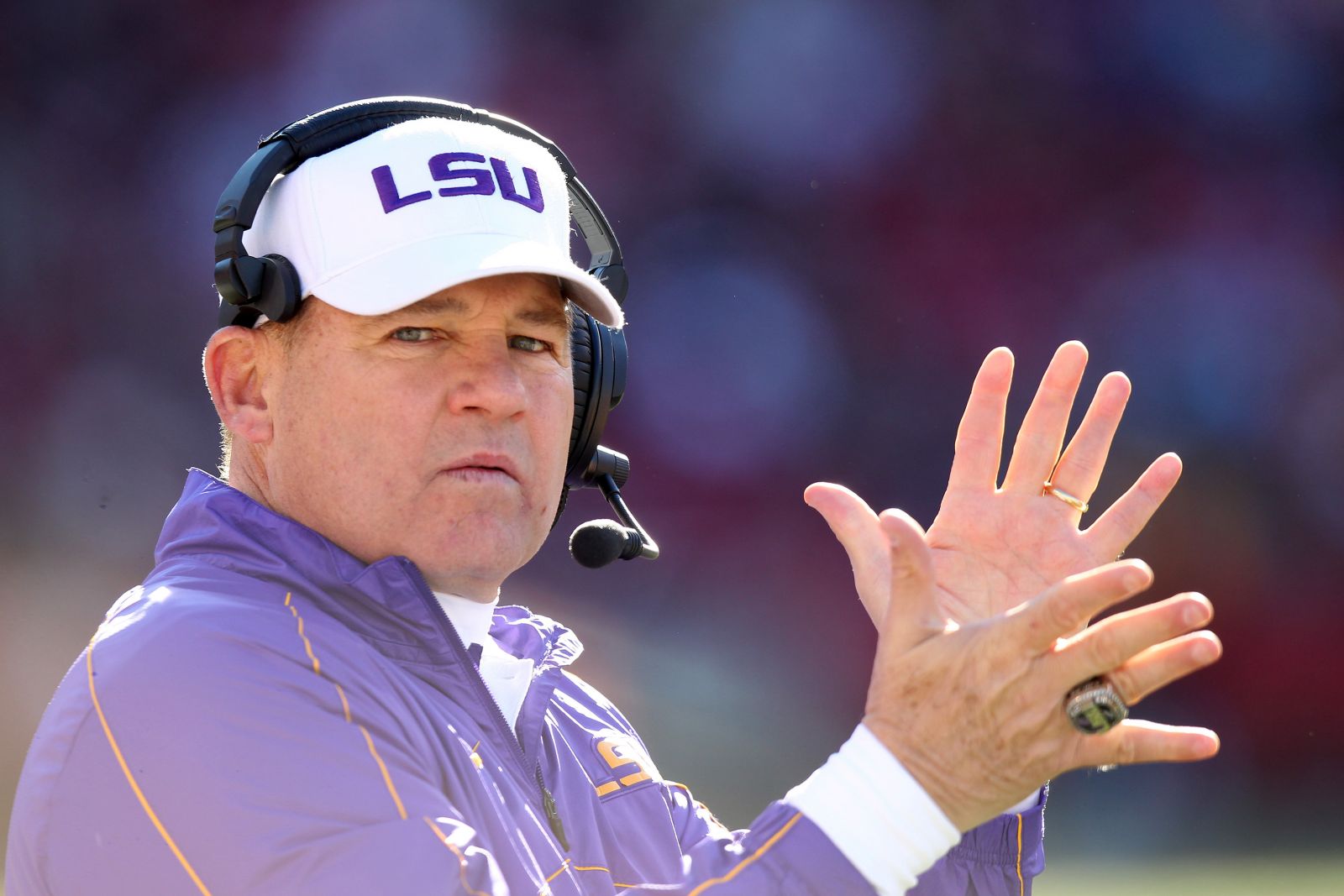 LSU Tigers
Odds to win BCS: +1,500
LSU is coming into next season having lost a ton of talent to graduation and the NFL. Ten underclassmen opted to bypass their senior seasons and put their names into the NFL draft, leaving Les Miles with fewer experienced players than almost every coach in the country.
Rest assured that LSU has been among the most consistent football programs in the nation in recent times. In fact, Les Miles' Tigers have a very outstanding record of 34-6 SU since 2010. However, this season may prove more arduous for the Tigers compared to their previous ones. The road to 10 wins or more that they have been accustomed of winning every year is rockier. Last season, the Tigers finished with 10-3 SU and 5-8 ATS records.
Currently ranked #14 in the nation, the Tigers employed a suffocating defense last season making their opponents bleed for just 17.5 a game, 12th best overall. But having lost key defensive line players including Sam Montgomery and Barkevious Mingo, the Tigers are pressured to pad the holes left by those players. Speaking of pressures, quarterback Zach Mettenberger will have plenty of it – especially when taking into account the players from last season who are no longer returning.
It remains a puzzle if the Tigers can match their previous seasons' win outputs, let alone surpass it. But LSU is still LSU plus they have Les Miles. Can the Tigers win more than the given line of 8.5 in the 2013 College Football Regular Season Wins odds? Though expecting a dip in the standings, the Tigers still have Baton Rouge where they have been very hard to beat. Last season, the Tigers went 7-2 SU at home. Since 2011, LSU only lost three times in 19 games at home.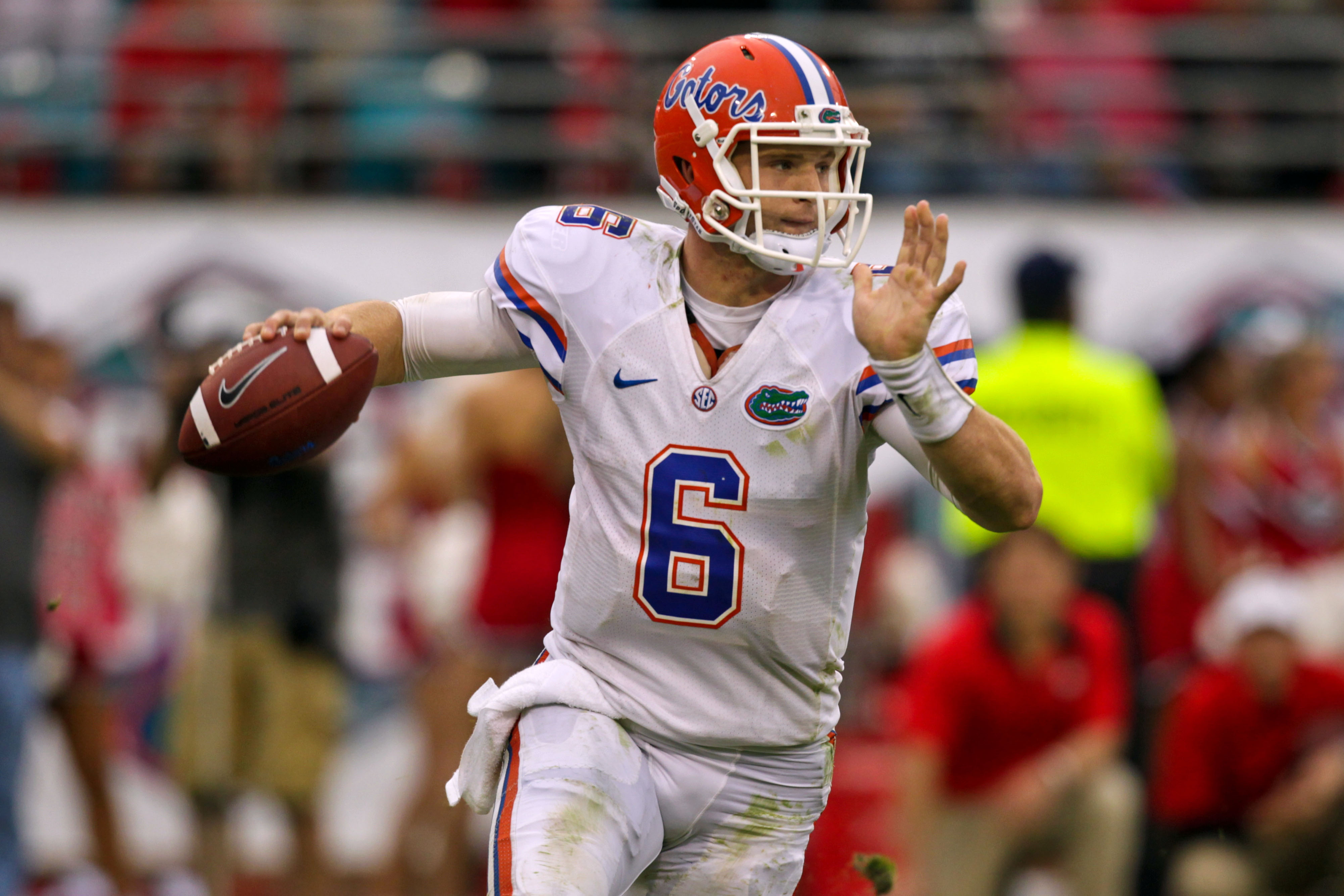 Florida Gators
Odds to Win BCS: +1,500
Florida's defense — ranked fifth best among FBS schools last season — carried it to an 11-2 SU record in 2012.
Florida head coach Will Muschamp will have his hands full on the development of QB Jeff Driskel, who needs help on the outside from young receivers—freshmen Demarcus Robinson and Ahmad Fulwood—to make this team complete.
Though the Gators' season was somewhat spoiled by that awful performance they turned in against Louisville in the Sugar Bowl, you really can't overlook what Muschamp was able to do last season. He took mostly the same bunch of guys who finished 6-6 in 2011 and got them all the way to 11-2.
Looking ahead to 2013, Florida looks like a real contender. Can the Gators top the given line of 8.5 in the 2013 College Football Regular Season Wins odds? Expect another improvement in a season that is full of promise. Although their 11-2 SU record was impressive, they put together an average 7-6 ATS record. However, the Gators like being underdogs, as they amassed an amazing 4-0 ATS record against favorites.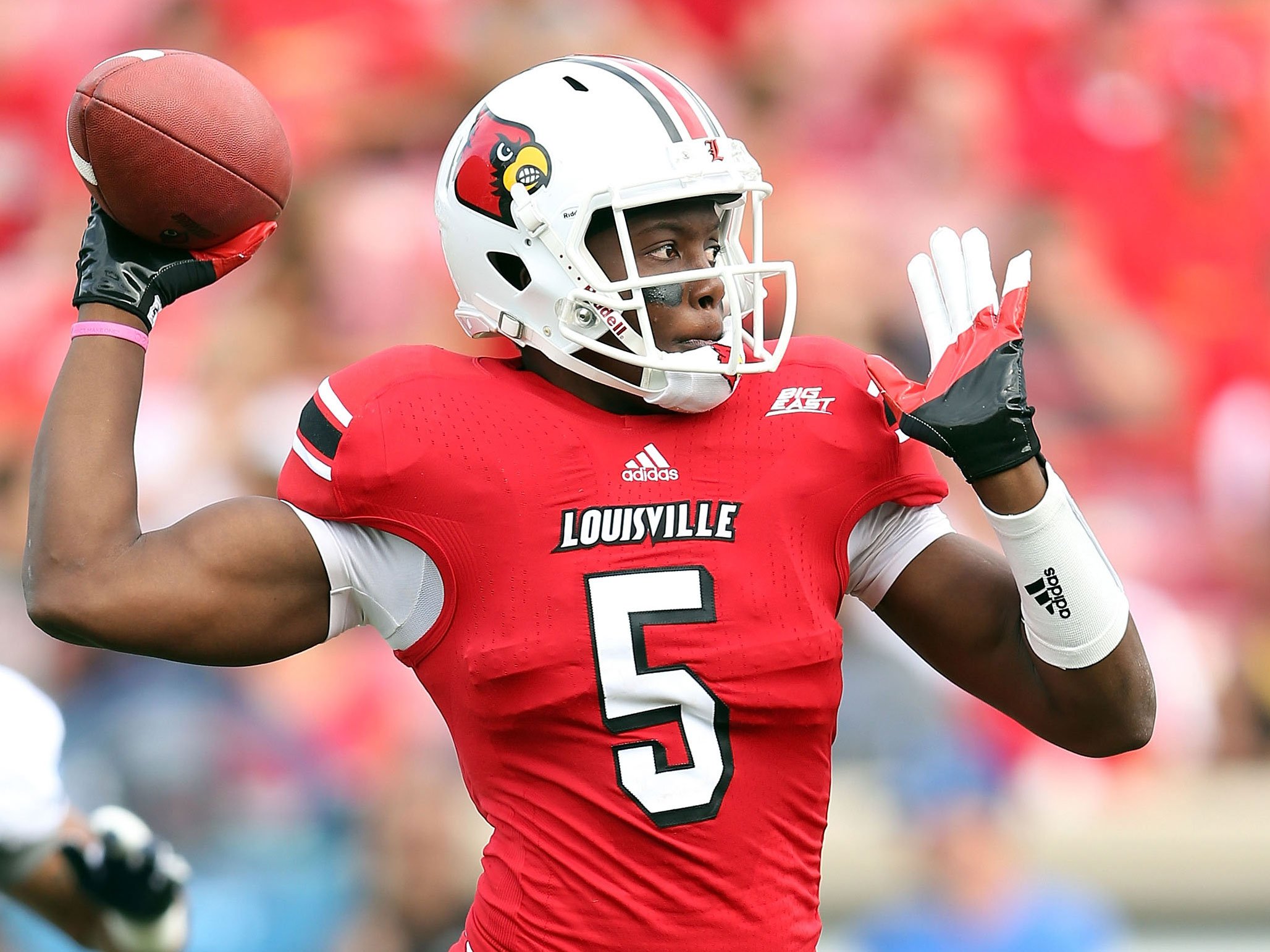 Louisville Cardinals
Odds to Win BCS: +1,500
Expectations are high for Louisville after putting up an incredible overall performance last season, punctuated by a huge 33-23 upset win over the Florida Gators in the Allstate Sugar Bowl. The Cardinals finished the 2012-2013 season with a fantastic 11-2 record. Where they came up short was in the spread department as shown by their 6-7 ATS record.
Much of the team's success should be credited to its coach, Charlie Strong, who has developed the Cardinals into a budding football power since taking the helm in 2010. During the off season, Strong spurned a coaching gig offer from Tennessee and instead chose to stay as the Cardinals head coach. This is not the only good news for Louisville as far as returning assets are concerned. The team will also welcome back nine of its defensive players from last season – a defensive unit which allowed opponents to just 23.8 PPG, 36th in the nation. What's more for the Cardinals is that they have a legitimate Heisman Trophy candidate quarterback in Teddy Bridgewater.
With all these said, it looks like that Cardinals might even surpass their previous win output. In the Top Bet Sportsbook, they are given a line of 10.5 in the 2013 College Football Regular Season Wins odds. Though the future looks bright for Louisville, bettors should not associate it with possible ATS success – especially when they are the favorites. Last season, Louisville is just 4-7 ATS as favorites. Moreover, the Cardinals are 1-4 ATS in their last 5 games as 8 points or more chalks.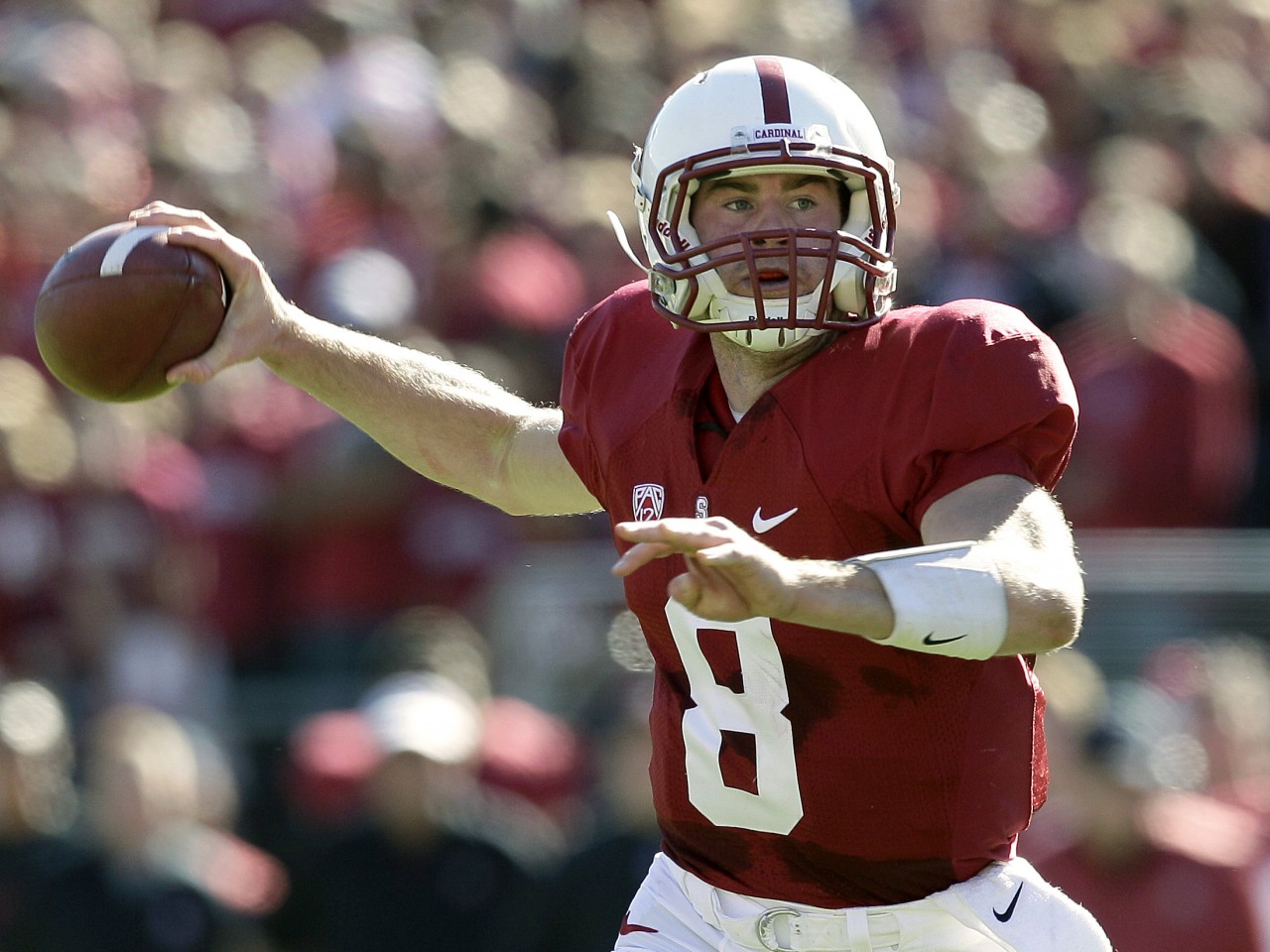 Stanford Cardinal
Odds to win BCS: +1,500
With the Oregon Ducks going through a transitional phase, the Stanford Cardinal might have an easier way to the top of the nation knowing that its biggest adversary is not the same team this year. Stanford still has a championship team in the college ranks, with only three key members leaving for the NFL.
Head coach David Shaw will establish his power-running game backed by one of the country's best offensive lines. Young receivers like Michael Rector and Kodi Whitfield showed they can stretch the field during spring practice, and Ty Montgomery is healthy after battling injuries last season. Running back Tyler Gaffney and Anthony Wilkerson will try to replace departed tailback Stepfan Taylor.
Kevin Hogan really came up big down the stretch of 2012. His versatility and mobility gives him the ability to run the options effectively, and he can roll out to either side and throw accurately.
Plus, Ben Gardner, Kevin Anderson and Trent Murphy returns to front the nation-leading sack defense. Plus, their secondary defense is more talented and faster than in the past, with six returning starters, including Ed Reynolds.
As one of the favorites to win the Pac-12 championship, Stanford is poised to get to any of the BCS bowl games, although they would target the Crystal Trophy game. They posted impressive SU and ATS records last season, with 12-2 and 9-5 respectively. Top Bet Sportsbook gave them a line of 9.5 wins during the 2013 College Football Season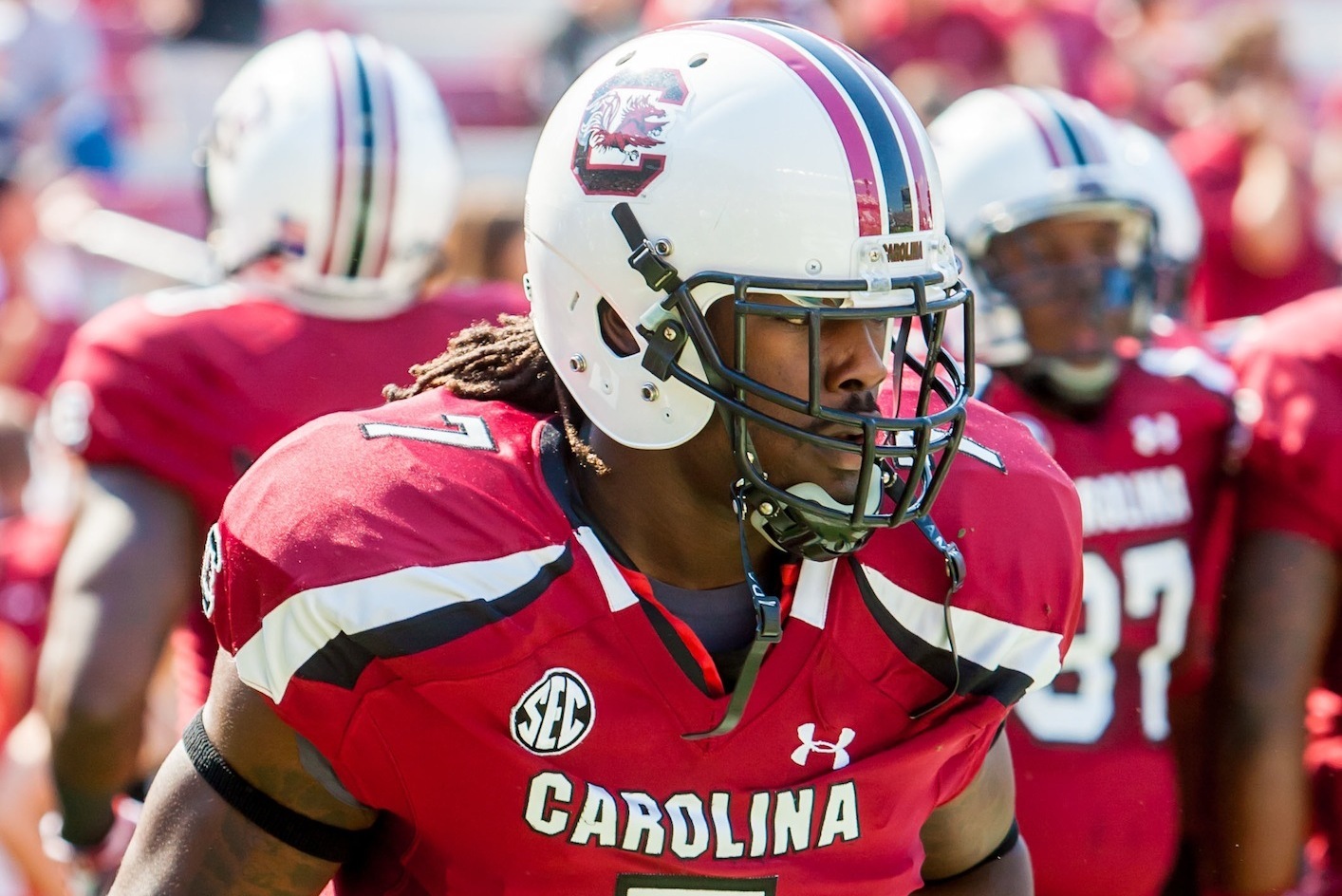 South Carolina Gamecocks
Odds to win BCS: +1,500
South Carolina enters the 2013 season as one of the top-rated teams in the country.
South Carolina has a favorable schedule that avoids games against elite SEC opponents such as Alabama, LSU and Texas A&M, though the Gamecocks still have tough games against Florida, Clemson, and a road game against Georgia.
The Gamecocks will do well in those few tough games as long as they have the defense to rely on consistently. Heisman Trophy candidate Jadeveon Clowney will be on the forefront on that defense. In just two seasons, Clowney has racked up 35.5 tackles for loss and has forced eight fumbles. His best performance came at the Outback Bowl, when he nearly decapitated a hapless Michigan ball carrier. His presence coming off the edge will continue to be an extreme competitive advantage. But head coach Steve Spurrier's biggest challenge will be to retool a defense that lost five starters around Clowney.
Also, South Carolina also sports two dependable quarterbacks in Connor Shaw and Dylan Thompson. The two combined for 27 touchdown passes to just nine picks in 2012.
After back-to-back 11-win seasons, the Gamecocks are on pace to have another dominating season, with one of the easiest schedules next season. In the Top Bet Sportsbook, they have a line of 9.5 in the 2013 College Football Regular Season Wins odds.  They will have a good chance of continuing that trend with their 8-5 ATS record.
There will be no clowning for Clowney this season.
Which among these contenders will go to Pasadena and win the 2013 BCS Championship? Find out as college football season starts on August 29. Visit Top Bet's NCAA Football Futures and bet on your contender. You can also place your wagers on who you want to win the Heisman Trophy. Stay tuned for the odds of the first set of games.
2,818 total views, 3 views today
Comments
comments