The Oakland Raiders losing is a story we've all heard before. But them losing to the Seattle Seahawks by just six points is one interesting chunk of fact from the wild Week 9 action in the NFL. For those keeping count, that's the second straight cover of the Raiders as underdogs by eight points or more this season. That being said, it's going to be prudent for everyone to consider that fact if you're planning to bet on Broncos vs. Raiders this coming weekend. Meanwhile, three NFC North teams – the Chicago Bears, Green Bay Packers, and the Detroit Lions – are set to be back after their Week 9 byes. Needless to say, it's going to be another week of mad football action in the NFL.
Get prepared for it by reading our Week 11 game previews, including Browns vs. Bengals and Bears vs. Packers.
[sc:Football ]
Complete NFL Week 10 Picks
Thursday, November 6
Cleveland Browns vs. Cincinnati Bengals (8:25 PM ET)
[sc:NFL240banner ]Pardon the Dawg Pound if they're barking crazy, but the Browns going 5-3 after nine weeks of football certainly gives Cleveland nation a reason to celebrate. Brian Hoyer threw for 300 yards and a couple of touchdowns, leading the Browns to a 22-17 win over the Tampa Bay Buccaneers. Hoyer, however, threw two interceptions and he will have to be more accurate on Thursday against the Cincinnati Bengals, who are fourth in the league in interceptions with 10. The Bengals spared themselves of the humiliation with a 33-23 win over the Jacksonville Jaguars in Week 9.
Writer's Pick:  Bengals
Sunday, November 9
Kansas City Chiefs vs. Buffalo Bills (1:00 PM ET)
After holding off the rush-first New York Jets team Sunday (24-10), the Chiefs will get to test their top-rated passing defense against the Bills, who are forced to turn to their passing game more following the injuries to C.J. Spiller (shoulder) and Fred Jackson (groin). The Chiefs are no.1 in the league with 199.4 passing yards allowed per game. Led by Sammy Watkins, the Bills have averaged 245.3 passing yards per game over their last three games, wherein the rookie amassed 276 receiving yards with three TDs on 14 catches.
Writer's Pick:  Bills
Miami Dolphins vs. Detroit Lions (1:00 PM ET)
Philip Rivers and the rest of the San Diego Chargers were left shell-shocked after Miami served them with a senseless 37-0 beatdown Sunday. The Dolphins recorded three sacks and three interceptions in that game, which must have made Lions signal-caller Matthew Stafford sweating bullets. Stafford is currently the most-sacked player in the league with 24 and if Detroit's offensive line continues to be a group of whack jobs next Sunday, then Dolphins defensive end Cameron Wake will likely add to his collection of 5.5 sacks thus far this season. Wake has 4.5 sacks over the last four Miami games.
The Lions, meanwhile, possess a defense that can make life difficult for Miami's offense. Detroit is ranked no. 1 in the NFL with just 290.4 total yards allowed per game. The Lions cross the Atlantic again after beating the Atlanta Falcons last week, 22-21, in London.
Writer's Pick: Dolphins
Dallas Cowboys vs. Jacksonville Jaguars (1:00 PM ET)
It's all fun and games until Tony Romo gets injured. That was certainly the case for the Cowboys in each of their losses to the Washington Redskins (20-17) and to the Arizona Cardinals (28-17). In their first full game without Romo, the Cowboys were totally outclassed and handcuffed by the Cards, whose defense against the rush spelled the end of DeMarco Murray's streak of 100-or-more rushing yard games. Murray ran for just 79 yards, while Brandon Weeden threw for just 183 yards and a touchdown with two interceptions. The Cowboys, though, will have a much lighter opponent next week in the form of the Jaguars. The Jags are sixth worst in the NFL with 386.9 total yards surrendered per game.
Writer's Pick: Jaguars
San Francisco 49ers vs. New Orleans Saints (1:00 PM ET)
San Francisco is tired of sitting next to the NFC West cellar-dwelling St. Louis Rams, but no thanks to its 13-10 home loss to the same team Sunday, the Niners are going to be in that position until they start winning again. The Niners have a chance to break their losing skid this coming Sunday when they face the Saints in the latter's stomping grounds. The Saints finally had their first back-to-back wins this season after upending the Carolina Panthers last Thursday, 28-10, to take sole control of first place in the NFC South. The Niners are 7-3 in their last 10 road games, while the Saints are 11-0 in their last 11 games as the home team.
Writer's Pick: Saints
Tennessee Titans vs. Baltimore Ravens (1:00 PM ET)
Besides the Ravens' (5-4) inability to stop Ben Roethlisberger from heaving bomb after bomb on his way to a six-touchdown night, Baltimore was also doomed by the silence of its vaunted rushing game, which managed just 63 yards against the Steelers' D. The Titans (2-6), however, doesn't offer much resistance against the rush, giving up 134.8 yards on the ground per game. That said, the duo of Justin Forsett and Lorenzo Taliaferro should be able to find a lot of open spaces to run against Tennessee. The Titans, like Baltimore, is on a two-game skid, losing to the Washington Redskins (19-17) in Week 7 and to the Houston Texans (30-16) in Week 8. A win before heading to their bye week can go a long way in keeping the Titans in the race for the top spot in the AFC South.
Writer's Pick: Ravens
Pittsburgh Steelers vs. New York Jets (1:00 PM ET)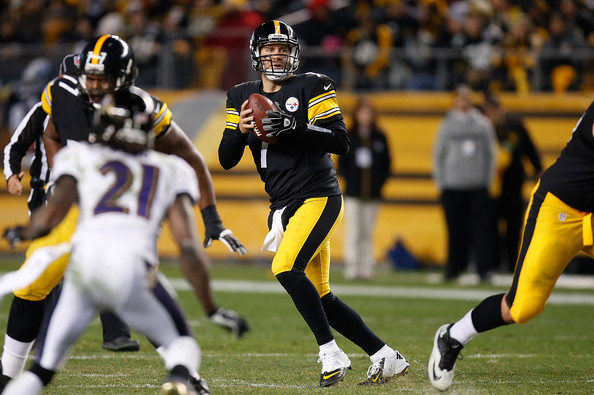 Big Ben is just plain unconscious right now. The Steelers' quarterback has amassed a total of 1,127 passing yards and 14 touchdowns over the team's last three games, all of which were not just straight-up victories but were also wins against the spread. Up ahead for the streaking Steelers is a road game against the struggling Jets, who lost to the Kansas City Chiefs last Sunday, 24-10. Percy Harvin, however, gave Rex Ryan something to feel encouraged about as the wideout had 129 receiving yards on 11 catches against the Chiefs.
Writer's Pick: Steelers
Atlanta Falcons vs. Tampa Bay Buccaneers (1:00 PM ET)
Playing in a different continent did nothing to keep the Falcons from sinking deeper after losing to the Detroit Lions in London, 22-21, back in Week 8. Coming off a bye week, Atlanta now looks to end its skid against the same team the Falcons last beat – the Buccaneers. Matt Ryan was near perfect in the Falcons' 56-14 win in Week 3 over Tampa Bay, completing 21 of 23 passes for 286 yards and three TDs. Not much has changed for the Bucs since then, as they still possess a lethargic defense that allows opponents to collect 399.9 total yards per game. Atlanta, however, manages to be even worse with a league-worst 408.8 total clip.
Writer's Pick: Falcons
Denver Broncos vs. Oakland Raiders (4:05 PM ET)
After losing to the New England Patriots 43-21, the Broncos pack their bags and move west for a meeting with the still winless Oakland Raiders. Oakland was looking to produce a ground-shattering win last week when it squared off with the Seattle Seahawks. Although the Raiders lost, they only did so by a touchdown, 30-24.  All-time great Peyton Manning will be facing rookie quarterback Derek Carr a week after locking horns with fellow future Hall-of-Famer Tom Brady. Manning passed for 438 yards and two touchdowns with two interceptions. Carr, on the other hand, had a rough time against the Seahawks' Legion of Boom, completing just 24 of 41 passes for 194 yards and two touchdowns with also a couple of interceptions.
Writer's Pick: Raiders
St. Louis Rams vs. Arizona Cardinals (4:25 PM ET)
It's safe to say that the Cards (7-1) have a stranglehold of the no. 1 spot in the NFC West following their 28-17 triumph over the Cowboys. On the flipside, the Rams are 3-5, good enough to continue taking residence at the bottom of the division. However, the Cards know better than to take St. Louis lightly, especially after seeing Jeff Fisher's team reel in yet another win against a Super Bowl contender. The Rams are at the tail end of a tough three-game road trip that saw them defeat the San Francisco 49ers, 13-10, in Week 9.
Writer's Pick: Rams
Chicago Bears vs. Green Bay Packers (8:30 PM ET)
After a gut-wrenching 17-14 loss to the Miami Dolphins in Week 7, the Bears were handed an even more embarrassing defeat when the New England Patriots issued Jay Cutler and crew a 51-13 bludgeoning at Foxborough the following game. As it stands, only a win can stop the Bears from completely imploding. The Bears have a chance to get back to the win column when they pay Lambeau Field a visit for a showdown with Green Bay.
Matt Forte (562 rushing yards, 3 touchdowns) can be the central figure of the Bears' offense next Sunday as the Packers are allowing a league-worst 153.5 yards on the ground per game. Aaron Rodgers, though, will make sure to deal the Bears a major headache of their own as he looks to dominate Chicago's weak passing defense that allows a 24th-ranked 262.3 yards per contest.
Writer's Pick: Bears
Monday, November 10
Carolina Panthers vs. Philadelphia Eagles (8:30 PM ET)
The Panthers aren't going to win many games, let alone be champs of the NFC South, if Cam Newton will perform the same way he did in the team's 28-10 loss last week against the New Orleans Saints. Newton had a season-low 39.4 passer rating in that game, completing 10 of 28 passes for 151 yards without a touchdown plus two interceptions. Newton is going to need to orchestrate the Panthers offense better come Monday in order to keep in step with the high-flying Eagles, who are ranked fourth in the league with 409.2 total yards per game. Philadelphia, however, might not have their usual numbers on offense with Mark Sanchez calling the plays in place of the injured Nick Foles (collarbone).
Writer's Pick: Panthers
Create a betting account now and cash in on all the NFL action.
[sc:NFL490Banner ]
2,089 total views, 1 views today
Comments
comments