For the first time in NFL history, all road Wild Card teams won heading into the Divisional round of the playoffs. But the road gets even tougher this time around when these road warriors take on their respective conference's top seeds.
[sc:NFL250 ]The AFC has Tom Brady and the New England Patriots defending their house against Kansas City, while Peyton Manning returns in an attempt to bring the Denver Broncos to their third straight conference championship game against the Pittsburgh Steelers.
On the flipside, the NFC has the league-best Carolina Panthers in a do-or-die game against the dangerous Seattle Seahawks. Last but not the least, Aaron Rodgers and the Green Bay Packers take to the road as they seek revenge against the Arizona Cardinals.
Which four teams will emerge one step closer to Super Bowl 50? Read on as we break down all four games in the Divisional round below. For in-depth breakdowns of each of the top-seeded matchups in the playoffs, check out our complete previews for the Steelers vs. Broncos and Seahawks vs. Panthers.
[sc:Football ]
2015-16 NFL Playoffs Divisional Round Preview
Saturday, January 16
Kansas City Chiefs vs. New England Patriots (4:35 PM ET)
Line: Kansas City Chiefs (+4.5) at New England Patriots (-4.5); total 43.5 – view all NFL lines
It's going to be a battle of tight ends when the Kansas City Chiefs and New England Patriots square off in Gillette Stadium this coming Saturday. Chiefs tight end Travis Kelce is ready to go, recently helping Kansas City to their first playoff win since 1994. He led the Chiefs with 128 yards receiving as he was easily quarterback Alex Smith's go-to receiver in the 30-0 victory over Houston in their Wild Card game this past Saturday.
[sc:NFL240banner ]New England's Tom Brady has a pretty solid tight end himself to say the least. Rob Gronkowski led the team with 1,176 yards and 11 touchdowns in the regular season, and Gronk could be up for a another monster outing against the Chiefs considering wideout Julian Edelman's impending return.
Edelman will likely take to the field this coming weekend the after missing the past seven weeks due to injury. He led all Pats wide receivers with 692 yards and seven scores in the regular season. Having Edelman and Danny Amendola on the field at the same time should help stretch out Kansas City's defense, giving Gronkowski more room to operate.
Writer's prediction: Brady shines as he leads the Patriots (-4.5) to their fifth-straight AFC Championship game appearance.
Green Bay Packers vs. Arizona Cardinals (8:15 PM ET)
Line: Green Bay Packers (+7.5) at Arizona Cardinals (-7.5); total 50.0 – view all NFL lines
The Green Bay Packers trailed by as much as 11-0 late in the first half of their Wild Card game against the Washington Redskins. But Aaron Rodgers had other things in mind, leading the Packers to a 32-18 victory. Rodgers threw two touchdown passes to Davante Adams and Randall Cobb, while running backs Eddie Lacy and James Starks each scored a touchdown on the ground to show that Green Bay still has a solid, balanced offense for its playoff run.
The Packers have some injury scares, though. Adams injured his knee and did not return in the third quarter of Sunday's game. They're already missing left tackle David Bakhtiari and cornerback Sam Shields, too. Having so many injuries may be a bad omen for Green Bay, who were destroyed by the Arizona Cardinals, 38-8, just a few weeks ago.
The Cardinals' defense sacked Rodgers nine times in that Week 16 contest. They also scored recovered two fumble that were both returned for touchdowns off a pair of those sacks. Meanwhile, Carson Palmer took care of business on offense as usual with two passing touchdowns of his own from that Arizona scoring barrage.
Writer's prediction: The Packers (+7.5) recover from their brutal loss in Week 16 as they upset Arizona.
Sunday, January 17
Seattle Seahawks vs. Carolina Panthers (1:05 PM ET)
Line: Seattle Seahawks (+3) at Carolina Panthers (-3); total 44.0 – view all NFL lines
Russell Wilson didn't have the best of games, going 13 for 26 for 142 passing yards, a touchdown and an interception in the frigid conditions in Minnesota on Sunday. However, he did have a handful of plays that were off-the-charts. He made the play of the game by completing a 35-yard pass to Tyler Lockett on a busted play. Wilson tracked down an errant shotgun snap 16 yards behind the line of scrimmage, shook off five defenders and found Locket for the huge gain.
Don't expect Wilson to have another almost listless performance. He had the league's highest passer rating during a 6-1 stretch to end the regular season, and threw 24 touchdowns to just one interception during that span. Wilson will need plenty more magic taking on the No. 1 seeded Carolina Panthers at the Bank of America Stadium, though, if he hopes to take Seattle to their third-straight NFC Championship game.
The Panthers already own a win over the Seahawks this season, a 27-23 victory in Week 6 of the regular season. Cam Newton torched Seattle's secondary with 269 passing yards, but also threw two picks. Meanwhile, Jonathan Stewart had two rushing scores to help the Panthers come from behind for the victory. Stewart has missed the past four games due to a foot injury, but should be ready to go in the Divisional round.
Writer's prediction: Wilson's fire within is rekindled as the Seahawks (+3) upset Carolina.
Pittsburgh Steelers vs. Denver Broncos (4:40 PM ET)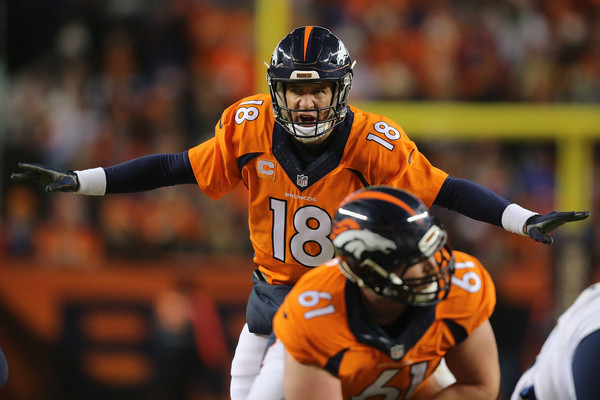 The Pittsburgh Steelers got plenty of help from Cincinnati as the Bengals committed back-to-back 15-yard unsportsmanlike penalties in the dying seconds of their Wild Card game to set up Pittsburgh's game-winning field goal with 14 seconds remaining on Sautrday. Unfortunately, the Steelers had a couple of injury scares from that match, with Ben Roethlisberger suffering a shoulder stinger and Antonio Brown getting concussed after a hard hit to the head against the Bengals' Vontaze Burfict.
The Denver Broncos, on the other hand, have had plenty of rest due to their first-round bye. They're also have Peyton Manning back at starting quarterback. Manning hasn't looked too good in the regular season after throwing nine touchdowns and 17 interceptions in Denver's first nine games, but he should be finally healthy and ready to wreak havoc against a Pittsburgh's secondary.  The Steelers defense allowed 271.9 passing yards per game to the opposition (30th in the league) during the regular season.
Writer's prediction: The Broncos blowout Pittsburgh on both sides of the ball. Manning enters the AFC Championship game for the third-straight season as a Bronco.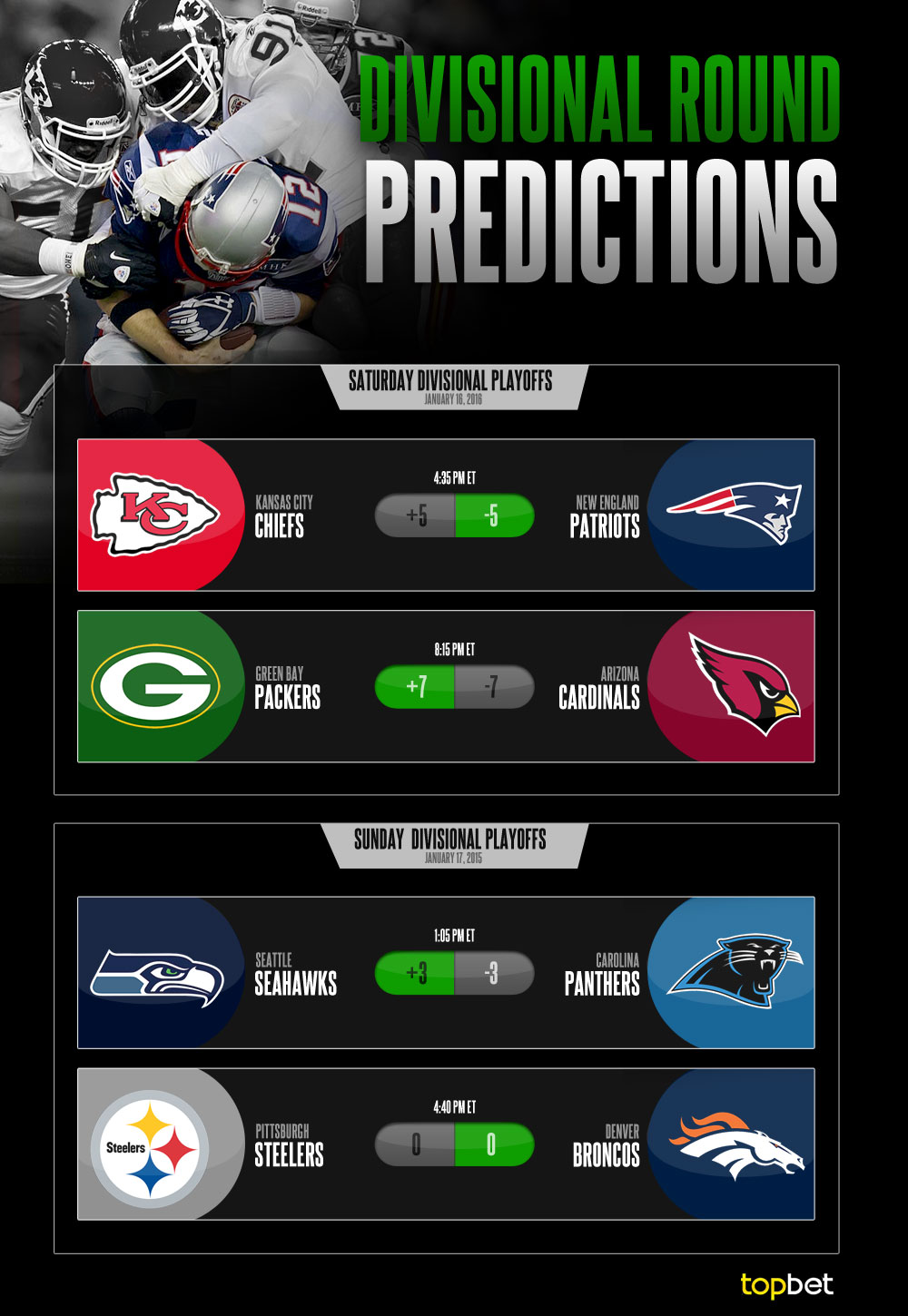 Create a betting account now and win big from this explosive NFL postseason slate.
[sc:NFL620 ]
2,366 total views, 2 views today
Comments
comments