It's never too early to speculate on potential Heisman Trophy winners. Here we take a look at five of the favorites to win the most prestigious award a college football player could receive, plus one honourable mention.
Get to see these stellar players in action. Check out our best college football games to watch in Week 2 of the 2015 NCAA Season. You can also take a look at the best college football teams this year with the AP Poll Top 25.
[sc:NCAAFArticles ]
The Top Five Heisman Trophy Hopefuls
Cody Kessler, Quarterback (USC)
[sc:NCAA240banner ]The No. 8 USC Trojans had one hell of a season opener, beating Arkansas State 55-6 behind the strong arm of Cody Kessler. The Trojans' starting quarterback, Kessler completed 19 of 26 passes for 236 yards and four touchdowns. If the senior can continue tantalizing fans with his arm, then he should be a solid bet at +800. But a suspect offensive line allowed him to be sacked five times against an unranked team.
Trevone Boykin, Quarterback (TCU)
An offseason favorite, the No. 3 TCU Horned Frogs disappointed in their opener. They took a tightly contested 23-17 victory over conference opponent Minnesota. Quarterback Trevone Boykin, one of the favorites to win the Heisman Trophy (+900), had a serviceable performance. He passed for 246 yards with a touchdown and an interception. But Boykin showed that he can also threaten with his legs, rushing for 92 yards and a score on 18 carries.
Derrick Henry, Running Back (Alabama)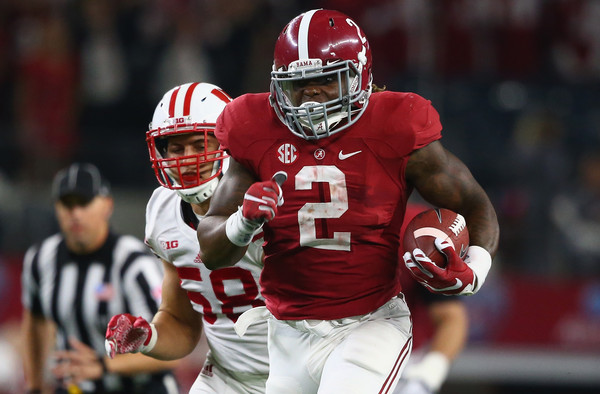 No. 2 Alabama may be missing three of its key offensive pieces in quarterback Blake Sims, running back T.J. Yeldon and running back Amari Cooper, but they should still be pretty solid with Derrick Henry (+1,000) in the backfield. Now the Crimson Tide's No. 1 running back, Henry rushed for 147 yards and three touchdowns. What made Henry's performance even more impressive was he did it against a ranked Wisconsin team in Week 1.
Think you have an eye for talent? Create a betting account now and make your pick for this season's Heisman Trophy winner.
Nick Chubb, Running Back (Georgia)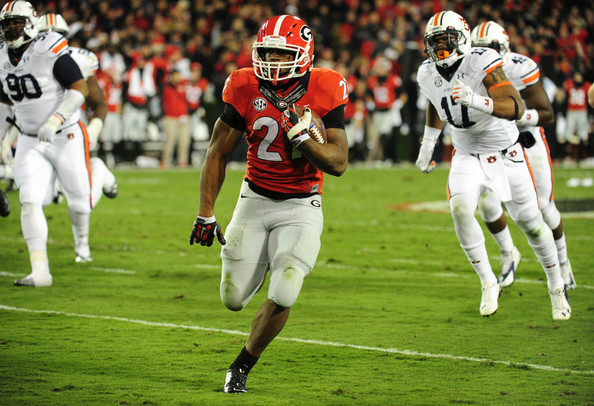 Another running back who made waves in Week 1 of the college football season was No. 10 Georgia's Nick Chubb (+1,000). The sophomore ran for 120 yards and two touchdowns on 16 carries as part of the Bulldogs' 51-14 drubbing of UL-Monroe in Week 1. Chubb has the starting gig secure in Georgia and is due for bigger games on the horizon.
Ezekiel Elliott, Running Back (Ohio State)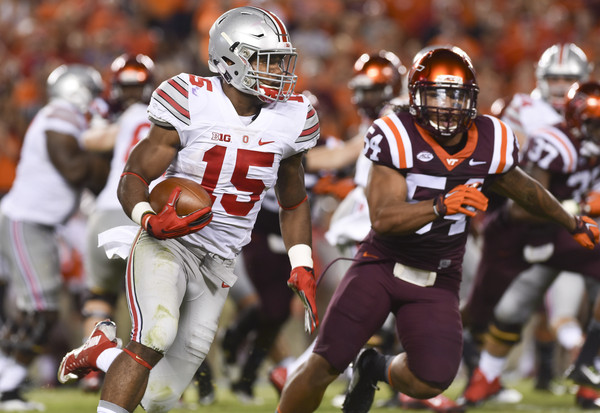 Don't let the score fool you; No. 1 Ohio State had a tougher game than expected in a 42-24 win over Viginia Tech. The defending champions trailed 17-14 entering the second half, before exploding for the come-from-behind victory. Starting running back and Heisman contender Ezekiell Elliott (+1,000) played a part in the victory, rushing for 122 yards on 11 carries, including an 80-yard touchdown run in the first quarter.
Honorable Mention: Braxton Miller, Wide Receiver (Ohio State)

A former Heisman contender as a quarterback before falling to a shoulder injury prior to the 2014 season, Braxton Miller made waves in switching over to wide receiver in his first game in his new position.
Miller was the difference maker in the season-opening victory over Virginia Tech with two touchdowns in the second half of the 42-24 victory. He scored on a 54-yard catch and run, including the mind-blowing spin move above, in the third quarter and scored on a 53-yard run three drives later. With his big play ability, Miller is a steal at +1,600 to win the Heisman Trophy.
[sc:NCAA490banner ]
Comments
comments