Thrilled by last weekend's Wild Card round? The Baltimore Ravens recorded an upset in style as they topped the Pittsburgh Steelers on the road, and the Dallas Cowboys came from behind to steal a win from the Detroit Lions. There are more exciting games heading your way in the upcoming weekend's Divisional Round. Keep your eyes glued to the screen as we give you everything you'll need to know for this weekend's football action.
Need some more push before deciding on your picks? We give you the best expert picks for the Divisional Round playoffs here.
[sc:Football ]
Picks and Predictions for the 2014-2015 NFL Week 19 Divisional Round Playoffs
Baltimore Ravens vs. New England Patriots (Saturday, January 10, 4:30 PM ET)
Line: Baltimore Ravens (+7) at New England Patriots (-7); total 47.5 – view all NFL lines
[sc:NFL240banner ]The New England Patriots are a force to be reckoned with at home. They're 18-2 in their last 20 games at Gillette Stadium. However, The Baltimore Ravens are pretty comfortable playing in New England as well. They've won two of their last three playoff games (3-0 ATS) on the Pats' home field.  Ravens quarterback Joe Flacco was on fire the last time he played the Pats, throwing three unanswered touchdowns in the second half of the 2013 AFC title game on the way to a 28-13 win.
This edition of the Pats may be even deadlier than last time around. After sitting out the two previous postseasons, Rob Gronkowski is finally healthy and should help exploit the Ravens' patchwork secondary. Gronkowski had 1,124 yards receiving and 12 touchdowns in the regular season, the most for any tight end in the league.
Writer's Prediction: The Patriots win on their home turf, but the Ravens hang on to cover +7.
Carolina Panthers vs. Seattle Seahawks (Saturday, January 10, 8:15 PM ET)
Line: Carolina Panthers (+11) at Seattle Seahawks (-11); total 40.0 – view all NFL lines
The Carolina Panthers have played some tight defense recently. They have allowed only a total of 59 points in their past five games and just 32 points in the past three. The Panthers even held Arizona to only 78 yards, an NFL playoff record, in their Wild Card game on Saturday.
This Carolina defense has been a tough one for even the Seahawks to crack. They've limited the defending Super Bowl champs to just 13.7 points per game in the past three matchups.
The Seattle Seahawks are also on quite a tear with their defense. The key for this Seahawks defense is the return of middle linebacker Bobby Wagner. Since returning from a turf toe injury, Wagner has led Seattle's D to allow only 39 total points in the past six games. The Seahawks ranked first in total yards allowed at 267.1 and points per game at 15.9 in the regular season.
Writer's Prediction: Take the total to go under 40.0. You can also take the Panthers at +11 in a closely contested game.
Dallas Cowboys vs. Green Bay Packers (Sunday, January 11, 1:05 PM ET)
Line: Dallas Cowboys (+6.5) at Green Bay Packers (-6.5); total 53.0 – view all NFL lines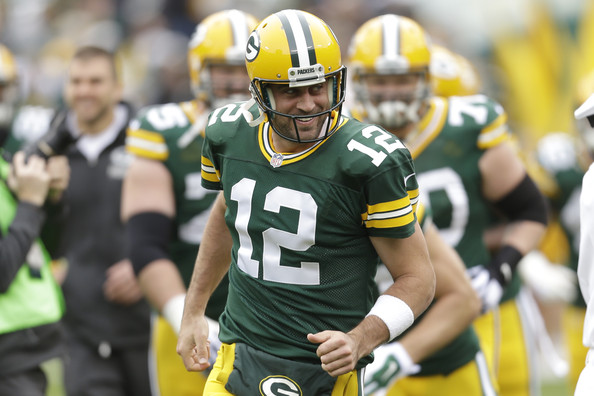 The Dallas Cowboys are the best road team this season with a perfect 8-0 slate away from home. Their sparkling record will be put to the test against the Green Bay Packers at Lambeau Field. The Packers have won all their eight games at home this season (6-1-1 ATS) on the strength of Aaron Rodgers. The Green Bay quarterback has been magnificent at home with 25 passing touchdowns and no interceptions in the regular season.
The Cowboys counter with the league's top running back in DeMarco Murray. His 1,845 yards rushing and 13 touchdowns are both best in the league. Dallas' strong running game has also led them to a 32:18 average time of possession per game, second only to Pittsburgh's 32:34. Burning time on the clock should help limit Rodgers' Lambeau Field magic.
Writer's Prediction: The Cowboys to cover +6.5.
Indianapolis Colts vs. Denver Broncos (Sunday, January 11, 4:40 PM ET)
Line: Indianapolis Colts (+7) at Denver Broncos (-7); total 54.0 – view all NFL lines
The Indianapolis Colts' playoff run lies on the game of Andrew Luck. His 40 passing touchdowns in the regular season is tops in the league and his 4,761 yards through the air ranks third among NFL quarterbacks. He was especially accurate in the Wild Card game against Cincinnati completing 70.5 percent of his passes for 375 yards. However, Luck won't have things easy at Denver when he faces one of the top passing defenses in the league. The Broncos have allowed only 225 yards passing per game.
It also does the Colts no favors that Denver has become a run-heavy team toward the tail end of the regular season. Running back C.J. Anderson has owned the Broncos backfield in the past six games with 648 yards rushing and eight touchdowns. Anderson should provide the spark for a Denver victory against a Colts front seven which has been burned for an average of 163.3 rushing yards in their last three losses.
Writer's Prediction: Anderson has a big game to power the Broncos to a win and cover -7.
Now that you have everything you need to know heading into this weekend of football action, create a betting account and start raking in the money.
[sc:NFL490Banner ]
2,584 total views, 1 views today
Comments
comments