The (Pac-12) South shall rise again. Oregon and Stanford of the North division have dominated the conference for the past four years. But the Ducks could be in decline this year with the loss of Marcus Mariota, as are the Cardinal with question marks surrounding their usually dominant defense. Meanwhile, the LA schools continue to stockpile talent and the Arizona schools are set to remain competitive.
So, will the power in the Pac-12 finally shift to the South this year? Read on below as we preview each team in the Pac-12 and take a look at how their respective seasons play out. Also, don't forget to check out our complete NCAA college football conference previews for the SEC, Big Ten, and Big 12.
[sc:NCAAFArticles ]
2015 Pac-12 Season Wins Preview
Arizona Wildcats
2014 Record: 10-4 (7-2)
Predicted Record: 8-4 (5-4)
[sc:NCAA240banner ]In just his third season, Rich Rodriguez led Arizona to an unexpected trip to the Pac-12 championship game. Quarterback Anu Solomon and running back Nick Wilson were both just freshmen during that run, and they both return, along with top receiver Cayleb Jones. Tackling machine Scooby Wright also returns to lead the defense in his junior year.
The Wildcats are expected to take a bit of a step back this year, though, following last season's surprise run; they're over/under regular seasons win is set at just 7.5. They'll have a host of tough road games this year – at Stanford, at USC and at Arizona State – but with another year of experience for Solomon, Arizona should hit at least eight wins.
Arizona State Sun Devils
2014 Record: 10-3 (6-3)
Predicted Record: 9-3 (7-2)
The other Arizona team, Arizona State, is also being a bit underestimated. Despite winning 10 games in each of the last two years under Todd Graham, the Sun Devils' over/under regular season wins this year is set at 7.5.
The offense took a hit with the loss of receivers Jaelen Strong (NFL) and Cameron Smith (injury), but Mike Bericovici should step in very nicely in place of Taylor Kelly at quarterback. He'll also have a solid offensive line and running game, as well as a dependable defense. They'll be tested right off the bat in their season opener against Texas A&M, but that should just be the start of another 8-10 win season.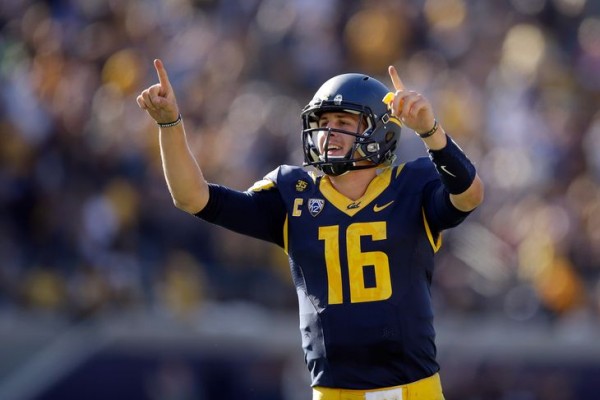 California Golden Bears
2014 Record: 5-7 (3-6)
Predicted Record: 6-6 (4-5)
Beware the Bears. Cal had one of the most prolific offenses last year – 38.3 points per game, 11th in the nation – and it should be even better with quarterback Jared Goff entering his junior year. Goff will also have a very deep and experienced receiving corps at his disposal.
The defense, admittedly, was basically the exact opposite of the offense. Even with some expected improvement for last season's disastrous performance (because it's hard to see it getting any worse), the secondary still has Swiss cheese-style holes. Unfortunately, this will likely offset most of their terrific offense's good work.
Colorado Buffaloes
2014 Record: 2-10 (0-9)
Predicted Record: 5-8 (1-8)
Despite going winless in conference for the first time in just under a century, Colorado looks like it's on the right track, especially on offense. Junior Sefo Liufau returns for his second year starting at quarterback; he threw for 3,200 yards with 15 touchdowns as a sophomore last season. He'll also have favored target Nelson Spruce back to spruce up the passing game.
The defense is more of a work in progress, but the Buffaloes return some key players on that side of the ball, particularly in the secondary. They should at least see a bit of improvement in that area, enough to keep them from being shut out in the conference again.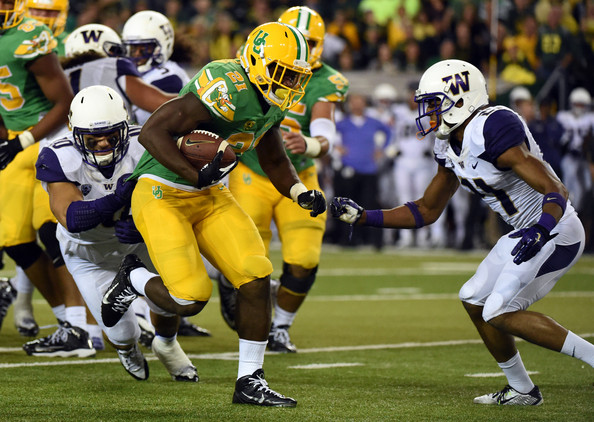 Oregon Ducks
2014 Record: 13-2 (8-1)
Predicted Record: 10-3 (8-1)
Heisman winner Marcus Mariota may be gone, but Oregon is still the front-runner to win the Pac-12 North and a +250 favorite to defend its Pac-12 championship. Senior transfer Vernon Adams is the favorite to succeed Mariota at quarterback over Jeff Lockie, but whoever wins the job will be surrounded by a very talented group of skill position weapons, led by Royce Freeman.
The Ducks will have three tough away games on the schedule – at Michigan State in Week 2, at Arizona State and at Stanford – but they should have just enough weapons remaining to squeak their way over 9.5 regular season wins.
Oregon State Beavers
2014 Record: 5-7 (2-7)
Predicted Record: 3-9 (1-8)
In an offseason full of change, Oregon State now has a new head coach in Gary Anderson, and a new quarterback to replace the departed Sean Mannion. A freshman (either redshirt or true) is sure to start at quarterback, which is worrisome even though he'll be surrounded with last year's top rusher and top two receivers, as well as the complete offensive line from last season.
The big uncertainty at quarterback, coupled with a defense also has a bunch of holes to fill at linebacker and in the secondary, almost ensures that the Beavers take a major step back in Anderson's first year.
Stanford Cardinal
2014 Record: 8-5 (5-4)
Predicted Record: 9-3 (6-3)
Stanford will be looking to bounce back after failing to win at least 11 games for the first time under David Shaw last season. The Cardinal's trademark defense won't be as deep as in recent years, but never discount Shaw's ability to coach that side of the ball.
Senior Kevin Hogan, who came on strong at the end of last season, will be back to start at quarterback and will have an offensive line that returns four out of five starters. Stanford only has one tough road game all season (Week 3 vs. USC), and should be in contention for 9.0 wins and beyond.
UCLA Bruins
2014 Record: 10-3 (6-3)
Predicted Record: 8-4 (5-4)
Expectations will be very high for UCLA, which has won at least nine games in each of Jim Mora's first three seasons, to finally reclaim the Pac-12 South this season. The Bruins will definitely be well-equipped to do so, with 17 of 22 starters returning and another terrific recruiting class also set to come in.
However, the one question mark on their team will be at quarterback after Brett Hundley's departure to the NFL. Five-star recruit Josh Rosen is set to succeed Hundley as the starter, but the pressure of leading the Bruins could just get to the freshman, who leads them to under 9.0 wins for the first time under Mora.
USC Trojans
2014 Record: 9-4 (6-3)
Predicted Record: 11-2 (7-2)
Speaking of expectations, many presume that this is finally the year USC fully recovers from its crippling sanctions and returns to past glory. Aside from being +200 favorites to win the Pac-12, the Trojans are also +1,500 to win the national title. Their title hopes will rest on the capable shoulders of senior quarterback and +1,000 Heisman contender Cody Kessler, who will lead an offense stacked with talent.
The defensive line, however, could be an issue after losing Leonard Williams. There's a lot of ability in linebacker and in the secondary, though, and Su'a Cravens will be at the heart of that. All in all, there's just too much talent on both sides of the ball to see this team with less than 10 wins. They should push 9.0 wins at the very least.
Utah Utes
2014 Record: 9-4 (5-4)
Predicted Record: 7-5 (4-5)
The Utes had a wildly successful 2014 as they recorded their best record in the Pac-12 since moving to the conference four years ago. Running back Devontae Booker was a big key to their success, and he returns this season along with senior quarterback Travis Wilson.
Wilson's up-and-down play last season will remain a concern for the Utes, but their even bigger issue will be on defense, especially after they lost star pass rusher Nate Orchard. There's enough uncertainty with Wilson and the defense to think that Utah takes a step back this year and goes under 7.5 wins.
Washington Huskies
2014 Record: 8-6 (4-5)
Predicted Record: 6-6 (4-5)
Chris Petersen's first year in charge wasn't a roaring success, and unfortunately, signs point to his second season going much the same way. The Huskies return just nine starters from a year ago, and their front seven will need to be rebuilt from scratch after a mass exodus of talent.
They also don't have a clear-cut answer at quarterback. Redshirt freshman K.J. Carta-Samuels and true freshman Jake Browning will be vying for the starting job, and will have some decent deep threats to target. Neither inspires too much excitement, but either one should be able to at least lead the Huskies toward bowl eligibility.
Washington State Cougars
2014 Record: 3-9 (2-7)
Predicted Record: 4-8 (2-7)
Luke Falk seamlessly stepped right in at quarterback during the tail end of last season after Connor Halliday went down, and now has the position to himself this season. However, with the entire starting offensive line returning along with both of last year's top rushers, Wazzu could be a more ground-based attack this season.
Maybe that could be a more effective way of keeping a disappointing Cougars defense that finished near the bottom of the conference off the field. A new defensive coordinator has been brought in, but the unit still lacks depth and quality to make much noise in the conference.
Writer's Prediction
The South does rise again, as USC (+200) reclaims the Pac-12 title by beating Oregon in the championship game. Create a betting account now to get ready to claim some serious cash wagering on the Trojans for the upcoming college football season.
[sc:NCAA490banner ]
1,751 total views, 1 views today
Comments
comments