The wild, wild, SEC West has had a stranglehold on the rest of the SEC for the past few years. Alabama and Auburn, in particular, have won five of the past six titles between them, and look to be the class of the conference once again heading into the upcoming season. Can the two southern juggernauts continue to rule with an iron fist, or will a challenger from the East finally end their dominance?
Let's take a look at arguably the most cutthroat conference there is and check out how each SEC team's season unfolds. Check out our other compelete conference previews as well, beginning with the AAC, ACC and Big 12.
[sc:NCAAFArticles ]
2015 SEC Season Wins Preview
Alabama Crimson Tide
2014 Record: 12-2 (7-1)
Predicted Record: 10-2 (6-2)
[sc:NCAA240banner ]Alabama lost last season's starting quarterback, its top rusher, its top receiver and three out of five starting offensive linemen. It hardly matters who leaves, though, because Nick Saban just churns out top recruiting classes that keep the Crimson Tide perennial championship contenders. Bama is priced at +650 to win yet another national title this season.
The Crimson Tide still have some very nice pieces on offense, and have one of the most imposing front sevens in all of college football on defense to shield a suspect secondary. There's just too much talent in Tuscaloosa, which should make the Tide a safe bet to go over 9.5 wins in the regular season.
Arkansas Razorbacks
2014 Record: 7-6 (2-6)
Predicted Record: 8-4 (4-4)
Arkansas was much improved in Year 2 under Bret Bielema, and has garnered a fair bit of hype for the upcoming season. The Razorbacks will return senior quarterback Brandon Allen on offense, as well as 1,000-yard rushing tandem Jonathan Williams and Alex Collins, and four starters on a very good offensive line.
They lost some key pieces on defense, but there's still a lot to love with that potentially dominant running game to believe they at least push 8.0 regular season wins this season.
Auburn Tigers
2014 Record: 8-5 (4-4)
Predicted Record: 12-1 (7-1)
Nick Marshall is gone, as well as a bunch of key contributors on offense, but Jeremy Johnson is ready to step in at quarterback to lead Gus Malzahn's offense, which finished second in the SEC in total offense. The Tigers' should also see some much-needed improvement on the other side of the ball with new defensive coordinator Will Muschamp.
Expectations will be high for Auburn this season, but that anticipated upgrade on defense will go a long way in meeting them. Look for the Tigers to top 8.5 regular season wins.
Florida Gators
2014 Record: 7-5 (4-4)
Predicted Record: 8-4 (5-3)
Jim McElwain will have his hands full in lifting Florida's floundering football program after the ill-fated Muschamp era. He'll need to sort out an offense that was just 12th out of 14 teams in the conference in total offense, particularly an offensive line that has a lot of question marks.
However, the defense should be solid and the secondary – led by lockdown corner Vernon Hargreaves III – could be borderline elite. With a manageable conference slate (their crossover games are against Ole Miss at LSU), look for the Gators to go over 7.0 regular season wins.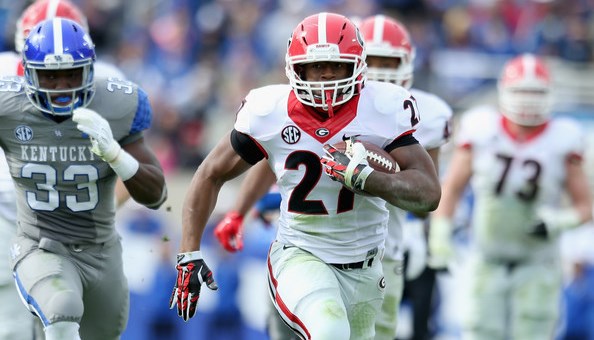 Georgia Bulldogs
2014 Record: 10-3 (6-2)
Predicted Record: 10-3 (6-2)
Georgia enters the season as the clear cut favorite in the SEC's East division despite some uncertainty over at quarterback. But whoever does start under center will spend a lot of time handing off to running back Nick Chubb. Chubb had 1,547 rushing yards and 14 touchdowns in a breakout freshman year, and is a +1,000 Heisman contender in his sophomore season.
Their schedule will include tough matchups against both conference favorites – vs. Alabama and at Auburn – but with a Chubb-led offense and an improving defense that landed top recruit Trent Thompson, the Bulldogs are a good bet to go over 9.0 regular season wins.
Kentucky Wildcats
2014 Record: 5-7 (2-6)
Predicted Record: 6-6 (2-6)
Kentucky saw some improvement in Year 2 under head coach Mark Stoops. The Wildcats managed two conference wins (vs. Vandy and South Carolina) but lost six in a row to end the season. Junior Patrick Towles should hold on to the starting QB spot after accounting for 3,000 total yards last season, and will have a host of weapons at the skill positions.
The defense lost stars Bud Dupree and Za'Darius Smith, although former transfers Melvin Lewis and Ryan Flannigan will help anchor the front seven along with former four-star recruit Jason Hatcher. That should be enough to see the Wildcats improve slightly on last year's promising showing.
LSU Tigers
2014 Record: 8-5 (4-4)
Predicted Record: 8-4 (4-4)
Quarterback play still remains an issue for LSU, which ranked dead last in the conference in passing offense last season. Their trademark defense could suffer a drop-off after long-time defensive coordinator John Chavis's departure.
Still, LSU has some terrific talent in that defense, especially in the secondary, as well as in the backfield with Heisman candidate Leonard Fournette (+1,200). But that problem at QB is a big one, and will likely see the Tigers fall just short of going over 8.5 wins.
Ole Miss Rebels
2014 Record: 9-4 (5-3)
Predicted Record: 9-3 (5-3)
Ole Miss will have a bit of uncertainty at quarterback with former juco QB Chad Kelly set to take over from Bo Wallace. The offense around him will be very talented, though. Wide receiver Laquon Treadwell will return from injury to lead a talented receiving corps, while the offensive line – led by top NFL prospect Laremy Tunsil – should be very solid as well.
There's no way Ole Miss finishes the season undefeated – not with road games against Alabama, Auburn and Mississippi State in the Egg Bowl. But with a terrific defense which finished No. 1 in the nation in scoring defense, there's every reason to think the Rebels steal a few games and go over 8.5 wins.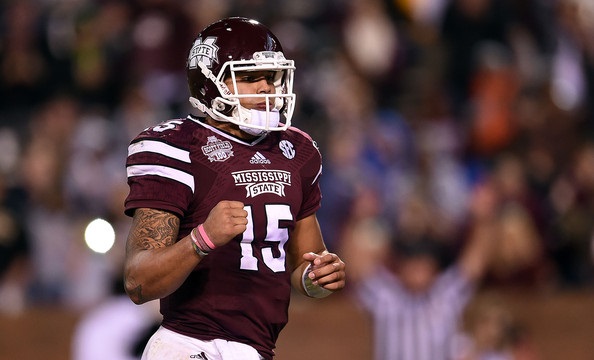 Mississippi State Bulldogs
2014 Record: 10-3 (6-2)
Predicted Record: 7-5 (3-5)
Mississippi State had an incredible season in 2014, one which saw them go No. 1 in the country for the first time ever, while quarterback Dak Prescott accounted for nearly 4,500 yards and garnered Heisman buzz. Prescott will be back for his senior year, but only six other starters will return with him.
Having a Heisman-caliber quarterback – Prescott is priced at +1,200 to win the award – will help cover up for what they lost on both sides of the ball, but he alone won't be nearly enough for the Bulldogs to reach last season's heights.
Create a betting account now and reach new heights of college football betting with America's top sportsbook.
Missouri Tigers
2014 Record: 11-3 (7-1)
Predicted Record: 8-4 (4-4)
Missouri has won the SEC East for the last two years, with their production line of pass rushers leading the way. This season, though, Mizzou might not be able to lean on its defense as much, especially with a young and inexperienced defensive line. They also lost all three starting wide receivers, leaving junior quarterback Maty Mauk with few reliable weapons.
Mauk isn't the most reliable of passers anyway (he finished 10th out of 11 qualified SEC QBs in terms of completion percentage last year), but the junior has found a way to get it done during his first two seasons. Mizzou as a team has been consistently underrated as well, so it'd be wise to back them going over 7.5 wins this year.
South Carolina Gamecocks
2014 Record: 7-6 (3-5)
Predicted Record: 7-5 (3-5)
After a 2014 season that fell way short of expectations, Steve Spurrier still have some issues to fix for South Carolina to have a successful season in 2015. The first one will be breaking in a new quarterback after Dylan Thompson graduated. The second – and most important – one will be to repair a defense that leaked points and yards all year long.
Spurrier hired old defensive coordinator Jon Hoke to fix the former. Aside from changing the system – they're going 4-3 this year – the Gamecocks also recruited seven new defensive linemen. But even with the return of star receiver Pharaoh Cooper, the likely drop-off at quarterback will offset any improvements on defense.
Tennessee Volunteers
2014 Record: 7-6 (3-5)
Predicted Record: 8-4 (5-3)
Much is expected of Butch Davis's Tennessee team this season, especially after landing back-to-back top five recruiting classes in the last two years. 17 starters return from last year, including a dominant defensive line led by Derek Barnett and Curt Maggitt, who combined for 21 sacks. They also have some talented playmakers in the skill positions for junior QB Joshua Dobbs.
The Vols should continue improvement in Year 3 under Davis, although it could be too early for them to take the leap into the upper echelon of the East division. At the very least, look for the Vols to push their projected 8.0 wins for the season.
Texas A&M Aggies
2014 Record: 8-5 (3-5)
Predicted Record: 9-3 (5-3)
While "Kenny Trill" was eventually found out as a fraud, A&M will have not one but two terrific options at quarterback this year. They brought in highly-touted freshman Kyler Murray, but sophomore Kyle Allen is the favorite to win the starting job. Whoever gets to start will have quite a receiving corps to work with in Kevin Sumlin's high-octane offense.
The Aggies' season, though, hinges on their defense. They brought on former LSU DC John Chavis to work his magic on a unit which finished dead last in the SEC in total defense. A combination of explosive offense and competent defense can be a successful recipe, one that should see the Aggies top 7.5 wins.
Vanderbilt Commodores
2014 Record: 3-9 (0-8)
Predicted Record: 3-9 (0-8)
It can only get better for Derek Mason's Vanderbilt. The Commodores went winless in the conference during Mason's debut season, and fielded one of the most ineffective offenses in the nation. On the bright side, though, most of their key performers on offense return, and should still benefit from a year of experience.
They also return a lot of experience on defense, including the talented trio of Adam Butler, Caleb Azubike and Nifae Lealo. However, the rest of the SEC East got a lot better in the offseason, which will be a big reason why Vandy's in-conference losing streak continues this season.
Writer's Prediction
Georgia meets Auburn in the SEC championship game, with the Tigers (+300) edging the Bulldogs to maintain the West's dominance.
[sc:NCAA490banner ]
2,059 total views, 1 views today
Comments
comments