---
In all honesty, Week 11 of the college football season is not the best. There's only one matchup between two top 25-ranked teams, and it'll come in a conference which likely won't have a representative for the College Football Playoff. (Sorry, Big 12.) Don't fret, though, because there are still ample opportunities to win some cash against the spread this week with a bunch of intriguing matchups.
Let's get into 10 of the best games for this Week 11 as we offer up our against the spread predictions for each one below.
---
College Football News and Previews
---
2016 NCAA Football Week 11 Picks and Predictions
#25 Baylor (+14.5) vs. #9 Oklahoma (-14.5) – 12:00 PM ET
Baylor's season is officially falling apart. The Bears have dropped two in a row, and were absolutely demolished 62-22 by a mediocre TCU team in Waco over the weekend. The Bears' run defense was gashed for the second-straight game. After Texas' D'Onte Foreman went for 250 yards and two TDs, TCU as a team ran for 431 yards and 6 TDs.
Oklahoma had to work harder than expected in a 34-24 road win over Iowa State. But the good news for them is that they get to go home, with Joe Mixon set to return from his one-game suspension. You may remember Mixon burning Texas Tech's defense to the ground with 263 of his 377 yards from scrimmage and two of his five total TDs coming on the ground.
Writer's Prediction: The Sooners (-14.5) stomp all over Baylor, 45-24.
Mississippi State (+29) vs. #1 Alabama (-29) – 12:00 PM ET
Alabama did it again (eventually). The Tide outlasted LSU in a gritty 10-0 win, pushing Bama to a perfect 4-0 against the spread in its last four games. However, let's offer a word of caution for the Bama backers against visiting Mississippi State. The Tide are coming off a brutal battle which likely took a toll on the team both physically and mentally. How much do they have left in the tank for the visiting Bulldogs?
Moreover, Mississippi State's Nick Fitzgerald is the type of mobile quarterback that has given Bama's defense problems in recent years. The sophomore has two rushing TDs in each of his last four games, and 100+ rushing yards in his last three. He had 182 rushing yards in the Bulldogs' big 35-28 upset of Texas A&M.
Bama will likely to go into conservation mode until the Iron Bowl, and have no real incentive to cover a mammoth four-plus-score spread.
Writer's Prediction: Mississippi State (+29) covers for the second big game in a row as Alabama wins, 35-13.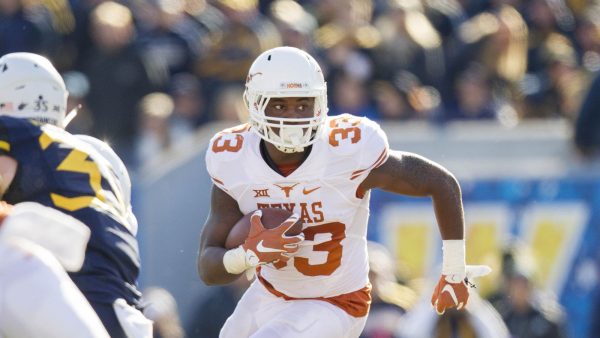 #11 West Virginia (+1.5) vs. Texas (-1.5) – 12:00 PM ET
Could this be the long-awaited resurgence for the Longhorns under Charlie Strong? After knocking off an undefeated Baylor, they outgunned 45-37 Texas Tech in Lubbock to earn their first winning streak of the season. D'Onta Foreman has been close to unstoppable over the last two weeks, going for 591 rushing yards with five touchdowns in their back-to-back wins.
However, West Virginia is still the more complete team. They had a bit of a letdown in their last road game against Oklahoma State, but it's highly unlikely that they make as many costly turnovers again. The Neers are also one of the few Big 12 defenses that can at least slow down that Texas running game.
Writer's Prediction: West Virginia (+1.5) grabs the big road win, 31-28, at Texas.
#12 Penn State (-6.5) vs. Indiana (+6.5) – 12:00 PM ET
Speaking of resurgence, could this finally be the year Penn State returns to national relevance? The Nittany Lions have been very impressive over the last month or so. Just check out the margin of victory in their last four games: 24, 3 (over a highly-ranked Ohio State), 38, and 27. Indiana has some decent firepower, but can you really trust a team that actually had to come from behind to beat Rutgers? (No. The correct answer is no.)
Writer's Prediction: Penn State (-6.5) scores another big win, 34-24.
#8 Auburn (-10) vs. Georgia (+10) – 3:30 PM ET
Auburn's impressive run of blowouts finally came to an end in a close 23-16 win over Vanderbilt. But in hindsight, that result shouldn't have been too surprising. Vandy has a very good defense, one that was successfully able to keep the Tigers attack in check.
Georgia also has a decent defense, but the Dawgs' offense has been awful at times, especially against very good defenses like Auburn. The Tigers will get their points, but the Dawgs attack doesn't inspire any confidence in covering, even at home.
Writer's Prediction: Auburn (-10) runs away from Georgia on the road, 31-13.
Pittsburgh (+20) vs. #3 Clemson (-20) – 3:30 PM ET
Clemson put together arguably its best showing of the year with a 54-0 win over Syracuse. The Tigers haven't really impressed at times this season, but Pitt just looks like a perfect matchup for them to put up another impressive performance.
The Clemson defense can slow down the run, which would spell trouble for the run-heavy Panthers attack. And despite his injury, Desahun Watson should be able to have another big game against a very porous Pitt pass defense which has allowed 762 yards and 6 TDs in its last two games.
Writer's Prediction: Clemson (-20) cruises to a 42-14 win over Pitt.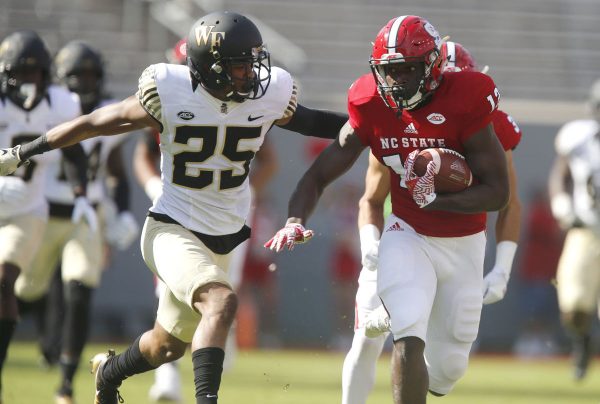 Wake Forest (+33) vs. #5 Louisville (-33) – 7:00 PM ET
So, what to make of Louisville? The Cards are still undoubtedly very good.  But it's now four weeks where they've alternated a closer-than-expected win with a huge blowout. As it so happens, they were favored by 30-plus points in both of those close wins. They blew out Boston College and are now favored once again by 33 against Wake, so the trend suggests they are bound for another tight one.
Wake Forest has the defense to oblige as well. The Demon Deacons are quietly No. 14 in the nation in scoring defense, giving up just 18.4 points per game. Are they going to hold Louisville to under 20 points? Probably not. But with the Cards' inconsistency in recent weeks, Wake's defense is definitely good enough to cover such a huge spread.
Writer's Prediction: Wake Forest (+33) wins against the spread despite a 35-10 loss to Louisville.
#19 LSU (-6.5) vs. Arkansas (+6.5) – 7:00 PM ET
Beware of #NovemBERT. The Arkansas Razorbacks provided one of the biggest shock of Week 10 as they took down Florida. The Hogs are now 8-2 against the spread in their last 10 games in the month of November under head coach Bret Bielema. The run defense completely shut down the Gators on the ground, while Rawleigh Williams III (148 rushing yards) had himself a game. Arkansas is a perfect 5-0 when Williams goes for over 100 yards.
LSU will likely be a bit banged up following their very physical game against Alabama, so the Hogs could make a few more holes in that Tigers front. Also, it bears noting just how tough the Razorbacks have played LSU. Arkansas is an incredible 9-2 ATS in its last 11 meetings with the Tigers. Bielema is 3-0 ATS in his three games in charge, and has actually beaten LSU straight up in the last two years.
Writer's Prediction: Arkansas (+6.5) scores a second major upset in a row as it beats LSU, 28-21.
USC (+8) vs. #4 Washington (-8) – 7:30 PM ET
As impressive as Sam Darnold has looked for USC, one can't help but be wary of the fact that they could only put 21 points on the board at home against the lone competent defense they've faced with Darnold (Colorado).
To be fair, Washington also hasn't faced much stiff competition to date. However, they will be at home, and they have an outstanding defense that can limit the Trojans attack both on the ground and through the air. USC's defense doesn't inspire nearly as much confidence, and the red-hot Jake Browning – the nation's co-leader with 34 passing TDs – should be able to get his licks in.
Writer's Prediction: Washington (-8) gets the 35-24 home win over USC.
#2 Michigan (-19.5) vs. Iowa (+19.5) – 8:00 PM ET
So, Iowa may not be very good. The Hawkeyes were rocked 41-14 on the road to Penn State last weekend. They simply couldn't get anything going on offense and their defense couldn't handle the Nittany Lions attack.
As we have established all season long, Jim Harbaugh's Michigan has no problem running up the score. The Wolverines showed no mercy with a 59-3 win over Maryland, and there's no reason to think they take it easy against the subpar Hawkeyes.
Writer's Prediction: Michigan (-19.5) rolls to another big win, 38-17.
Create a betting account now and cash in on all the exciting college football action this season.

2,292 total views, 2 views today
Comments
comments