---
And just like that, Rivalry Week (AKA Week 13 of the 2016 college football season) is here. Although the Iron Bowl won't have as much riding on it as previously expected, the Apple Cup and The Game will have a ton of significance not only for the respective rivalries, but for the College Football Playoff picture as a whole.
As always, read on below for against the spread picks and predictions for the top 10 marquee matchups of Week 13.
---
College Football News and Previews
---
2016 NCAA Football Week 13 Picks and Predictions
Thursday, November 24
#25 LSU (-5.5) vs. #22 Texas A&M (+5.5) – 7:30 PM ET
So, maybe Ed Orgeron wasn't quite the miracle worker after all. After an impressive 3-0 start, Coach O's Tigers have now lost two of their last three games, which just so happen to be against the top two defenses in the SEC – Alabama and Florida. Those defenses were able to limit the LSU ground game just enough, and the Tigers offense didn't have any answers.
However, the A&M run defense is nowhere near as dominant as the Bama and Florida fronts, so the LSU offense should be able to bounce back quite a bit. Meanwhile, the Tigers D will be by far the best unit junior quarterback Jake Hubenak – who took over for the injured Trevor Knight – will face.
Writer's Prediction: LSU (-5.5) runs all over the Aggies for a 28-17 win.
Friday, November 25
#6 Washington (-5.5) vs. #23 Washington State (+5.5) – 3:30 PM ET
Wazzu's prolific offense wasn't quite good enough to break through the best defense it's faced in Colorado. The Cougars were held to a season-low 24 points and 462 yards. U-Dub's D will also prove to be a tough test, but there's definitely a lot to like about Wazzu as a dangerous home underdog in the Apple Cup.
For one, the Cougs will be at home, where they have gone 8-2 straight-up and against the spread in their last 10 games. Pullman will be rocking with the prospect of knocking their rivals out of the College Football Playoff. The Cougs lost their last home game against the Huskies in 2014, but they haven't lost back-to-back at home against their state rivals since 2000-2002.
Their much-improved run defense (just 130 yards allowed, No. 1 in Pac-12) will also be crucial in limiting the Huskies offense.
Writer's Prediction: Wazzu (+5.5) knocks Washington out of the playoff picture with a 34-31 upset.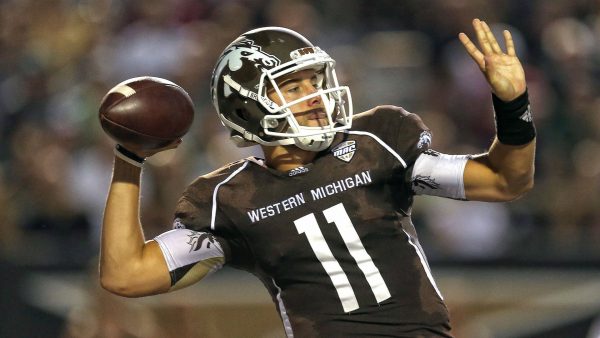 Toledo (+9) vs. #14 Western Michigan (-9) – 5:00 PM ET
Western Michigan isn't showing any signs of slowing down. The Broncos just blanked Buffalo 38-0 to improve to 11-0 (8-3 ATS) on the season. They'll be playing for the Mid-American Division title against Toledo in front of their home crowd, so expect them to be pumped up for the Rockets.
Despite giving up just 158 rushing yards per game, Toledo has been pretty inefficient against the run, giving up 4.6 yards per carry. It's tough to see them making enough stops on Western Michigan's prolific rushing attack, which is putting up 247 yards per game on 5.3 yards per carry.
Writer's Prediction: Western Michigan (-9) remains unbeaten with a 35-24 win.
Saturday, November 26
Kentucky (+23.5) vs. #11 Louisville (-23.5) – 12:00 PM ET
The Louisville bandwagon has emptied in a hurry. It's pretty understandable given how far the Cardinals have fallen. They've now gone just 2-4 against the spread in the last six games, and were a complete no-show on Thursday night in their 36-10 loss to Houston. This just looks like a team that has packed it in for the season.
Kentucky will look at this as a prime opportunity to get one over on its state rivals. The Wildcats are an impressive 6-1 against the spread in the SEC this season.
Writer's Prediction: An outright win still seems unlikely, but Kentucky (+23.5) at least covers in defeat.
#3 Michigan (+6.5) vs. #2 Ohio State (-6.5) – 12:00 PM ET
If you think Michigan can do a 2014 Ohio State and storm into the College Football Playoff despite losing its starting quarterback late in the year, then you probably didn't see John O'Korn's start against Indiana. The senior quarterback completed just 7 of 16 passes for 59 yards against the Hoosiers. That's not good, especially for a Wolverine offense which already struggled against good defenses with Wilton Speight at quarterback.
However, the Buckeyes attack has also sputtered at times this season (see: their games against Wisconsin, Penn State, and Michigan State) and Michigan's defense is better than any of those. With so much at stake, the Wolverines defense likely raises its game and keeps Michigan within striking distance.
Writer's Prediction: Ohio State  gets the hard-fought 20-17 win, but Michigan (+6.5) covers.
Notre Dame (+17) vs. #12 USC (-17) – 3:30 PM ET
It's official: Notre Dame will finish with a losing season for the first time under Chip Kelly. The Irish just haven't had any luck this year, and even less defense. That isn't exactly the best combination ahead of its visit to USC.
The Trojans have won seven games in a row – 6-1 against the spread – and could yet be playing for the Pac-12 championship. They certainly won't be easing off the gas with that possibility still alive, so look for another big Trojans win over the Irish.
Writer's Prediction: USC (-17) ends the regular season on a high with a 35-17 beatdown of Notre Dame.
Michigan State (+12) vs. #8 Penn State (-12) – 3:30 PM ET
Michigan State is finishing an otherwise disastrous season on a strong note. The Spartans are 3-1 against the spread in their last four games, and gave both Michigan and Ohio State a much tougher fight than expected. Penn State still has something to play for – the Lions will go to the Big Ten title game if they win and Ohio State beats Michigan – but don't expect Sparty to just go down without a fight.
Writer's Prediction: Penn State pulls out the 24-17 win as Michigan State (+12) covers again.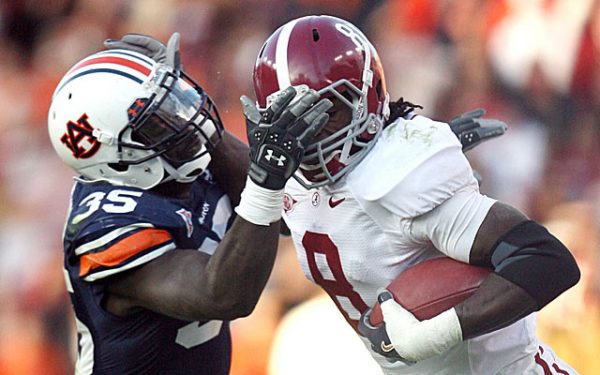 #16 Auburn (+18) vs. #1 Alabama (-18) – 3:30 PM ET
Remember when people were wondering whether Auburn could topple Alabama in the Iron Bowl? Yeah, well the Tigers couldn't even put up seven points on the road against Georgia, which is why the pick for this is Alabama all the way. Auburn has a very good ground game but is just too one-dimensional on offense, and Bama has the otherworldly front that can effectively take that one dimension away. (Just ask LSU.)
The Tide have simply been untouchable in the SEC, where they're 5-1 against the spread this season. Auburn has nothing for them, and this should be a pretty comfortable win in Tuscaloosa.
Writer's Prediction: Alabama (-18) runs away from Auburn, 34-13.
Utah (+10) vs. #9 Colorado (-10) – 7:30 PM ET
It's hard not to really like Colorado right now. The Buffs are just rock-solid in all facets of the game. Their defense just held Washington State's conference-best attack to 24 points. On offense, quarterback Sefo Liufau threw for 345 yards and had a big part in their 258 rushing yards and five scores. Meanwhile, Utah's season has quickly gone down the drain with two losses in its last three, the most recent of which coming against subpar Oregon team.
A win against Utah will put Colorado in the Pac-12 title game for the first time, so expect Boulder to be absolutely rocking for this game. That should give the Buffs even more of a home-field advantage against the Utes. Colorado is a perfect 6-0 (5-1 against the spread) at home this season.
Writer's Prediction: Colorado (-10) closes out its terrific season with a 28-14 win.
#13 Florida (+6.5) vs. #15 Florida State (-6.5) – 8:00 PM ET
Florida's defense gave a friendly reminder of just how good it can be as it led the Gators to a huge 16-10 road win over LSU. While Florida State's offense has perked up with 45 points in back-to-back wins, Boston College and Syracuse aren't exactly elite defenses. The Noles haven't proven they can win by such a large margin against a top defense, and the Gators D is good enough to ensure a close game.
The road team has gone 5-0 against the spread in the last five meetings between these two state rivals.
Writer's Prediction: The Gators (+6.5) not only cover, they also win outright over the Noles.
Create a betting account now and cash in on all the exciting college football action this season.

3,016 total views, 1 views today
Comments
comments