---
The 2016 college football season is now getting into the thick of conference play as it heads into Week 6. While there won't be three top-10 matchups like there were in Week 5, there will be a big top-10 showdown in the SEC, as well as a certain Red River Rivalry to be renewed down in Texas. Just read on below for our spread picks for those games, as well as the 10 highest profile games on the Week 6 slate.
---
College Football News and Previews
---
2016 NCAA Football Week 6 Picks
Saturday, Oct. 8
LSU (-3) vs. #18 Florida (+3) – 12:00 PM ET
Coach O made quite an impact in his first game in charge of LSU, which resulted in a 42-7 drubbing of Mizzou. The Tiger defense limited Drew Lock – the SEC's most prolific passer through four weeks – to his worst game of the season. Meanwhile, the offense had two players with over 100 rushing yards and three touchdowns each – and neither was named Leonard Fournette.
It remains to be seen whether Florida quarterback Luke Del Rio will finally be able to make his return, but even if he does play, LSU looks like the play here. The Tigers' ability to run the ball, even against a formidable Florida front, is just about the most reliable thing either offense can do. That should be enough to edge out what will likely be a grinding affair in the Swamp.
Writer's Prediction: LSU battles to a 24-21 road win.
Texas (+10) vs. #20 Oklahoma (-10) – 12:00 PM ET
So, are we still sure Texas has really gotten better this season? The Longhorns have now lost two shootouts in the last two weeks (albeit on the road) to Cal and Oklahoma State, and their signature win over Notre Dame doesn't look as good as it did after Week 1. Meanwhile, Oklahoma has lost to two potential playoff teams, and is coming off a big road win over TCU.
But this is the Red River Showdown, and records don't mean much in rivalry games. Keep in mind that Charlie Strong is 2-0 ATS against the Sooners, and even won outright as a 16.5-point underdog last year. And as impressive as Oklahoma looked against TCU, the defense still allowed the Horned Frogs to get back into the game.
Writer's Prediction: Strong gets his team up for another Red River matchup. The Longhorns (+10) likely lose, but they have enough offense to keep it within single-digits.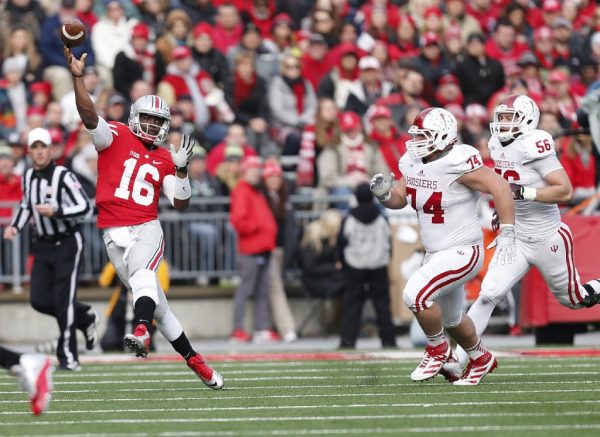 Indiana (+31) vs. #2 Ohio State (-31) – 3:30 PM ET
This Ohio State team is scary good. The Buckeyes are 4-0 ATS on the season, and are coming off a 58-0 rout of Rutgers. J.T. Barrett is out there breaking school records, and the defense remains filthy awesome.
But this is a tricky spot for the Buckeyes against a plucky Indiana team. The Hoosiers showed their credentials with a huge overtime win over Michigan State last week. Meanwhile, the Buckeyes have a looming date with No. 11 Wisconsin in Madison.
Indiana has had a lot of success against the spread in recent games against Ohio State. The Hoosiers are 5-0 ATS in their last five meetings. With the Buckeyes possibly looking ahead to their key road date, Indiana has a legit shot to make it six in a row.
Writer's Prediction: The Hoosiers (+31) avoid an embarrassing blowout, as they cover in a 42-14 loss in Columbus.
#9 Tennessee (+6.5) vs. #8 Texas A&M (-6.5) – 3:30 PM ET
One of these days, the Vols' inability to string a full good game together will come back to haunt them. There won't be a 38-0 run or a miracle Hail Mary to bail them out, especially not against a very good team like Texas A&M.
The Aggies have just looked rock solid in all phases of the game. Trevor Knight hasn't been spectacular, but he's been able to make key plays, particularly with his legs. The Aggies offense still inspires a lot more confidence in its ability to function competently than the Vols', and if they get up big, the A&M defense likely won't throw it all away like Florida or Georgia did.
Writer's Prediction: Texas A&M finally makes the inconsistent Vols pay. The Aggies (-6.5) win and cover, 28-21.
#25 Virginia Tech (+3) vs. #17 North Carolina (-3) – 3:30 PM ET
North Carolina has come up with dramatic, down-to-the-wire wins over Pitt and Florida State in back-to-back weeks. But while those wins were remarkably impressive, you have to wonder how much of a toll those wins have taken physically, mentally, and emotionally on the team.
This looks like a good spot for Virginia Tech to cause the Tar Heels problems. The Hokies have bounced back from a heavy loss to Tennessee by beating Boston College and East Carolina by a combined score of 104-17. Justin Fuente is slowly establishing his high-octane offense with Jerod Evans (13:1 TD-to-INT ratio) playing very well at quarterback.
The Bud Foster-led Hokies defense has had some success slowing down North Carolina's offenses, enough to go 3-0 ATS in the last three years. Don't be too surprised if they go 4-0 after this game.
Writer's Prediction: Virginia Tech (+3) springs the upset on UNC and wins outright, 35-32.
#21 Colorado (+5) vs. USC (-5) – 4:00 PM ET
The Trojans finally got their groove back with a big 41-20 win over Arizona State. But they're still 0-3 against ranked teams this season, and No. 21 Colorado comes for a visit on Saturday.
The Buffs have been one of the biggest surprises of the season thus far. They gave Michigan all they could handle before their starting quarterback went down to injury. They then went into Autzen to beat Oregon with their backup QB, Steven Montez, and smashed Oregon State by 41.
The Buffs gave USC a fight last year as they lost by just three. They'll be motivated to snap their 0-7 all-time record against the Trojans and further solidify their status as players in the Pac-12.
Writer's Prediction: Colorado (+5) goes toe-to-toe with the Trojans, and comes away from L.A. with a 28-24 win.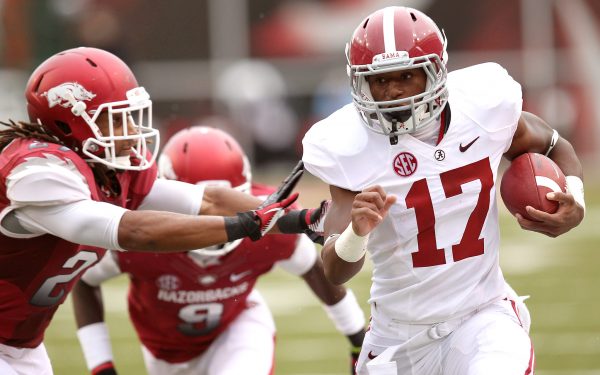 #1 Alabama (-14) vs. #16 Arkansas (+14) – 7:00 PM ET
Alabama does not lose to Arkansas. The Tide's last loss to the Hogs was way back in 2006. They are 9-0 in their last nine meetings, and go into this year's matchup coming off back-to-back wins with a combined score of 82-6.
However, the Razorbacks are slowly starting to fight back. After suffering back-to-back 52-0 stuffings, Arkansas has gone 2-0 ATS in the last two years under Bret Bielema. The Razorbacks' running game and defense will look to make things as tough as possible for the Tide in Fayetteville, and they will succeed.
Writer's Prediction: Arkansas (+14) puts up another good fight against Alabama, and covers despite a 31-21 loss.
#5 Washington (-9) vs. Oregon (+9) – 7:30 PM ET
Washington got the mother of all statement wins with their 44-6 drubbing of Stanford on Friday night. The Huskies absolutely shut down Christian McCaffrey, while Jake Browning took advantage of a shorthanded Stanford secondary. Now, they're set to face another team with a solid running game, shaky quarterback situation, and suspect secondary: Oregon.
The Ducks are just in disarray at the moment. They've lost three-straight games, including back-to-back Pac-12 defeats to Colorado and Washington State. The aura of Autzen is fading fast, and the young Huskies look primed to deliver another big blow to the Oregon program's mystique.
Writer's Prediction: Washington (-9) gets the big 42-28 road win, over Oregon.
#23 Florida State (+2.5) vs. #10 Miami (FL) (-2.5) – 8:00 PM ET
So, the Seminoles' pass defense is a legitimate problem. Granted, they've faced three very good quarterbacks in Chad Kelly, Lamar Jackson, and Mitch Trubisky, but their talented defense shouldn't be getting absolutely torched on a consistent basis.
They're now set to face Miami's Brad Kaaya, who's more than capable of doing the same. But this Canes team is so much more balanced under Mark Richt. They're running the ball much better, and their defense has been spectacular. That unit is giving up just 11 points and 253 total yards of offense per game, 2nd and 7th in the nation, respectively.
The Canes can smell blood with the struggling Seminoles, and Richt will be angling to strike a significant blow to their state rivals.
Writer's Prediction: Miami (-2.5) piles on even more misery on the Noles, as the Canes get a huge 35-28 home win.
Washington State (+9) vs. #15 Stanford (-9) – 10:30 PM ET
Stanford desperately needs its starting corners back. Without them, the Cardinal were repeatedly burned for big plays by Washington. And now, the Air Raid of Mike Leach's Wazzu comes to town, which is basically the last thing a shorthanded secondary needs. Leach has yet to lose against the spread (1-0-1 ATS) in two meetings with Stanford.
Wazzu will struggle to contain McCaffrey, who's bound for a bounce-back game at home, but Stanford's quarterback situation is still a mess. The Cougs, on the other hand, have a stellar QB in the dependable Luke Falk, as well as a resurgent ground game that gashed Oregon for 280 yards with six touchdowns.
Writer's Prediction: Wazzu makes Stanford sweat a bit. The Cardinal win, but the Cougs (+9) cover, 31-24.
Create a betting account now and cash in on all the exciting college football action this 2016 season.

2,253 total views, 2 views today
Comments
comments