NCAA football's loaded Week 1 schedule lived up to the hype with a ton of highly entertaining games and a couple of huge upsets. Can a significantly less loaded Week 2 deliver more of the same? Let's find out below as we make our picks and predictions for the top 10 matchups on this week's schedule.
---
Cash In on the Best Online Sportsbook Offers Now at TopBet!
---
2016 NCAA Football Week 2 Picks
Friday, September 9
Louisville (-14.5) vs. Syracuse (+14.5) – ESPN2, 8:00 PM ET

Lamar Jackson lit it up with eight touchdowns in Week 1 to lead Louisville to an easy 70-14 win over Charlotte. In the one half he played, the sophomore quarterback looked to have a much better feel for the passing part of the offense as his career-high six touchdown passes highlighted.
The new Dino Babers-led Syracuse offense also had a pretty comprehensive 33-7 win in Week 1, but they are likely to encounter some problems with Louisville's solid defense. As a result, they probably aren't going to put up enough points to hang with Jackson and the Cardinals.
Writer's Prediction: Lamar Jackson lights it up once again as Louisville (-14.5) wins, 42-24.
Saturday, September 10
UCF (+36) vs. Michigan (-36) – ABC, 12:00 NN ET
Michigan got its expectation-filled season off on the right foot with a thorough 63-3 win over Hawaii, which easily covered the 36.5-point spread. It's just a continuation of the Wolverine defense's domination over weaker opponents at home under Jim Harbaugh. In six home games against unranked opposition, Michigan has given up a grand total of 5.5 points per game. Vicious.
Former Oregon offensive coordinator Scott Frost has the potential to turn UCF into a real offensive force, but not by Week 2, and especially not against this stacked Michigan D.
Writer's Prediction: Michigan (-36) dominates en route to a 52-10 win.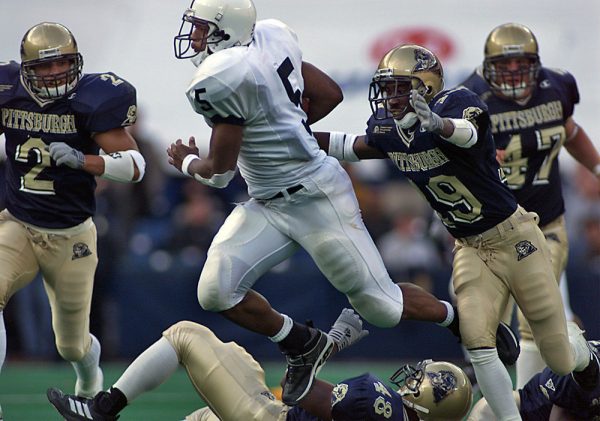 Penn State (+6) vs. Pittsburgh (-6) – ESPN, 12:00 NN ET
Penn State had the significant edge the last time this rivalry was active. They won seven of the last eight meetings, the last of which came all the way back in 2000.
Pittsburgh, though, is the much more settled team at this point. While Penn State's Saquon Barkley will be arguably the most talented offensive player on the field, Pitt does have the steady hand of Nathan Peterman under center, as well as a decent running game and an established line.
The Nittany Lions, meanwhile, are in the midst of a rebuilding year. They are much less secure along the line and at quarterback. The defense is also pretty shaky after losing so much along the front seven.
Writer's Prediction: Pitt (-6) draws first blood in this resurrected rivalry as the Panthers win, 27-17.
Tulsa (+29) vs. Ohio State (-29) – ABC, 3:30 PM ET
So, after losing a ton of talent on both sides of the ball, the Buckeyes just went out and scored the most points in the most lopsided Week 1 win in the FBS. J.T. Barrett broke a school record with seven touchdowns as he led them in their 77-10 beatdown of Bowling Green.
But this Tulsa team is no joke. Philip Montgomery's team put up 38 points on a very good Oklahoma team in Norman last season and easily covered as 31.5-point favorites. The Golden Hurricane's high-powered passing attack has the weapons to give the Buckeyes' rebuilt defensive backfield its first real test of the season.
Writer's Prediction: Tulsa's offense manages to put some points up as the Golden Hurricane (+29) cover in Columbus.
Western Kentucky (+29) vs. Alabama (-29) – ESPN2, 3:30 PM ET
It's easy to get carried away by Alabama's comprehensive 52-6 beatdown of a ranked USC team. But there was a bit of a revenge factor to that game with Bama OC Lane Kiffin and the Trojans, which is probably why they ran up the score.
History suggests the Tide aren't too keen to lay the smackdown on lesser opponents, especially at home early in the season. They've been favored by around 30 or more points at home within the first six weeks six times in the last three years, and they've gone 0-6 ATS in those games.
Western Kentucky's Jeff Brohm knows how to coach offense, and with Bama liable to put the foot off the gas, the Hilltoppers should just have enough ammo to cover.
Writer's Prediction: Western Kentucky (+29) weathers the Tide onslaught and covers in Tuscaloosa.
Kentucky (+17) vs. Florida (-17) – CBS, 3:30 PM ET
Kentucky is coming off the most epic choke job of week as it threw away a 35-10 halftime lead to lose 44-35 to Southern Miss. That's hardly the most ideal way to prepare for its trip to Gainesville to face division rivals Florida.
The Gators, who are coming off a 24-7 win over UMass, have a chance to make it an even 30 (yes, 30!) consecutive wins over the Wildcats, which would move that win streak to sole fifth all-time over a single opponent. The Gators have also gone 8-1 ATS over their last nine meetings. Consider this you stone cold lock of the week.
Writer's Prediction: Florida (-17) easily gets win No. 30 and covers with a 31-7 win.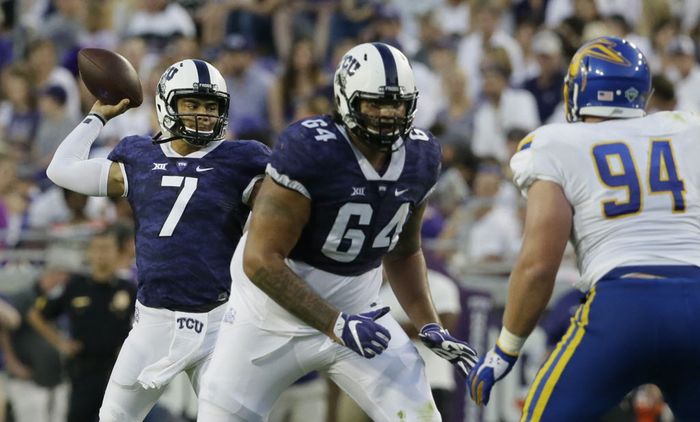 Arkansas (+7.5) vs. TCU (-7.5) – ESPN, 7:00 PM ET
Neither TCU nor Arkansas had the greatest game in Week 1. But while the Horned Frogs managed to overcome some turnovers and surprisingly poor defense to come out on top by 18, the Razorbacks needed a late fourth quarter touchdown to beat Louisiana Tech by one. At home.
You'd have to think Gary Patterson will be able to clean up some of the Horned Frogs' defensive problems in Week 1. And they'll be helped by Arkansas' inexperienced quarterback, Austin Allen, who will be making the first road start of his career in Fort Worth. TCU is 12-3 ATS at home since the start of the 2014 season.
Writer's Prediction: TCU (-7.5) cleans up its game and covers with a 31-21 win over Arkansas.
North Carolina (-10) vs. Illinois (+10) – BTN, 7:30 PM ET
So, we learned two things in the Georgia-North Carolina matchup: 1) Nick Chubb is still a stud, and 2) the UNC run defense still sucks. The Tar Heels have now given up a total of 1,253 rushing yards and 13 rushing touchdowns over their last three games dating back to last season. That's not good.
Illinois' rushing attack is obviously not as good as Clemson's, Baylor's or Georgia's, but it did go for 287 rushing yards on 7.2 yards per carry with four TDs in Week 1 against Murray State. The Illini defense, with head coach Lovie Smith now calling the shots, also has the tools to slow UNC's offense down.
Writer's Prediction: UNC has too much firepower and wins, but Illinois (+10) keeps it close and covers.
UNLV (+26.5) vs. UCLA (-26.5) – Pac 12 Network, 8:00 PM ET
Josh Rosen was simply not good in Week 1. He made some bad decisions, and coughed up three interceptions for the second time in his career. But much of that had to do with Texas A&M's outstanding defense putting pressure on him all night long.
Rosen should be able to bounce back at home against a much less imposing UNLV defense. The running game, which struggled to get going at A&M, should also find it a lot easier to get the ball moving on the ground against a Rebels run defense which coughed up 229 yards against FBS teams last season, 115th in the nation.
Writer's Prediction: Rosen (-26.5) regroups to lead UCLA to a big 42-14 win at home.
Virginia Tech (+10.5) vs. Tennessee (-10.5) – ABC, 8:00 PM ET
Tennessee just narrowly avoided a massive upset as it needed overtime to get by Appalachian State at home. That doused quite a bit of cold water on all the Vols' preseason hype.
But don't overreact too much to that poor performance; App State is a good team with a very good defense. On the other hand, Virginia Tech didn't look too impressive against Liberty, and FCS team that does not have as good a defense.
Tennessee is still the more talented team in the Battle of Bristol. With Virginia Tech still working things out offensively under new head coach Justin Fuente, expect a bounce-back game from the Vols.
Writer's Prediction: The real Tennessee turns up at Bristol as the Vols (-10.5) win and cover, 31-17.
Create a betting account now and cash in on all the exciting college football action this 2016 season.

2,751 total views, 1 views today
Comments
comments