---
March Madness is just over a week away. But before that, appetizers for the main course that is the National Tournament must be served in the form of Championship Week. These tournaments offer teams the chance to clinch an auto-bid for the Big Dance, something that the lower seeded teams in the American Athletic Conference are definitely eyeing.
Starting March 9 and continuing until March 12, the AAC will roll out its own championship tournament that will be held at the XL Center in Hartford, Connecticut. Let's take a look at the some of the favorites, sleepers, and long shot to win the AAC Tournament. If it's Championship Week action you're into, you can also check out our previews of the Pac-12 and SEC tournaments.
---
College Basketball News and Previews
---
2017 American Athletic Conference Tournament Preview
Favorites
Cincinnati Bearcats (+115) and SMU Mustangs (+135)
It isn't a complete surprise to see Cincinnati and SMU installed as favorites to win this year's American Athletic Conference Men's Basketball Championship. The Bearcats and the Mustangs have been unstoppable in the AAC this season, finishing with similar 27-4 overall records. SMU grabbed the top seed in this year's tournament by virtue of its better conference record (17-1) than Cincinnati (16-2).
The Mustangs (+135) might be the hottest team in the nation, winning each of their last 13 games, six of them by 20 or more points. The Ponies displayed their title credentials in their regular-season finale against Memphis, destroying the Tigers by 41 points. If there's one team, though, that can derail SMU in the AAC Championship, it's got to be Cincinnati (+115). The Bearcats split their season-series with the Mustangs, beating SMU, 66-64, earlier this year.
Sleepers
Connecticut Huskies (+1,000)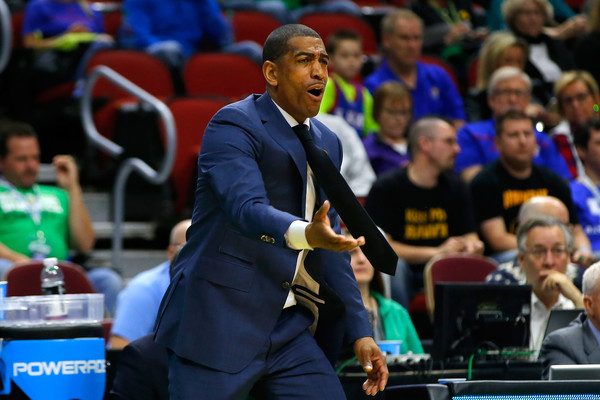 The Huskies may have finished the regular-season with a four-game losing streak but you can't rule out Kevin Ollie's men from making a surprise run in this tournament. They lost by just a combined 13 points to Houston and SMU near the end of the season so you know the Huskies aren't that far behind from the conference's top seeds. Just like Central Florida, defense has been Connecticut's bread and butter this season. They are 40th in the nation in scoring defense, surrendering just 65.9 points per contest this campaign. They are pegged at +1,000 to retain their AAC Tournament title this year.
UCF Knights (+2,000)
UCF took a major step up in Year 1 under head coach Johnny Dawkins. The Cougars went from 6-12 in 2016 to 11-7 in conference play this season to jump up to the No. 4 seed. That's the Knights' highest seed ever in the AAC Championship. Defense has been the Knights' calling card this campaign. They are fourth in the nation in scoring defense, allowing a measly 60.5 points per game this season. UCF used that terrific defense to go a perfect 5-0 in its last five regular season games. With all that momentum coupled with a defense that's playing out of its mind right now, Central Florida's odds of +2,000 of winning it all suddenly look pretty appealing, right?
Long Shot
Temple Owls (+5,000)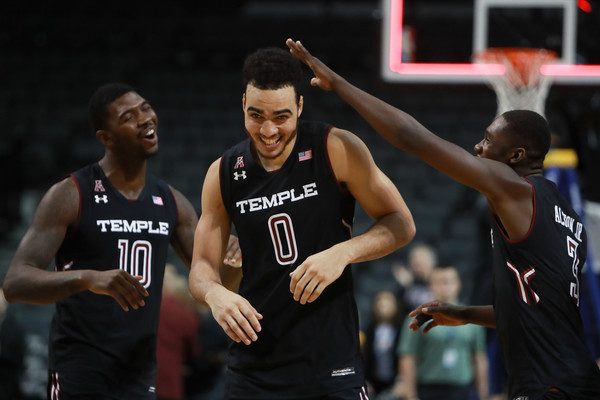 Unless the Temple Owls win the whole tournament, which they're priced at +5,000 to do, they likely won't make the NCAA Tournament this year. But don't let those long odds fool you. The Owls all have the talent they need to make a shock run in the AAC Tournament. Shizz Alston Jr., Obi Enechionyia and Daniel Dingle averaged a combined 39.3 points, 14.1 rebounds and 8.5 assists per game this past regular season. Momentum is with Temple as the Owls ended the regular season with a two-game winning streak.
Writer's Prediction
SMU (+135) keeps the momentum going as the Mustangs claim the American tournament crown.
Complete Tournament Odds for AAC
| Team | Odds | Team | Odds |
| --- | --- | --- | --- |
| Cincinnati | +115 | SMU | +135 |
| Houston | +400 | Connecticut | +1,000 |
| Central Florida | +2,000 | Memphis | +2,200 |
| Temple | +5,000 | Tulsa | +5,000 |
| East Carolina | +10,000 | Tulane | +12,500 |
| South Florida | +15,000 | | |
Create a betting account now and cash in on all the great action from the NCAA conference tournaments.

2,076 total views, 1 views today
Comments
comments