---
The ACC lived up to the hype as the best conference in the country this season. The conference has been mighty deep this year, which will make the tournament very interesting. Will the big-name favorites – UNC, Duke, Louisville – go deep in the tourney as expected, or will there be a surprise champion that emerges? Read on below as we preview a handful of the teams to watch in the ACC tournament.
---
College Basketball News and Previews
---
2017 ACC Tournament Preview and Prediction
Favorites
North Carolina Tar Heels (+175)
North Carolina had the perfect preparation for the ACC tournament as it beat Duke, 90-83, to claim the ACC regular season title outright. The Tar Heels won both the regular season and the tournament titles last season, and it's hard to bet against them doing so again. Justin Jackson is playing at another level and leading a Tar Heels offense that's easily the best in the conference.
Even though they lost big to Miami, they're not going to lose to the Canes twice in a season. And they own wins against the top two teams on their bracket – Louisville and Duke. At the very least, UNC once again reaches the championship game.
Louisville Cardinals (+300)
Louisville's loss to Wake was crucial as it eventually sent the Cards down two spot in the seedings. They bounced back well by beating Notre Dame in their regular season finale at home, but they're road to winning the tournament now goes through Tobacco Road.
The Cards do own a win over Duke at home, and have a stout enough defense to cause the Tar Heels problems, much like how Virginia limited UNC to just 43 points in their penultimate regular season game.
Duke Blue Devils (+400)
Duke's chances of winning the conference tournament will hinge on Grayson Allen's health. The Blue Devils' depth is such that they can't afford to be without their junior swingman. They do have a couple more stars in Luke Kennard and Jayson Tatum, both of whom can get hot and carry the team to victory almost singlehandedly.
But to ask Allen to perform well enough in back-to-back games against Louisville and North Carolina on a bum ankle – and that's before going on to the final – sounds like asking too much.
Sleeper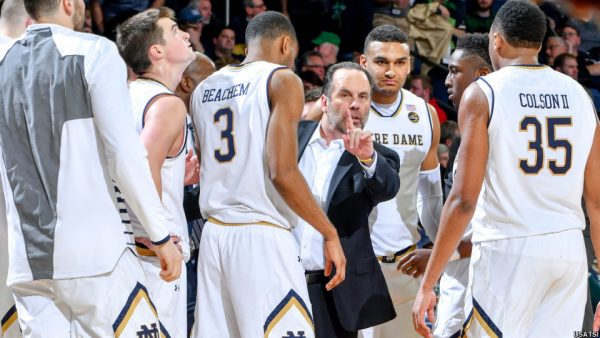 Notre Dame Fighting Irish (+1,100)
Don't discount Notre Dame in the potential title discussion. After losing four in a row and five in six during the thick of their conference schedule, the Irish eventually righted the ship as they went on a six-game win streak. It would've been much better for their tournament chances had they beaten Louisville and gotten the 2-seed, but they do get the important double bye.
Mike Brey is no stranger to winning tournament runs, as he led to Irish to the ACC title back in 2015. With a veteran unit that knows how to execute offensively, Notre Dame is certainly capble of pulling off three straight wins in the pressure-cooker that is the tournament.
Long Shot
Wake Forest Demon Deacons (+5,000)
Wake Forest will enter the tournament with a lot of confidence. They won their last three regular season games, including that much-needed upset of No. 8 Louisville after a bunch of near-misses ealier in the year. They even managed to beat a tough Virginia Tech team on the road in their season finale despite star John Collins battling foul trouble.
Collins (19 PPG, 10 RPG), the sophomore All-ACC first-team selection big man, has the talent to get the Deacs far. But if his teammates continue to play with the same confidence they've shown lately, they should be the best long shot bet available in the field
Complete Tournament Odds for ACC
| North Carolina (+175) | Louisville (+300) |
| --- | --- |
| Duke (+400) | Florida State (+650) |
| Virginia (+850) | Notre Dame (+1,100) |
| Syracuse (+1,400) | Miami (+2,200) |
| Clemson (+5,000) | Virginia Tech (+5,000) |
| Wake Forest (+5,000) | NC State (+8,000) |
| Pittsburgh (+8,000) | Georgia Tech (+10,000) |
| Boston College (+15,000) | |
Writer's Prediction
Notre Dame (+1,100) defies the odds and claims a second ACC title in three years.
Create a betting account now and cash in on some futures bets during college basketball's Championship Week.


2,236 total views, 1 views today
Comments
comments