---
With the thrilling and historic conclusion to the 2016 MLB season, we should definitely expect more dramatic developments this 2017.
Based from the plethora of offseason moves and glimpses at spring training, there are plenty of improved teams capable of threatening the Chicago Cubs' bid for a repeat. Having said that, let's take a closer look below at how the defending champions – appropriately the current front-runners to win the World Series – and a handful of other title contenders worth keeping tabs on are shaping up heading into opening day.
---
MLB World Series News and Previews
---
2017 MLB World Series Futures Odds Update
Favorites
Chicago Cubs (+400)
What else can we say about the Cubs? They defied all speculations and curses last year to finally win their first World Series title in eons by simply having the most-talented group of players, period.
2017 will be no different for Chicago, who will return with its championship-winning core mostly intact. Reigning league MVP Kris Bryant is only 25 years old and will only get better from here on out, and the same could be said for the team's other young standouts like Addison Russell (23), Willson Contreras (24) and Javier Baez (24). Dexter Fowler's no longer around, but Kyle Schwarber is finally healthy and ready to break out to easily make up for Fowler's loss on offense.
The Cubs' pitching corps, meanwhile, remains as stacked as ever. Jon Lester, Jake Arrieta, Kyle Hendricks and John Lackey have all returned this season to make up the best four-man starting crew in the majors, while Wade Davis and Hector Rendon are also back as the team's nice one-two punch in relief.
Simply put: Joe Maddon's club is basically unchanged… and for the better. After what we've seen from their remarkable title run, it stands to good reason then that the Cubbies will have plenty more of that same magic left in store not just for this season, but for years to come.
Boston Red Sox (+550)
Never shy to spend a ton of cash on prized players, the Red Sox, for once, relied on their young prospects to flourish and were rewarded with a fantastic AL East-winning 2016 campaign after finishing in the basement of the division for the past couple of seasons.
Sensational outfielder Mookie Betts exploded unto the scene and is now looking like the best player in the American League not named Mike Trout. Betts will be accompanied once more by Jackie Bradley Jr., Xander Bogaerts and this year's top Rookie of the Year candidate in Andrew Benintendi to make for a stellar youthful core that's akin to what the Cubs have set in place.
It goes without saying that Boston still had its hand at another blockbuster deal this offseason. This time, perennial Cy Young Award candidate Chris Sale joins the fray as the new top dog of an already-stunning pitching roster composed of other stud free-agent signings in David Price, Rick Porcello and Craig Kimbrel.
In essence, the Red Sox are virtually the American League counterparts of the Cubs; both clubs are brimming in upstart and veteran talents alike and with no glaring weaknesses to be found whatsoever.
Sleepers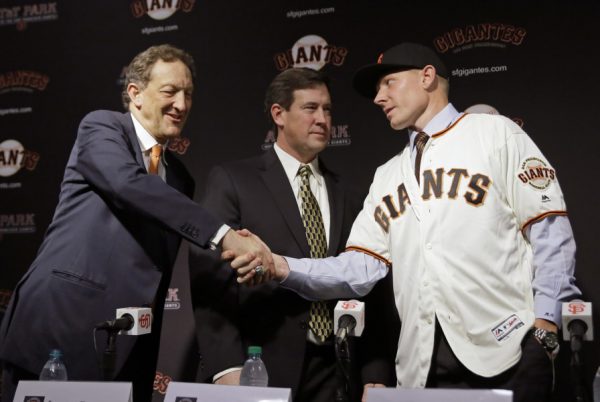 San Francisco Giants (+1,200)
So much for that even-year mystique, eh? Many superstitious San Francisco fans were disappointed when their team failed to win the 2016 World Series mostly because the baseball stars were supposedly aligned for the Giants to win their fourth championship title this decade.
However, those same fans should still be thrilled from the team's relatively sound 2016 campaign. The Giants had a superb starting rotation with the addition of Johnny Cueto behind lead ace Madison Bumgarner in the order, and they've also started to generate runs more consistently despite playing in pitcher-friendly AT&T Park.
The main issue with San Fran last year, though, was relief pitching – specifically with its pair of closers. Sergio Romo was hurt for most of the season, and Santiago Casilla couldn't sustain late-inning leads consistently to save his job. Both Romo and Casilla are now gone, and the Giants upgraded their closer position with the terrific signing of Washington's Mark Melancon.
With their biggest problem having been addressed, the Giants appear to have all the necessary pieces to make another good run at the championship. Perhaps an odd-year title reign is in the works instead, and that could possibly become a reality as early as this season.
Houston Astros (+1,200)
The Houston Astros could've been so much more last season. If not for a miserable campaign put on by 2015 Cy Young Award winner Dallas Keuchel, maybe it could've been the Astros representing the AL West in the playoffs.
Then again, Houston just discovered last year just what it has up its sleeve on the offensive front. Jose Altuve's without a doubt the best, do-it-all infielder in the league as we speak, and rising stars Carlos Correa, Alex Bregman and George Springer each had shown great promise as well. Now that the Astros have rounded out the rest of their lineup this offseason with notable clubhouse leaders Carlos Beltran and Brian McCann, they're now one of the scariest offensive teams in the majors with apparent balance in power and speed.
There are still some doubts regarding the team's pitching staff. But again, a lot of that can be attributed to Keuchel. If the bearded ace can prove that his 2016 campaign was indeed a fluke, he along with underrated starters Collin McHugh and Lance McCullers make for a solid upper half of Houston's starting rotation.
The Astros don't seem as close to having a perfect roster compared to the Cubs or Red Sox. Nonetheless, their potential for success is evident and encouraging – ultimately making them a perfect sleeper candidate in our books as they aim to win their first World Series title in franchise history.
Long Shot
Oakland Athletics (+10,000)
Still lacking any sort of direction are the Athletics, who finished last in the AL West for the second-straight season.
The aftermath from Oakland's late-season gamble during their fantastic 2014 campaign continues to haunt the team. The A's were gutted of nearly all their top talent from that 2014 club, and they still don't have a true game-breaking player on the roster. Their notoriously successful farming system hasn't been as good as in previous seasons, and their short-term acquisitions from this offseason (Rajai Davis, Trevor Plouffe) feel very uninspired.
Pitching remains Oakland's best strength, but you also can't help but doubt what the team really has with its pieces in place. Rich Hill is gone, and top ace Sonny Gray is coming off a subpar season. Ryan Madson can still be considered a dependable closer, but the rest of the A's relievers – Santiago Casilla and John Axford in particular – are total wild cards that have seen better days.
With all that in mind, don't count on this other team from the Bay Area to regain its luster from the earlier half of this decade just yet.
Writer's Prediction
The Red Sox (+550) bring the World Series title back to Beantown.
Complete List of Odds
| Team | Odds | Team | Odds |
| --- | --- | --- | --- |
| Chicago Cubs | +400 | Boston Red Sox | +550 |
| Cleveland Indians | +600 | New York Mets | +900 |
| Los Angeles Dodgers | +1,000 | Washington Nationals | +1,200 |
| San Francisco Giants | +1,200 | Houston Astros | +1,200 |
| New York Yankees | +2,000 | St. Louis Cardinals | +2,500 |
| Texas Rangers | +2,500 | Toronto Blue Jays | +2,500 |
| Seattle Mariners | +2,500 | Detroit Tigers | +3,000 |
| Los Angeles Angels | +4,000 | Baltimore Orioles | +4,000 |
| Kansas City Royals | +4,500 | Colorado Rockies | +5,000 |
| Pittsburgh Pirates | +6,000 | Miami Marlins | +7,000 |
| Tampa Bay Rays | +8,000 | Oakland Athletics | +10,000 |
| Arizona Diamondbacks | +10,000 | Minnesota Twins | +12,500 |
| San Diego Padres | +12,500 | Philadelphia Phillies | +12,500 |
| Chicago White Sox | +15,000 | Atlanta Braves | +15,000 |
| Milwaukee Brewers | +20,000 | Cincinnati Reds | +20,000 |
Create a betting account now to start placing stakes on the WBC before the MLB season goes into full swing!

2,556 total views, 1 views today
Comments
comments